MID sales just 15% of Intel's predictions claim manufacturers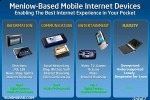 We've seen multiple Mobile Internet Devices (MIDs) over the past week, as Computex brings the latest hardware out of the woodwork, but is the whole endeavor an exercise in futility?  According to sources at manufacturers, sales of Intel-based MIDs have been just 30,000 units, far less than Intel's own predictions of 150,000 to 200,000 units.
The sources have suggested that global purse-tightening in the face of a middling economy and "slow-building popularity" of 3G applications are to blame for the significant shortfall.  Intel was pressured to sell Menlow platform chips, initially expected for MIDs, to netbook manufacturings to recoup its investment.
Intel have declined to comment on the sales speculation, as its official Q2 results are imminent, but has re-stated its belief that the MID segment – and other internet-focused devices – has great potential and will remain a target.  The company revealed more details of its next-gen Moorestown platform this week, which will likely ship in 2010, and be aimed at MIDs.  It also revealed five hardware designs, with screens ranging in size from three to five inches, that would be among the first to deliver Moorestown.