Xperia Z Ultra screenshots tip 6.21-inch display, Snapdragon 800 [UPDATED]

It's not every day a smartphone as massive as the Sony Xperia Z Ultra comes around, especially one with a processor that's only thus far been seen in developer testing devices (and the occasional ZTE device.) This morning the Xperia Z Ultra (far larger than the Xperia Z, pictured below) has appeared in screenshot form, complete with specifications that suggest this next-generation device to be appearing on the 4th of July with a 6.21-inch display running at 1080 x 1824 pixel resolution. That would make this machine a 320ppi delivery. UPDATE: More screenshots added via XDA – homescreen included!
The Sony Xperia Z Ultra has been suggested by this screenshot-snapper's images as working with 2GB of RAM as well as 16GB internal storage. This machine works with Android 4.2.2 Jelly Bean and will be working with a Qualcomm MSM8974 quad-core processor. That is to say it's the Qualcomm Snapdragon 800 quad-core SoC with Adreno 330 graphics.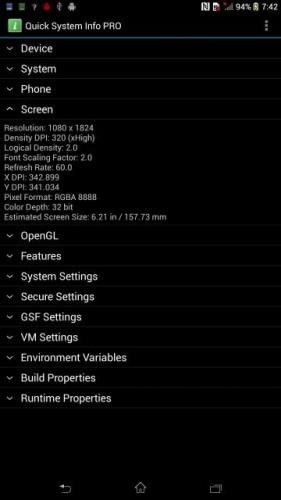 This machine has been shown in leaked images as being so large it can carry a kitten. It's also appeared in an event invite where the side of its thin body can be seen, stylus nearby. The Xperia Z Ultra will quite likely be aiming to take on Samsung's Galaxy Note series with the obvious contenders in large-resolution physically-massive display and built-in stylus abilities.
This Sony handset has been attached to the code-name Togari and will be joining the Sony Xperia Z here in the United States likely before the end of the year, if past release schedules hold. The Sony Xperia Z is headed to T-Mobile at the moment here in the USA, while the Xperia ZL is also available in the states off-contract.
UPDATE: The display size is actually more like 6.44-inches – the extra bit comes from on-screen menu keys in Android. Fun!
This final member of the trio could very well put the company back in a place where they're able to contend with the biggest names in the USA's mobile market – we shall see!