Sony Xperia Z Review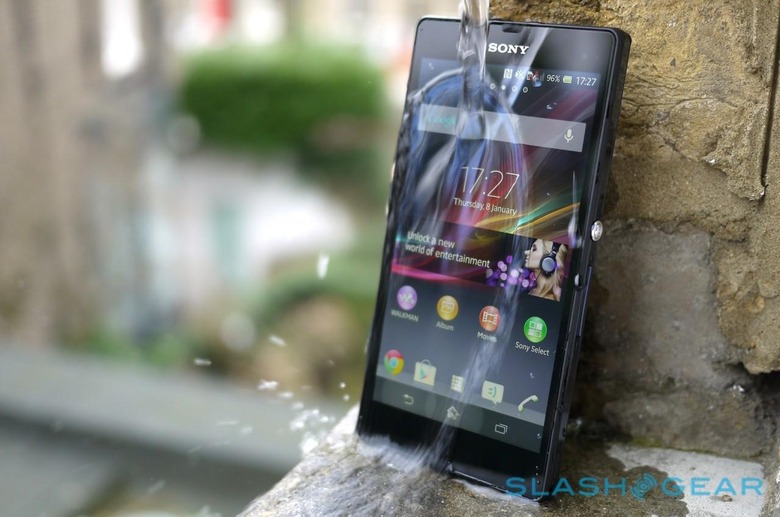 Sony's problems in the smartphone arena aren't unique – HTC, LG, and others are all struggling to compete with Samsung and Apple – but they're nonetheless pressing, and the Xperia Z is the solution it hopes will address that. Piecing together top-tier specifications, like a huge Full HD display, 13-megapixel camera, and the sort of waterproofing you'd normally have to go to Japan to find on a phone, the Xperia Z also marks a step up in design refinement for Sony, leagues away from the creaky plastic of its older phones. Still, the rest of the smartphone world hasn't been standing still while Sony learns its lessons, and 2013 is already shaping up to be a knock-out one for devices. Can the Xperia Z maintain its CES momentum as it lands in the market? Read on for the full SlashGear review.
Hardware
For once, there's a feeling that Sony isn't keeping its best technology for the Japanese market. The Xperia Z is one of a rare breed of water resistant phones available outside of Japan, and even more unusually it's free of many of the compromises "rugged" phones generally entail. Since Sony doesn't make any claims about extra bump protection, the Xperia Z can be slim and reasonably light: 139 x 71 x 7.9 mm, in fact, and 146g, though the squared-off edges leave it feeling quite slabbish in the hand.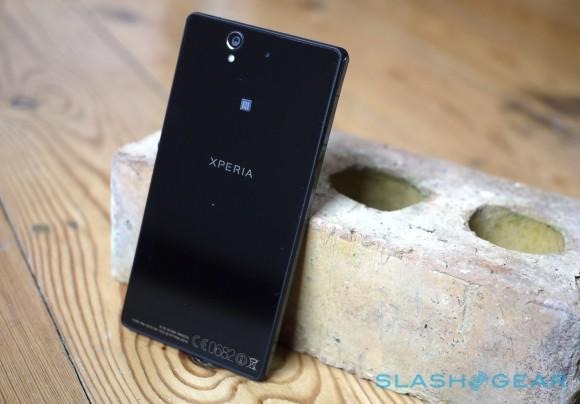 The broad, flat feel is partly forced by a 5-inch display, with Sony using an LCD TFT panel running at 1920 x 1080 Full HD resolution. That's still a rarity in the mobile market, though it will be less of one as time goes on. Sony's panel isn't quite up to the same eye-tingling magic as HTC has used on the DROID DNA (which means it'll also be outshone by the HTC One when that arrives, as the One's slightly smaller 4.7-inch screen bested, to our eyes, that of its DROID DNA predecessor) and we can't help but wish that the Mobile Bravia Engine 2 was enabled across all aspects of the phone.
That new engine works to sharpen and generally tweak photos and videos viewed on the Xperia Z, and is applied to any multimedia content including YouTube videos. The results are visible – blacks get a little inkier, colors more saturated – but it also serves to show up how washed out the menus could look at times, particularly when the phone cranked up the backlighting. Sony's choice of a grey color scheme didn't help here, either. Meanwhile, viewing angles aren't the best we've seen, with the display losing clarity when you look at it askance.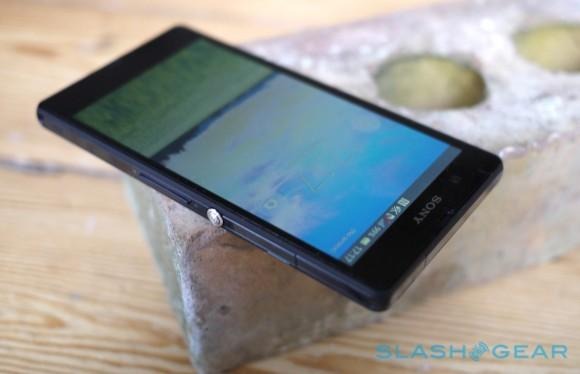 We'll be generous and call the Xperia Z's design "handsome and sober"; others we showed the phone to were less accommodating, and though it was dull. The glass inserts – toughened on the front and back – are interesting, though they did make the phone slippery; meanwhile, the "skeleton frame" of glass-fiber polyamide is akin to metal in strength, Sony insists, but feels a whole lot like regular plastic.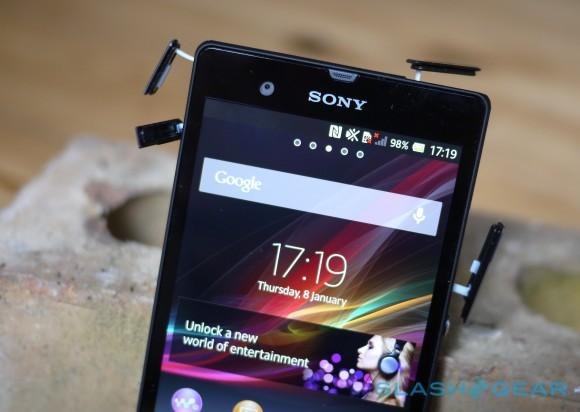 Still, you get that water resistance from it, and that's a welcome addition. The Xperia Z meets IP55 and IP57 standards, meaning it'll survive a dunk in up to 1m of water, being squirted with water jets, and the ingress of dust (which can play havoc with electronics). However, it also means that Sony has been liberal with ports, flaps, and hatches, since the resistance ratings are only met when the body is sealed up. The headphone socket on the top edge has a flap; the microSD and microUSB ports on the side each get their own flaps; and the microSIM slot has a flap too. If any of them are open, you lose your water and dust-resistance, which means if you're listening to music with wired headphones and accidentally drop the Xperia Z in a puddle, there's a fair chance it'll stop working.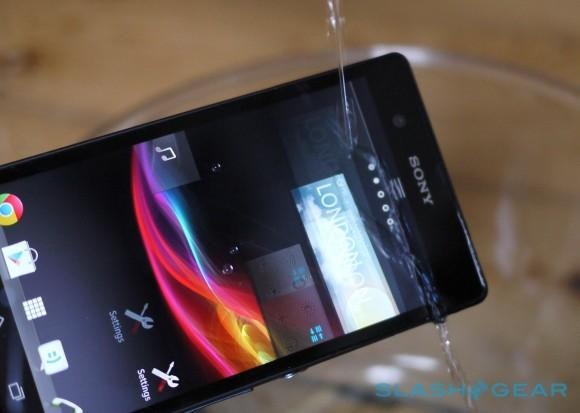 The other noticeable design element is the power button, which Sony has over-engineered seemingly solely for the purpose of proving it can. A shiny aluminum disc protruding from the right edge of the handset, it's certainly tactile, though we can't say we felt it was entirely necessary. In fact, we all too often reached for it when using the Xperia Z's camera – in our defense, it's a lot like a Sony CyberShot shutter button – powering off the phone in the process.
There's no shortage of connectivity inside the new Sony. Our UK handset supports hexaband LTE (1/3/5/7/8/20) and triband HSPA, along with quadband GSM/EDGE. Then there's WiFi a/b/g/n, Bluetooth 4.0, aGPS/GLONASS, NFC, WiFi Miracast, a microUSB 2.0 port with MHL HDMI support, and a microSD card slot (supporting up to 32GB cards). Onboard storage is 16GB, while the 1.5GHz Qualcomm S4 Pro quadcore processor is paired with 2GB of RAM. On the back there's a 13-megapixel camera with Sony's own Exmor RS branding, while a 2-megapixel Exmor R camera is above the display for video calls and vanity shots.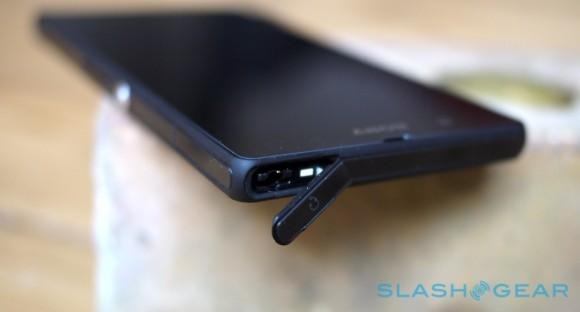 Software
Sony has launched the Xperia Z running Android 4.1.2 Jelly Bean, not the latest Android 4.2 version, though it's questionable whether you'll notice the difference, especially given its been reskinned. The UI is familiar from previous Xperia phones, tasteful but loaded up with more than a few space-hogging apps and plenty of entry points for the company's services, such as Music Unlimited and Video Unlimited (for music and video purchase and rentals, respectively), and the Sony Select "curated" download store of apps and games, which basically works as a shortcut to titles in the regular Google Play market.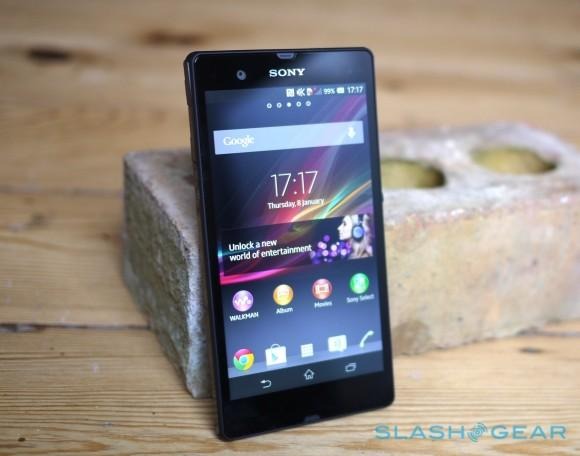 If you've a Sony smart TV then you can use the Media Remote app to control it from the Xperia Z, and there's social aggregation for Facebook and Twitter with the Socialife app. It works, though anyone with more than a passing interest in their social media will quickly ignore it in favor of the full Facebook and Twitter apps.
The Xperia Z wasn't without its glitches. There's shortcut access to the camera from the lock screen, for instance, but we found it would often bounce us back to the lock page when we tried to change mode or settings. The only way around it was to unlock the phone as normal and navigate into the camera manually.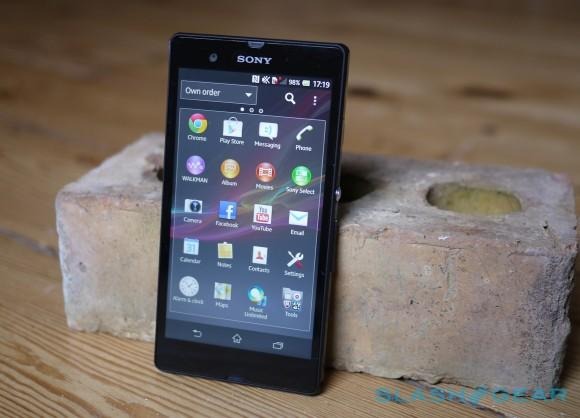 As for performance, the Xperia Z scored in line with the LG Nexus 4 and DROID DNA by HTC, no great surprise given the core hardware is the same across the three devices, in all but SunSpider, the test of browser performance. There, it put in a particularly poor showing, taking more than 50-percent longer than its similarly-specified rivals. In practical terms, though, it handled full webpages, games, and multitasking with aplomb, with only the occasional pause during app loading to slow things down. It's worth noting that, while you can still use the touchscreen even when the Xperia Z is submerged, a steady flow of water plays havoc with the display. Something to consider if you're hoping to use the phone while in the shower.
Camera
While HTC opted for the bigger pixels strategy with the One, Sony has followed a more traditional path with a 13-megapixel sensor for the Xperia Z. Here, it's an Exmore RS chip, the first time the new sensor has appeared on a phone, and bringing with it such niceties as real-time HDR for both photos and full HD video.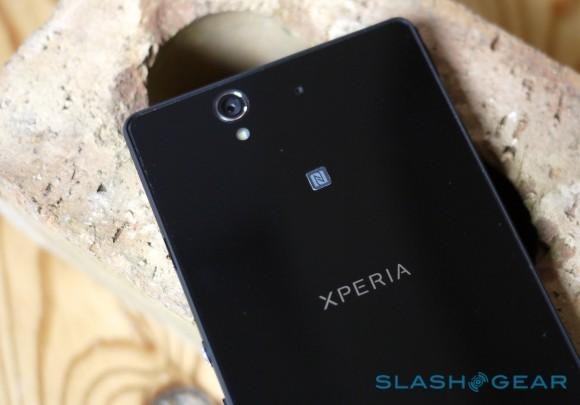 It also comes with software that should be familiar to anyone who has used a Sony camera in recent years. There are a huge amount of settings, features, and modes to choose from on the Xperia Z, but we found that for once the "Superior Auto" mode didn't make a mess of sifting through them. That's partly because it's reasonably transparent – you see exactly what scene mode its selected based on the subject, whether that be sports, portrait, or any of the total of 36 settings – but also because it gets access to the HDR and advanced noise reduction tools.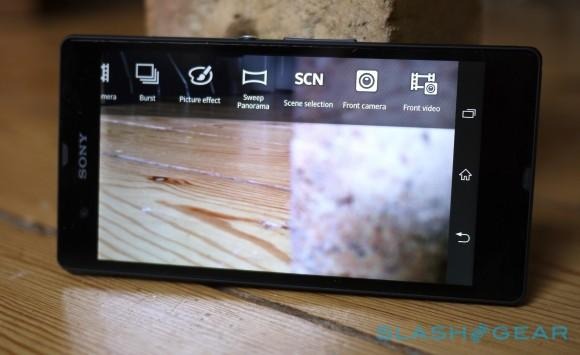 Of course, you can select between all of these manually, though the Xperia Z's interface can be a little confusing at times. There's a settings menu, where you can choose things like resolution (up to 12-megapixel 4:3 images, or 9-megapixel 16:9 images), and a mode bar that spreads across the top of the display and offers manual scene selection, video mode, HDR, panorama, and other more high-level options. Both still and video recording buttons are on-screen simultaneously (though you can only shoot a 1-megapixel still while recording video), but there's no way to change the video resolution unless you manually jump into camcorder mode.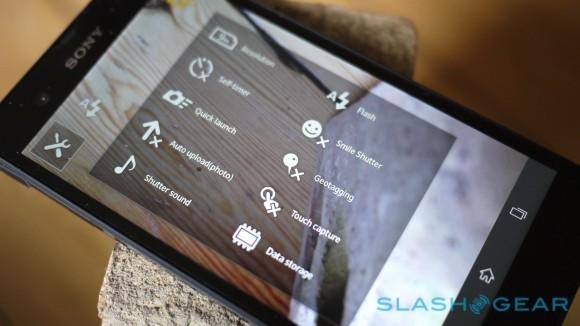 Nonetheless, the important thing is image quality, and the Xperia Z does well. There's plenty of detail and not too much noise, particularly when outside, and low-light performance is impressive. Colors are a little on the muted side, even in HDR mode, which on other phones we've tested can lean uncomfortably toward the "clown" setting. Sony, though, takes a more balanced approach, though we wish we could selectively adjust the HDR effect for those times when punchier colors are the goal.
As for video, regular clips share the same slightly muted colors but good balance as stills, getting more rounded and balanced when in HDR video mode. Again, this isn't a shortcut to lurid footage – in fact, sometimes we struggled to tell the difference between HDR and non-HDR clips. Rather than boost colors, as HDR Is arguably best known for, the Xperia Z tends to use the system to broaden its contrast, with darker areas proving clearer.
Sony Xperia Z Full HD video sample:
Xperia Z HDR video vs. non-HDR video demo:
Phone and Battery
Gobfuls of mobile band support mean the Xperia Z can get online across a broad range of networks, and there's HSPA+ support if you don't have a local LTE carrier. In-call performance was solid, though not the best we've tested of late, and we wouldn't argue with some more audio volume; we don't know if that's down to the speaker waterproofing, but whatever the reason it means you spend the first half of most calls shuffling the Sony against your ear to try to line it up best.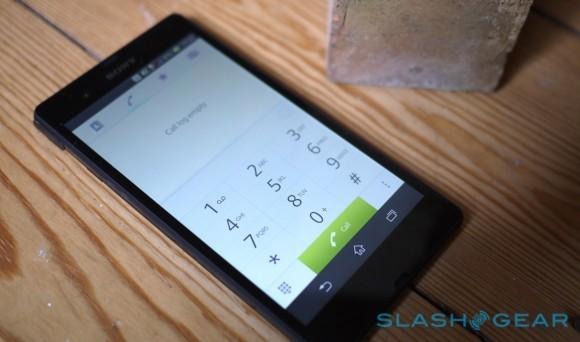 With a big, Full HD screen, you'd expect battery life to be shaky, and sure enough the Xperia Z demonstrates – at times – a voracious hunger for power. Sony quotes up to 11hrs or talk time or 550hrs of standby, but it's worth noting that neither of those conditions have the display turned on. Power up the 5-incher, and the Xperia Z can go from full to flat before you've reached mid-afternoon.
Sony is particularly proud of its Battery STAMINA mode, which promises up to four times the runtime by shutting off background data use when the screen is turned off. Instead of having your email, Facebook and Twitter updates, and other apps updating continuously, they only get to sip from the data connection when the Xperia Z is active. A whitelist of permitted apps, meanwhile, doles out background data support piecemeal, so that you can have, say, your email still checking but nothing else.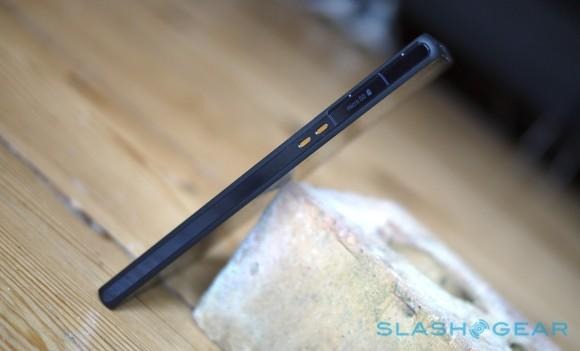 We noticed some improvement, but it's questionable whether the target audience for the Xperia Z – power users lured in by the display and processing horsepower – will really benefit from Battery STAMINA. It's only effective when the display is off, after all, and those who want to actually use their phone aren't unlikely to leave it sufficiently idle for it to make its mark. True, if you treat the Xperia Z with kid gloves and use it more sparingly, you can eke out a full day from a single charge, but that seems somewhat counter-intuitive for a flagship device.
Wrap-Up
There are two ways of looking at the Xperia Z. In the context of Sony's track-record of smartphones, this is certainly the best to-date. It has the best display Sony has used, a solid camera, useful waterproofing (even if it does force annoying flaps on you), and sleek – albeit conservative – styling. It's not cheap and plasticky in the hand like the Xperia Arc was, nor slathered in plastic chrome trim. If you're a Sony devotee then the Xperia Z is the phone you've been waiting for.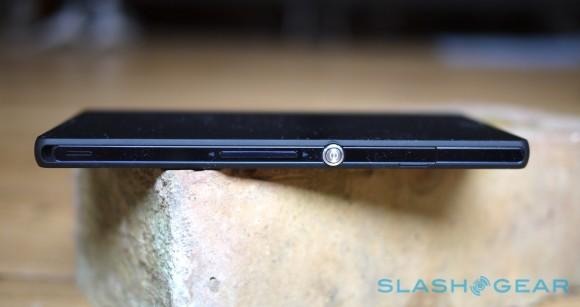 On the other hand, in context with the rest of the smartphone market, the Xperia X finds things tougher going. The design and build, while sturdy, lack the classic evolutionary styling of the iPhone 5, or the pristine, tactile elegance of the HTC One. It bests the Samsung Galaxy S III on display and construction, but Samsung has a new Galaxy waiting in the wings, and is almost certain to redress the screen balance.
It's the battery that gives us the biggest pause for thought. The Xperia Z simply expires too quickly, and the power saving tools Sony has provided only really work at their best by discouraging you from using the phone at all. Given the waterproofing (and dimensions) means the battery is non-removable, that's quite a compromise to be made.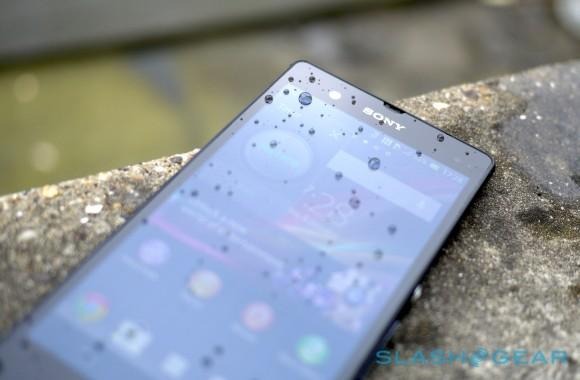 Despite how quickly it runs out of steam, we like the Xperia Z. It's about time Sony waded into the smartphone market in earnest, and with some refinement its 2013 range shows great promise. What it doesn't have is an obvious winner: the Sony Xperia Z is a solid phone and a capable alternative to the knee-jerk iPhone/Galaxy options, but it lacks the completeness that would push it ahead of the pack.