Xiaomi Mi 10 5G and Mi 10 Pro spilled in one major leak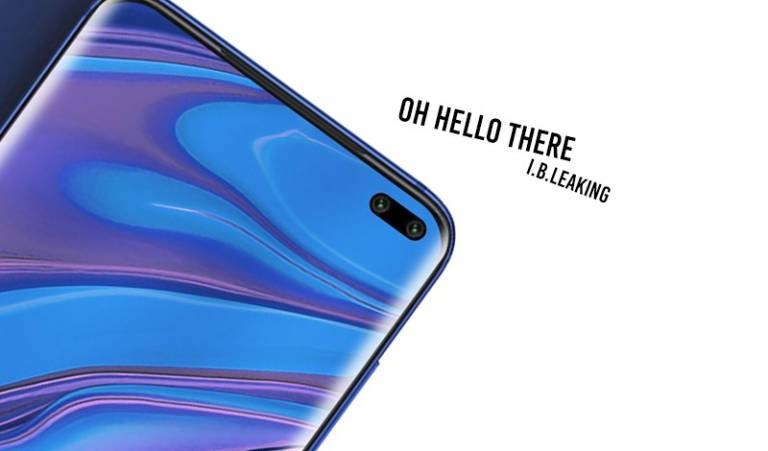 The next major 5G smartphone coming to market was leaked this afternoon in the form of the Xiaomi Mi 10 5G. This is one of two devices in the family – the other has "Pro" in its name. The only major difference between the standard and the Pro versions of this smartphone appears to be a different array of cameras on its back, headed by a gloriously absurd 108-megapixel primary camera.
The Xiaomi Mi 10 Pro likely has the same 108MP camera on its back as the Xiaomi Mi Note 10. The Mi Note 10 Pro, in turn, worked with the same 108MP camera as the Xiaomi Mi CC9 Pro. This has all been foretold by the leaks! This newest Xiaomi Mi 10 Pro likely has a 108MP camera plus: 12 MP (f/2.2) + 8 MP (f/2.4) + 2 MP (f/2.4).
That'd make it very similar to the Xiaomi Mi 10 5G (non-Pro) whose most recent leak suggested the following camera array on its back: 64 MP (f/1.8) + 12 MP (f/2.2) + 8 MP (f/2.4) + 2 MP (f/2.4). The back is said to have a dual-LED flash as well.
NOTE: The imagery above and below comes from Ben Geskin, based on rumors. This is not an official render or photo.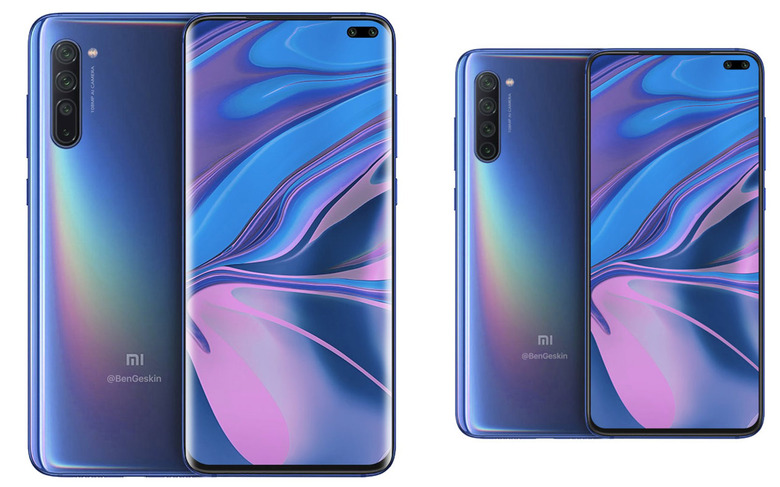 The Xiaomi Mi 10 is rumored to have a 6.57-inch Super AMOLED display with FHD+ resolution. This display will likely have 90Hz support – that's 90 frames per second in apps that support said speed, and the basic OS. This display has two punch-holes for two cameras – 32MP + 8MP. This device will probably have a 4,500mAh battery and fast-charge support: 40W wired fast charging and 30W wireless fast charging.
Rumors suggest you'll be able to work with 10W reverse wireless charging – that means putting your other wireless charging-capable smartphone back-to-back transfers battery from the Xiaomi Mi 10 to the other phone – neat!
The Xiaomi Mi 10 5G is rumored to roll with a Qualcomm Snapdragon 865 (Octa-core, 2.84GHz) with the ability to connect to 5G. According to a leaked set of specs over at CECT Shop, it looks like this device will have 5G bands as such: "5G/NR 2500/3500/4700MHz (N41/N78/N79)."
NOTE: Both the Xiaomi Mi 10 and Mi 10 Pro will likely have the same processor from Qualcomm, the Qualcomm Snapdragon 865. Because of this, they'll have 5G connectivity. There won't likely be any separate edition for 5G, nor 5G in the name of either phone – it'll just be implied.
The Xiaomi Mi 10 Pro was leaked in three configurations, including 8GB of RAM + 128GB, 8GB RAM + 256GB, and 12GB RAM + 256GB. The least of these was tipped to start at around 3,100 Yuan, which is around $445 USD when converted with today's standard exchange rates.
The Xiaomi Mi 10 Pro was leaked with three configurations: 12GB of RAM + 128GB, 12GB of RAM + 256GB, and 12GB of RAM + 512GB. These variants were tipped to have prices at 3,799 Yuan ($550), 4,099 Yuan ($585), and 4,499 Yuan ($645) respectively.
It's expected that Xiaomi will reveal the Xiaomi Mi 10 and Xiaomi Mi 10 Pro at the same time in an event at MWC 2020. MWC 2020 takes place from February 24 to February 27 – so this event could take place as early as the 22nd, and probably no later than the 25th.