Xbox Surface tablet latest wild Microsoft rumor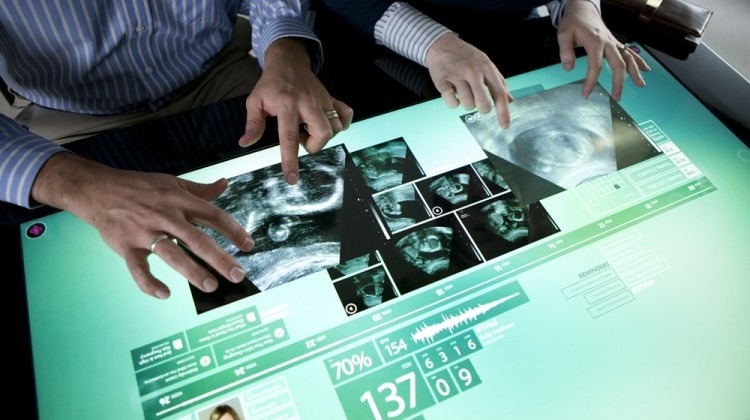 With B&N out of the picture, speculation about Microsoft's launch today turns to Xbox integration, with sources claiming that the company's Surface multitouch table will share its DNA with a game-centric slate. The so-called Microsoft Xbox Surface tablet will, according to purportedly leaked specifications from Shifted2u, have a 7-inch 1280 x 720 multitouch display and connect wirelessly to a "stationary computing device" base station with twin 3.1GHz IBM processors, a custom 28nm AMD GPU and 250GB of speedy storage.
The tablet will also have WiFi and Bluetooth, along with a separately mentioned 2.4GHz connection that is presumably being positioned as a proprietary link between slate and base-station. There's an SD/SDHC/SDXC card slot, rechargeable battery with up to 7hs of runtime, and 288MB of RAM paired with a "custom IBM engine for scale-out workloads."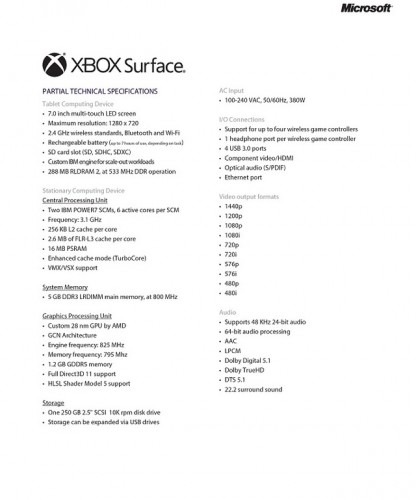 As for the main unit, that will supposedly have 5GB of DDR3 memory, an 825MHz GPU clock and 1.2GB of dedicated GDDR5 video memory. Four USB 3.0 ports are suggested for peripherals and external storage, along with support for up to four wireless controllers, a component video output, HDMI, optical digital S/PDIF audio and an ethernet port.
Although no functionality details are given, the presumption is that Microsoft's Xbox SmartGlass technology would be integrated. Still, with expensive specifications tipped, like a 10,000 rpm hard-drive, it's entirely possible that this is a flight of fancy by an Xbox fanboy rather than the real deal.
Meanwhile it would also seemingly replace or duplicate the Xbox 360 in many ways (with a decide that sounds more than a little like the Wii U) and Microsoft has been keen to make clear that its console isn't due for a refresh for some time yet. We'll know for sure later on today, so check back for SlashGear's full coverage from Microsoft's Los Angeles event.