Xbox Surface 7-inch tablet rumors reappear ahead of Xbox 720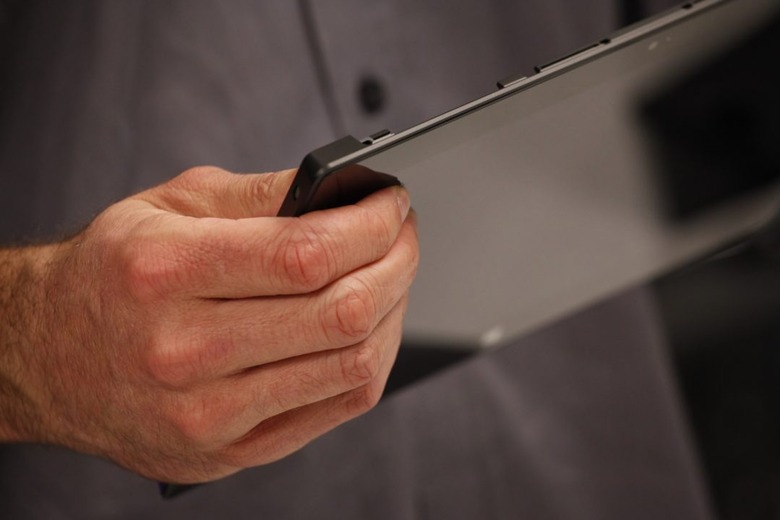 Chatter of a 7-inch Xbox Surface tablet has reawakened, with sources claiming Microsoft is currently working in the initial hardware planning stages for a gaming-centric slate built on a custom Windows OS. The planned tablet is broadly in line with leaked specifications back in June, so insiders tell The Verge, though whether it runs a custom ARM processor or a new Intel SoC could depend on how well Intel can wow Microsoft. Unlike the first Surface tablet, which attempts a broad range of tasks, the Xbox Surface will be focused on gaming.
That focus will be expanded to accommodate messaging along with "other tablet functions" so it's claimed, likely to include web browsing on IE10. However, the emphasis will be on gameplay, with the leaks earlier in the year indicating Microsoft would follow a path similar to that of the Wii U with a combined tablet and "base station" console that would work together.
Other specifications listed included a 7-inch 1280 x 720 multitouch display, Bluetooth, WiFi, and a 2.4GHz custom link between the tablet section and the twin-core main console unit. A healthy 5GB of speedy memory was also tipped, along with a custom 28nm AMD GPU paired with its own 1.2GB of GDDR5 RAM, and a 250GB 10,000 rpm HDD. A custom OS built on the Linux kernel – but not Windows 8 or Windows RT – would be running.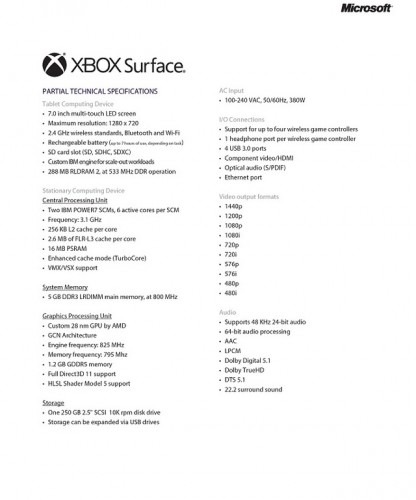 According to the leaks, the same hardware development studio responsible for quietly cooking up Surface as we know it today is also at least partially responsible for Xbox Surface. That facility – which Microsoft invited us to tour back in October, and which is shrouded in secrecy – was already tipped to be working on further Microsoft-branded hardware.
CEO Steve Ballmer, in fact, has said on several occasions that Microsoft will "obviously" do more hardware of its own, though declined to specify exactly what that might include. However, with Xbox SmartGlass for second-screen use of tablets (and Windows Phones) with an Xbox console, it comes as little surprise that more gaming-centric efforts are underway to help bolster the appeal of Microsoft's ecosystem outside of enterprise users.
Xbox Surface will be produced in the same manner as the Surface tablet currently on the market, though the "Xbox 720" – as Microsoft's next-gen console has been unofficially dubbed – would be outsourced in its production to one or more of the usual OEM partners. However, development on the games slate is also being undertaken at select Xbox facilities at Microsoft's Silicon Valley campus, with word that the firm has apparently limited employee access to the Interactive Entertainment Business offices, something tipped to be so that internal testing and games programming can be undertaken.
Microsoft has declined to comment on the rumors.