The Tao of Surface: Inside Microsoft's First Tablet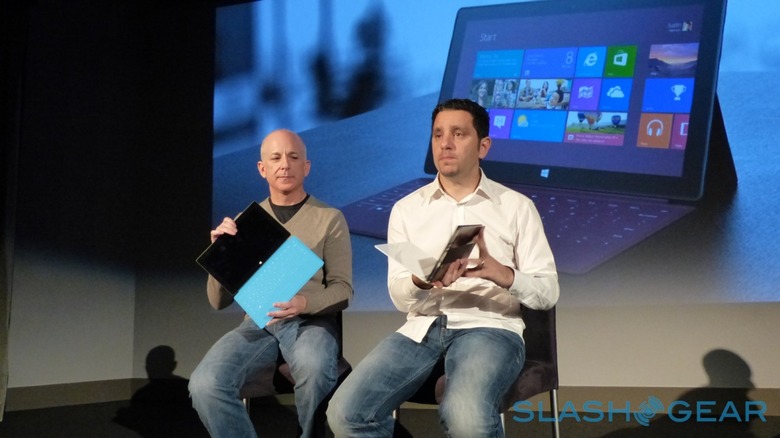 Surface is a huge deal for Microsoft, and it's no over-exaggeration to say that the fate of next-gen Windows rests in no small part on the shoulders of the new own-brand tablet. Up for preorder from today, priced from an iPad-matching $499, the new tablet represents everything Microsoft believes is important about the tablet-focused version of Windows 8, even though it runs the risk of frustrating long-standing OEM partnerships by taking the delivery of that into its own hands. SlashGear caught up with Microsoft at Studio B, the company's hardware hub in Redmond, Washington, for a tour of what are normally clandestine facilities, to find out the back story to Surface and why Microsoft's team felt it was best positioned to deliver it.
You don't just walk into Studio B, not ordinarily. Microsoft managed to keep Surface a secret – even from OEMs – up until it unveiled it back in June, and that's down to serious levels of secrecy at its hardware development studios. We were given access to Steven Sinofsky, president of the Windows and Windows Live Division, and Surface general manager Panos Panay, as well as being taken around the workshops, labs, and other facilities at Studio B. Unsurprisingly, there's plenty we can't talk about publicly – at times our phones and cameras were taken off us, just in case – but we came away with a new level of respect for what Microsoft challenged itself to do, and what it has achieved.
The Making of Microsoft Surface
Phones, tablets, and compromises
The tablet segment is an increasingly crowded one, but according to Sinofsky Microsoft's approach is considerably different from that of its key rivals. The big name in the room – and one liberally cited by both Sinofsky and Panay – is Apple's iPad, and with its majority share of the tablet market it's no surprise that Microsoft has been keeping an eye on the iOS pad. Still, Android hasn't been slow to take on tablets, whether in the flavor Google would prefer or a modified version made to suit OEM ambitions.
The starting points are pretty clear, Sinofsky points out. "Google, starting from either search or from open-source, and building up from a phone. So, they built a great phone and they said "oh, we've got to do a tablet" and we're all familiar with what it's like to build the experience after you build the experience" the president says. "They went through the whole efforts to redraft the UI, to turn it into a tablet, when they had started really from a phone. And when you buy into a tablet, you buy into... it's there for the search ecosystem, the Google software, and it's all good but it's their perspective"
As for Apple, "they clearly started with the success of the iPhone, did an amazing job on that, and when the iPad came out it was easy for everybody to grasp because many people had been using the iPhone for two years: they picked up the iPad and said look, it's the iPhone with a bigger screen" Sinofsky explained to us. "And in fact if you go look at your own, and everybody's first evaluations of this, you focused on the fact that it's an iPhone and now the screen is bigger, and so many other things are easier and more useful than on the small screen. And over time, [Apple] started to talk about stretching into other dimensions, but we all know it's rooted in that phone, and even today they're exactly the same trajectory, the phone and the pad they run the same software. And so that brings with it a huge number of advantages, but it's very clear in terms of the perspective, and the capabilities of what the device will do."
Surface – Steven Sinofsky + Panos Panay
Amazon perhaps epitomizes the fragmentation story going on within Android today, heavily customizing the OS to tailor it to its own needs. "Amazon did this incredible job on bringing the Kindle Fire to market, and everybody understands what you get when you buy the Fire," Sinofsky argues, "you buy the device, you buy into the Amazon ecosystem. They look at themselves as a retailer, they look at tablets as a way to buy stuff, whether it's digital goods or physical goods, and so they want to have a complete experience."
In contrast, Microsoft comes to tablets – not new, as versions of Windows have supported touchscreen hardware and digital pens since the days of Windows XP Tablet Edition – with a history in more ubiquitous PCs: desktops and notebooks. "And all of those are perfectly rational, good views of why to build hardware and what to do" Sinofsky concedes. "And we of course looked at this challenge, and said, well, we think of PCs as this generic kind of device that can work across a broad range of scenarios, that have a broad range of form-factors, that have extensible platform, that have peripherals and are part of ecosystems."
Boiling that premise down to a portable device users would keep with them all day, every day, was what led to Surface. "We want to bring all of that goodness to a kind of device that you carry around with you all the time, that has all-day battery life, with its roots in this ecosystem, and its roots in the notion of productivity. And in many ways, that's where we start with Surface" the Windows president explained. "It's about really bringing that extra perspective to market – we started with thinking about all of the things that are in those elements, whether it's things like a USB port, or the design of the case, or the aspect ratio. And all of these things become important decisions in how we build Surface."
"It's not about feeds and speeds"
Trade-offs and compromises aren't something most execs prefer to discuss when talking about their shiny new product, but the balance of decision making was a theme Sinofsky and Panay – as well as others on the Surface team – keep coming back to. That's because a trade-off need not be a negative thing, Sinofsky argues. "It's not about what we call 'feeds and speeds', all the aptitudes you can line up in a table and compare [across] all the tablets" he says, "those are interesting but what's really interesting is the full picture of what it does."
Surface – ID Studio
"We started with a meeting – those happen a lot at Microsoft – and it was a good meeting, where we sat down and Steven put it out there and said "we really want to bring out the best hardware experience for Windows ... we want this hardware to be an extension of Windows" Panay explained. "We knew the aspect ratio, we knew you'd be using it with two hands ... we knew the basics, we had to have all-day battery life, we had to have a great screen, we had to have it feel light, it had to do all these things."
That then triggered experiments with "hundreds and hundreds of models" produced on-site, using 3D printers to create tactile mock-ups from which the different teams could make decisions about design, hardware, ergonomics and more. Being able to so quickly handle the results of a design whim was, Panay says, hugely valuable to Surface's creation. "You know when you have something great" he told us. "And then there's those times when you think you have something ... when you look at it, you go, 'okay, I think we have something good here.'"
What a difference an inch makes
Some of Surface's specifications look pretty standard: the processor is an NVIDIA Tegra 3, paired with 2GB of RAM and either 32GB or 64GB of storage. There's WiFi a/b/g/n and Bluetooth 4.0, along with a couple of cameras and of course a touchscreen, in this case with a 16:9 aspect ratio – like we've seen on many Android tablets – and running at 1,366 x 768 resolution. However, for every standard tick on the spec sheet, there's a custom tweak from Microsoft itself.
Surface – Applied Sciences Lab
"When we started, it was 10.1-inches" Panay explains. "We needed a great tablet experience, but we needed it to be light, and your battery is a huge factor here: the bigger your battery is, the heavier your device is. But we also knew that the most dominant screen size in the world out there, or available – as a hardware guy, just a supply-change sense – is a 10.1-inch screen, 16:10. It didn't necessarily suit our needs, as it turns out. But we looked, and we said okay, let's just take what we have and build from it. And when you look at something like that, you just stop, and where we ended up was 10.6-inches. You see the different from 10.1 to 10.6. Now, let me explain to what gets you there from a trade-off perspective."
"Starting at 10.1, we looked at it, there were a couple of problems here. We want to bring the software to life; we're bringing Windows to life with this device. One of the great things with Windows is multi-tasking. So, if you were to go into multitasking on a 10.1-inch screen, your 4:3 screen becomes your web browsing area. You watch the text render really small. And then you're trying to use the web and multitask, and then you start to look back and go "wait a minute, what's the best experience for Windows 8, what's the best experience to look at a 4:3 screen ... how about 16:9?" But one of the things we pushed was, okay, we know 10.1 is too small, but understand the parameters that come with it."
Opting for a 10.6-inch panel took Microsoft into the realms of custom display manufacturer, but it also opened up challenges with packaging the screen in a way that saw it tick all of the essentials tablet buyers have been told to expect. "As you get larger, you get heavier – that's just by design, it's gonna happen, because your battery would get larger. Why make a larger device and not fill it with battery when that all-day battery life was a critical part of it?" Panay asks. "As the screen gets bigger, you're pulling more power; you actually need to get more battery in the device so you can pull the right amount of power and still keep all-day for the way the software was being designed."
Surface – Model Shop
Having to lead the development of customized components would probably be too much for many companies, but Microsoft has the scale to take it on. Still, Panay's team did look at whether a slightly larger, standard panel would do the job. "We considered an 11.1-inch device, but wow it really missed in the great tablet experience. So what we knew we had to solve for was, okay, 10.1 was too small, and 11.1 was too big, there's no real screen size out there from a supply chain standpoint that exists" he told us. "We had to go invent our own screen, we invented our own touch stack, we designed the thinnest touch stack in the world ... we were able to push to 10.6-inches because we were able to pick the right size. We checked every single possible size needed, we looked for the best size that fit, to make sure that in multitasking mode you were still able to get stuff done, if you're doing stuff. The size became almost a no-brainer."
"It's not a gadget, it's not a gizmo, it's a solid part of the device"
The decision about screen size had a knock-on effect on the keyboard, something many Windows users would expect to see with a Windows-based device (even if it does have a touchscreen). "At 10.1-inches, with a keyboard, your hands will overlap" Panay points out; Microsoft watched how 150 people used its Touch Case prototypes and developed different test layouts to accommodate trends in where fingers naturally landed, for instance. "An 11.1-inch screen is actually a pretty good solution for a typing surface. But at 10.6-inches – along with a great resolution for 4:3 – you now have the perfect keyboard size. When you set your hands down in the home position, you can have the perfect typing experience."
The keys themselves – laser etched – are pressure sensitive, so as to tell the difference between when you're resting your hand on the 'board or are actually pressing down to activate a key. The watermark moment is around 40g, the Surface team discovered. The result is a keyboard that, although just 3mm thick – Microsoft initially aimed for 4.5mm, so that it wasn't as chunky as some aftermarket iPad keyboards, but the engineers trimmed it down even further – allows for surprisingly fast typing speeds. It takes 4-5 days to get up to full speed, Panay admits, but once you're familiar you can get to roughly twice the speed most people can manage on the glass touchscreen of a rival tablet (or, indeed, on Windows RT/8's native on-screen keyboard).
Surface – Reliability Lab
It only takes roughly three seconds to get familiar with the pressure sensing technology, Panay claims; we only had limited time with the Touch Cover in a lab setting, so will have to withhold judgement until we can spend longer with the system in the real-world. Still, there's plenty of thought that's gone into it and, for those who can't divorce themselves from more traditional 'boards, Microsoft offers the $129.99 Type Cover which is thicker but includes keys with actual travel to them.
Typing isn't the only place Microsoft has given serious thought to Surface's design: the kickstand, for instance, has been an exercise in iterative development. We've seen kickstands show up on phones and tablets before – HTC had something of a reputation for them for a while – but the stand on Surface is undoubtedly the winner.
According to Sinofsky, the kickstand not only had to be stable, but it had to feel good and sound good. Owners had to have confidence that it could open and close consistently through the lifetime of the device, something not all moving parts on mobile gadgets can deliver. The end result is a trio of hinges, each built to a custom design, and which can open and close a million times seamlessly. Each time you open them, Sinofsky highlights, they sound the same; when you close the kickstand, the hinges are invisible.
In fact, two of the hinges control the feel of the stand, and the third actually delivers the distinctive "click" sound. It's modeled on the sort of reassuring clunk that you'd get from a high-end car, Sinofsky says. "It's not going to break off, it's not going to snap ... it's not a gadget, it's not a gizmo, it's a solid part of the device." Usually, he points out, when the tension in a piece of metal is released and it connects with another piece, there's a rattle at they settle; for Surface, hidden magnets along the edge make sure that the kickstand closes crisply. More 3D printing of test components helped the team make sure the closure happened just right.
Surface with Windows RT Breakdown
"People aren't reacting to resolution, they're reacting to contrast"
Making sure Surface shines where it really needs to has been as much about making decisions to leave elements out as it has to include them. Microsoft has been knocked for opting for a 1,366 x 768 display when the iPad 3 packs Retina resolution, but according to Sinofsky and the team, that's a compromise worth making. A higher resolution screen needs more graphics power, for a start, and brighter backlighting to push light through the extra wires in a panel with more pixels. If you actually want to watch higher-resolution content, Microsoft argues, you need to have more bandwidth to deliver it, or more onboard storage (Surface does have a microSDXC slot to add to its 32GB/64GB of internal memory).
In short, Sinofsky told us, Surface was developed with a screen suited for today, rather than what might be needed in five years time. And that jaw-dropping moment when people first see a high-res panel and get instant gadget-lust? That, the company argues, is a reaction to contrast, not resolution, most of the time.
Microsoft Surface Overview
While it may not lead on number of pixels, how they're presented is still something special. Microsoft not only pushed for the 10.6-inch custom size, but optical lamination too, bonding the top glass – Corning's toughened Gorilla Glass, naturally – to the rest of the display sandwich. The result is 0.7mm thick, as well as being lighter and tougher than rival panels, though Microsoft also had to stomach the risk of poor yields making the custom screen an expensive proposition.
Optimized for Work
Functionality as a theme came in early in the Surface design journey: the early concepts were based on the flexibility of opening and twisting a Moleskine notebook, for instance, and spawned a demo prototype for Panay's team to demonstrate to Sinofsky and others made from cardboard boxes and scotch tape. 3D printers soon took that role over, however, spitting out a new prototype in an hour. Roughly 300 were made over the course of the design process, something which took months longer than expected.
That process forced members of the team to go beyond their core disciplines. Designers had to think about engineering, and vice-versa: the positioning of a USB port on the outside had consequences for the slimmed-down components on the inside, for instance, while the twin-antennas for the Marvell radio chipset had to be retuned every time parts near them inside were tweaked along the way. The end result, though, is something which is entirely orientation-agnostic, crafted to leave at least one antenna untouched no matter how you're holding Surface, and with greater range than other slates on the market.
Microsoft Surface TV Ad 1
Even the power adapter brought its own trade-offs, made slightly larger than it could've been in the name of better usability. "It turns out, the trade-off that we wanted to make, was to optimize for work, and getting working as soon as you can. So, by just using a very slightly larger power adapter, you all of a sudden open up this whole world of productivity" Sinofsky told us. "So, you're sitting at the airport at 0-percent, your flight takes off in an hour, and I would like to charge the device. And so I plug the device in, I'm working/charging/working/charging, and I get to 50-percent, and that's enough for the whole flight, and then some. And so by just making that one trade-off, it's not as cool or sexy as this tiny little thing, but all of a sudden the whole device gets to full power in just over two hours."
Refinement by the minute
Obsessional doesn't really start to describe the Surface team's approach to the tablet. The project was an "endless loop of iterations," with the group taking liberal advantage of the fact that changes which previously would have taken 2-3 months to enact could now be pushed through in two hours. The huge 3D printers at Studio B – actually more complex than those at the Chinese production facilities, which are custom made to pump out the specific components – could be used to trial and tinker, and then decisions could be made at Microsoft HQ and be up and running in China by the next morning.
No detail has proved too small to address. The demo devices for the June launch, though hardly touched by press and analysts in attendance, were deemed to have edges too sharp for comfort, and so the Surface team experimented with chamfering them. A 0.3mm chamfer was eventually decided upon, with huge impact behind-the-scenes for what can only really be felt by your fingers in its absence.
The hinge of the Touch Cover, which clings magnetically to the base of Surface, was another labor of love. Described as "fairly indestructible" it took over a year to figure out a mechanism which would not only snap on cleanly but be so simple to detach that a three-year-old could tug it apart. The final design consists of both alignment magnets and contact pins, and works with clever positioning sensors so as to activate or deactivate its touch-sensitivity depending on whether you're using Surface in a position likely to involve typing or not.
Microsoft Surface TV Ad 2
"Invention plus impact is really what an innovation is"
Microsoft is betting big on Windows 8 and Windows RT, and Surface is a key salvo as the company takes on not only rival tablets, but the whole concept of "Post-PC." In the end, Sinofsky's team has come up with something that is neither a pure tablet nor a laptop.
"Is it a tablet or a laptop?" Sinofsky has been asked, he told us, on multiple occasions. "I've been using this now for a long time. I've used a lot of tablets; [Surface] isn't a tablet, but it's the best tablet I've ever used. And I've used a lot of notebooks and laptops, and this is not a laptop, but it's also the best laptop I've ever used. It's a new kind of device."
We'll know just how accurate that is when we put Surface through its paces ourselves. The tablet went up for preorder today, and will show up in stores on October 26.