Xbox One will get support for real names, external drives, and turning SmartGlass phones and tablets into universal remotes with OneGuide support in an update in June, Microsoft has announced today. The new system update for the console will address some of what Microsoft says are the most-requested features, such as expanding storage when the Xbox One's own internal drive is full.
As telegraphed by a leak earlier this month, the new firmware will add support for plugging in external drives to the Xbox One's USB 3.0 port.
Drives from 256GB or larger are supported, and up to two can be plugged in at any one time. They'll be formatted to suit the Xbox One's file system, however, so they probably shouldn't be the drives you also use to back-up your laptop.
The system will make it easier to play games in different locations and on different consoles. While plugging in your USB 3.0 drive to a friend's Xbox One will still require authentication that you own a game – either by signing into Xbox Live or slotting in the physical disc – you won't have to wait to download the title and its DLC. Xbox One will add a "copy to drive" feature for games/DLC on internal storage, too.
The other big feature-add in the June update is support for real names on the friends list. There'll be privacy settings for who can actually see your name, with the ability to share it only with certain friends, while real names won't be shown in-game, either.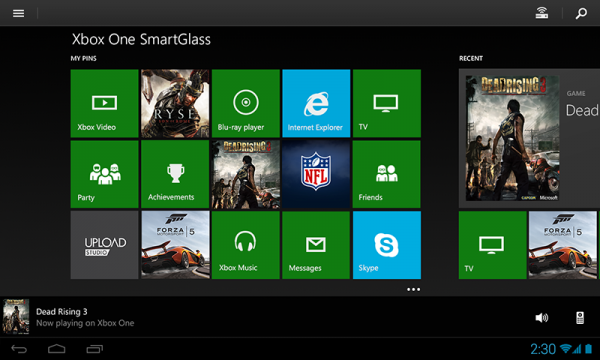 Elsewhere, there's SmartGlass OneGuide support, putting the UI directly on a phone, tablet, or PC running Microsoft's companion app. It'll also turn the device into a universal remote, meaning you can browse TV listings (in supported regions) on your tablet, set recordings, then switch to the right channel, all from SmartGlass.
There's also pin-reordering, a new UI with hero stats and content from the activity feed upfront in SmartGlass, and support for notifications when friends are playing or broadcasting. Microsoft says there's also improvements in power management and broader compatibility.
As of June, the UK, Canada, France, Germany, Spain, and Italy will get the TV and OneGuide features that so far only US users have been experimenting with in beta. You'll need to have your TV hooked up via HDMI-in to use it, but then you'll get Kinect voice control for set-top boxes and other hardware.
A couple of other tidbits are also present in the June update, including automatic sign-in to a preset Xbox Live account, and support for the more liberated Xbox Live Microsoft announced recently. It'll automatically be pushed out to consoles next month.