Xbox E3 2019 round up: Every single trailer from Microsoft's press conference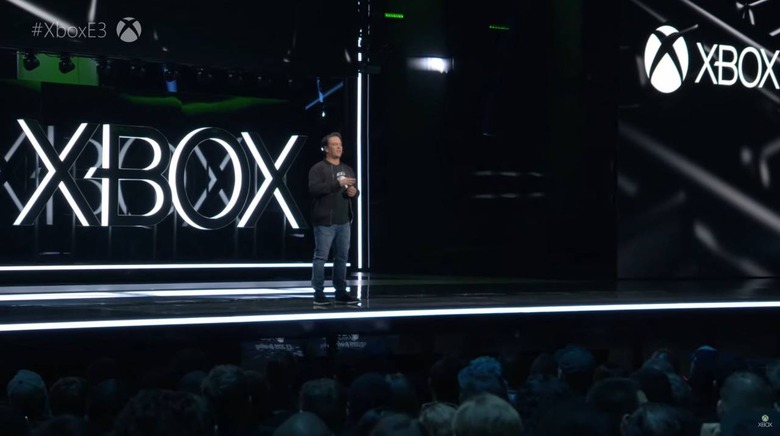 Microsoft hosted its E3 2019 press conference yesterday, and just like last year, it was packed to the brim with new announcements and trailers. In recent years Microsoft has adopted something of a "blink and you'll miss it" format, giving us game announcements rapid-fire for pretty much the entire duration of its show. There was a lot to take in and some things inevitably fell through the cracks, so here's every trailer that debuted at Microsoft's E3 2019 show yesterday.
The Outer Worlds
Microsoft started off the show strong by premiering a new trailer for Obsidian's The Outer Worlds. That trailer was capped off with a release date for the long-awaited game: October 25, 2019. Strangely enough, Microsoft didn't have anything else to say about The Outer Worlds, letting the trailer and release date speak for themselves.
Bleeding Edge
One of the strangest and most surprising reveals of the show came early on, with the announcement of Ninja Theory's Bleeding Edge. Billed as a third-person competitive combat game, the first trailer for bleeding edge is definitely zany and colorful, which most of us probably didn't expect after Hellblade: Senua's Sacrifice. There's no release date for Bleeding Edge yet, but a technical alpha kicks off on June 27th.
Ori and the Will of the Wisps
Ori and the Blind Forest was a beautiful little Metroidvania title, and though Microsoft has been teasing its follow up, Ori and the Will of the Wisps, for a while now, it's kept the game's release date under lock and key. That all changed this year, as Microsoft finally confirmed that Ori and the Will of the Wisps will be out on February 11th, 2020. Take a look at the latest trailer below.
Minecraft Dungeons
Part Minecraft, part Diablo, Minecraft Dungeons is a game that will have you picking a class and going on an action RPG adventure in search of loot and levels. Minecraft Dungeons was certainly one of the more unexpected announcements during Microsoft's show, but in its wake, we're definitely looking forward to checking it out when it launches next year.
Star Wars Jedi: Fallen Order
Respawn's Star Wars Jedi: Fallen Order is one of the biggest games at E3 this year, so of course Microsoft featured a trailer for the game during its show. If this trailer doesn't scratch the itch completely, you'll definitely want to check out all of the new details EA and Respawn revealed about the game on Saturday.
Blair Witch
Who knew that E3 2019 would bring about the revival of the Blair Witch franchise? We're getting a new game based on one of the most talked-about horror movies of all time, and the trailer for it is suitably creepy. We're not sure why you'd want to play a game where you're being hunted and messed with by the Blair Witch (it's a bit too spooky for us), but if you do, you'll have your chance on August 30th.
Cyberpunk 2077
One of the biggest games to make an appearance during the Xbox E3 press conference was undoubtedly Cyberpunk 2077. Not only did CD Projekt Red deliver a new trailer and a release date for the game – April 16th, 2020 – but it also revealed that none other than Keanu Reeves will be in the game. Microsoft even brought him out on stage to talk about the game, and we've embedded the entire sequence below (courtesy of GameSpot) because it's too good to miss.
Spiritfarer
Following Cyberpunk 2077 and Keanu Reeves is tough, but Spiritfarer did a pretty good job of it. In Spiritfarer, you'll play "as ferrymaster to the deceased," building a barge and leading spirits into the afterlife. It sounds like a heavy game, but there's no denying that the animation and the music are beautiful.
Battletoads
Does the world need a new Battletoads game? That's up for debate, but regardless of if we do or don't, Microsoft is giving us one anyway. This new beat-em-up game supports three-player couch co-op and will probably pay homage to the games that came before it by being brutally difficult, so don't go in expecting to coast your way to victory.
RPG Time: The Legend of Wright
One of the most unique games to be previewed during Microsoft's press conference, The Legend of Wright has you exploring the hand-drawn and hand-crafted creations of an aspiring RPG developer who's on break from school. Obviously, the trailer doesn't give very much away, but it does set the stage for a game that will stand out from pretty much everything else.
ID @ Xbox sizzle reel
Microsoft packed a lot of games into its show, but a number of them were revealed (or otherwise shown off) in an ID @ Xbox montage. There are a ton of indie games in the sizzle reel you see embedded below, and while we only get brief glimpses at all of them, Microsoft did confirm that they will all be available through Xbox Game Pass at launch.
Microsoft Flight Simulator
Most of us probably didn't expect to see a new Flight Simulator game at E3 2019, but Microsoft confirmed that its long-running series is still alive and well. Bust out the flight sticks, multi-display set ups, and the bucket seats, because judging from the trailer, Microsoft Flight Simulator (which also seems to be a reboot) looks like it's going to be good.
Age of Empires 2: Definitive Edition
One of the greatest real-time strategy games of all time is about to make a comeback (again). Just like it did with the original Age of Empires, Microsoft is giving Age of Empires 2 the definitive edition treatment. It seems that Microsoft has overhauled the graphics and the audio for this release along with making the game playable in 4K, so Age of Empires 2 Definitive Edition appears to take things one step further than the HD remaster we received back in 2013.
Wasteland 3
Ready to head back to the Wasteland? Wasteland 3 was one of Microsoft's surprise reveals during E3 2019, and though we didn't get any supplementary information, the trailer pretty much speaks for itself. We're heading to Colorado Springs this time, so get ready for some post-apocalyptic warfare in the Rockies.
Psychonauts 2
Microsoft continued its studio buying spree at E3 2019 by announcing that it has acquired Double Fine games. That's a big buy, and to celebrate the occasion, Double Fine revealed the first gameplay trailer for Psychonauts 2. Rest assured, despite Microsoft's buyout of Double Fine, Psychonauts 2 will still be coming to all of its originally announced platforms, so we'll see this land on PS4, Mac, and Linux in addition to PC and Xbox One.
Lego Star Wars: The Skywalker Saga
People can't seem to get enough of the Lego Star Wars series, and so Telltale is going to bundle everything into one package. Dubbed Lego Star Wars: The Skywalker Saga, this title will serve up nine different games, including one based on the yet-to-be-released Star Wars: The Rise of Skywalker. That's a lot of Lego Star Wars.
Dragon Ball Z: Kakarot
An official title for Bandai Namco's upcoming Dragon Ball Z game was revealed during Microsoft's show at E3, and this time, we're invited to relive the story of Goku in action RPG form. The E3 2019 trailer for Dragon Ball Z: Kakarot features a lineup of some of Goku's greatest foes, putting specific focus on Frieza. In short, it looks nuts, and it seems that Dragon Ball Z fans will have a lot to look forward to in this game.
12 Minutes
The latest game from Annapurna Interactive and Luis Antonio, 12 Minutes is billed as an interactive thriller where the main character is forced to get to the bottom of a mystery as he relives the same terror-filled 12 minutes over and over again. It looks like quite the trip, and we're looking forward to hearing more about this game in the future.
Way to the Woods
Way to the Woods was one of the titles that was featured in that ID @ Xbox sizzle reel a few entries back, and it follows a deer and her fawn as they attempt to navigate an abandoned world and find their way home. Along the way, you'll encounter and use relics left behind humanity, so it should prove to be an interesting – if not slightly unsettling – little game.
Gears 5
We expected Gears 5 to make some kind of appearance during E3, and we weren't let down. Microsoft revealed that Gears 5 will be released on September 10th, and though the company didn't really talk much about the story, it did reveal a new game mode called Escape. You can see the cinematic trailer for Escape below, with more information sure to come soon.
Dying Light 2
Dying Light is a game that's managed to build itself a sizable audience, so of course there's going to be a sequel. Dying Light 2 received an official reveal during yesterday's press conference, and though we didn't get more information aside from a reveal trailer, fans will probably be happy enough seeing this for now.
Forza Horizon 4: Lego Speed Champions
Lego managed to work its way into yesterday's presser in more ways than one. Forza Horizon 4 is about to get the Lego treatment as well, with a new expansion centered around Lego cars and the destruction that's bound to happen when they're on the road. Even better is that Lego Speed Champions, as this expansion is called, is releasing on June 13th, so get ready to dive back into the Horizon festival with a fresh perspective.
Gears Pop!
Remember that weird Gears of War mobile game that was announced last year? The one that features Funko Pop figures come to life? That still exists, and Microsoft is getting ready to open up pre-orders for the game. We don't expect a ton of Gears fans to be overly excited for this game, but nevertheless, check out the trailer below and see if it's something you'd like to download.
State of Decay 2: Heartland
Forza Horizon 4 isn't the only game getting a surprise expansion for E3. We can also add State of Decay 2 to that list, as its new story-based campaign expansion, Heartland, got an official reveal during the show. You can check out the trailer below or you can dive in, as Heartland is available now through Xbox Game Pass.
Phantasy Star Online 2
This announcement was arguably the most surprising one of the entire show: Microsoft has partnered with Sega to bring Phantasy Star Online 2 to the West. The game will be available on Xbox One and PC, so it sounds like maybe Microsoft provided some of the funding required to launch this game in North America. Regardless of who paid, we're sure PSO fans are very excited by this news.
Crossfire
Microsoft announced that it's partnered with Smilegate to bring one of the latter's most successful games to console for the first time. We're talking about Crossfire, which boasts an eye-watering 650 million players on PC. It'll head to Xbox One next year, and it sounds like it might even expand to other platforms after that.
Tales of Arise
One of the latest from Bandai Namco, Tales of Arise is a very pretty game with a very silly title. We wouldn't expect anything less, but unfortunately for us, not much else was revealed about the game. While we wait for more details, have a look at the trailer below and see if this game is something you'll want to play when it arrives in 2020.
Borderlands 3
Obviously, with a game as big as Borderlands 3 on the way, there was no question that it would make an appearance on Microsoft's stage. The trailer below is certainly fantastic, but it arguably wasn't the biggest Borderlands-related reveal made during Microsoft's show. Gearbox has brought Borderlands: The Handsome Collection to Xbox Game Pass, even going so far as launching new DLC for Borderlands 2 that sets the stage for the upcoming third installment.
Elden Ring
Bandai Namco was certainly there in force at Microsoft's show, revealing not only Tales of Arise but also From Software's next game. Elden Ring is the name of the game, and yes, this is indeed the title on which From Software is collaborating with A Song of Ice and Fire author George R.R. Martin. Check out its first trailer:
Halo Infinite
This is the big one, folks. Microsoft saved Halo Infinite for last, confirming that it'll be a launch title for the next Xbox, which for now is known as Project Scarlett. There's no gameplay footage for Halo Infinite yet, but the cinematic trailer below does an excellent job of setting the stage for Master Chief's return.
Wrap-Up
There you have it: every single trailer from Microsoft's E3 2019 show. Microsoft talked about more than 60 games during its E3 press conference, and keep in mind that not all of these are console exclusives for Xbox One. What did you think of Microsoft's press conference? Head down to the comments section and let us know!