Xbox 360 "Entertainment for All" adds 250GB console to $99 deal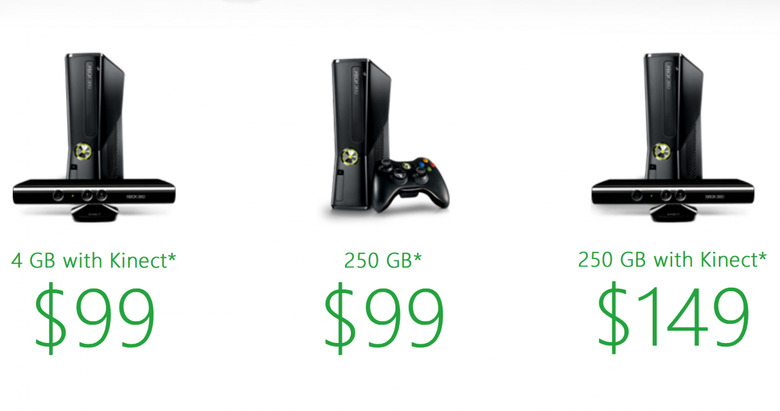 Microsoft has broadened its subsidized Xbox 360 deal, offering a 2506GB version of the console for $99 or with a Kinect for $149, for those signing up to its new Xbox 360 Entertainment for All plan. Initially launched earlier this year, following phone-style deals where upfront cost is offset by a monthly payment – in this case, a two year contract for Xbox LIVE Gold membership – the extended offer is "coming soon" Microsoft says.
That Xbox LIVE Gold Membership comes in at $14.99 per month, which means it's another $360 to factor into the cost of the console itself. The original deal – a 4GB Xbox 360 with Kinect – is still available, at $99, while those not interested in motion gaming can swap that for more storage.
When we ran the figures initially, back in May, Microsoft's deal worked out reasonably competitively, with the company making $55 on the promotion. It was still, unsurprisingly, cheaper for consumers to pick up a regular console and then opt for a couple of years of prepaid Xbox LIVE membership – $49.99 for 12 months.
Since then, street prices for Xbox 360 have fallen even more. The 4GB/Kinect bundle had been coming in at around $284; it's now down to $246 from online retailers, as is the 250GB Xbox 360. Microsoft hasn't reduced its initial, subsidized price, however, so it's making more on the scheme: a 250GB model on the Entertainment for All Plan is $459, or $509 if you want Kinect too.
In contrast, shop around for the best deal and you can get the same bundles for $346 or  $490 (though the latter gets you the 250GB 360 with Kinect "Holiday Value Bundle" with several games thrown in too). Overall, then, those cash-strapped gamers who simply must have a new console might find something here for them, but everyone else is probably better off saving up and paying upfront.
[Thanks Carl!]