WWDC 2013 teased with pre-event Black Banner [UPDATE]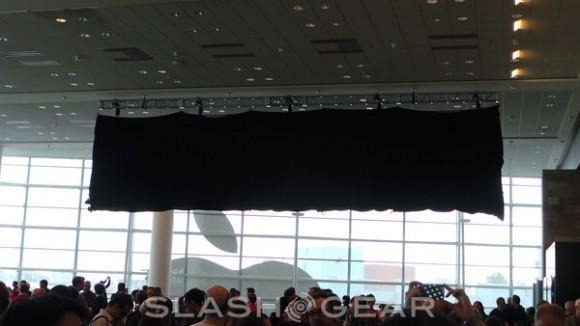 Just as Apple teased last year at this same annual event, a covered banner has been hung – floating above the crowds at WWDC 2013 waiting to get in to the week's first major keynote. This banner is the same size as those already unveiled on the first level of the Moscone Center where the developer event is taking place, here covered from view promises something entirely new.
This year's keynote is sure to bring on new elements for both iOS and OS X, tying to the two together with new cross-platform features. Based on the tips and rumors that've appeared in the past couple weeks, it appears quite likely that this particular banner won't just be revealing a new color scheme for the mobile device ecosystem here with Apple.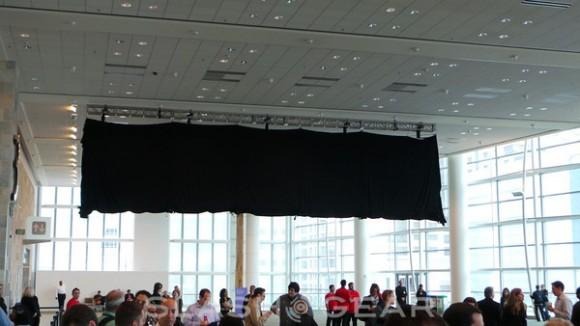 SlashGear will be bringing on the news all day – and week – long through our own [Apple hub]. This hub has already begun to fill with articles on Apple's rumored next-generation services, features, and devices as well. Along with this event's certain presentation of future-looking iOS and OS X elements, it's anticipated that there'll be refreshes in hardware – MacBooks and a possible Mac Pro, too!
Then there's the still code-named "iRadio", a streaming music service that's rumored to be bringing radio-like tunes to Apple users with options to skip and buy tracks. While we're not expecting any new mobile devices this week, we'll see no lack of updates to the software for machines already on the market. Stick around: the main keynote starts at 10AM PST today!
UPDATE: Surprise! It was an iPhone with iOS 7 on it. Grab a peek!