Wistron confirmed as Polymer Vision buyer: foldable e-paper in development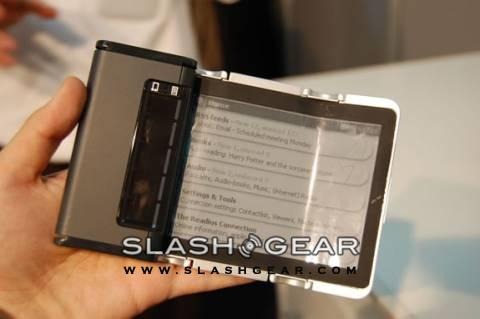 The unnamed Asian company which acquired ailing foldable e-paper startup Polymer Vision has been outed as Wistron.  Polymer Vision declared bankruptcy back in July, and were acquired in early September; the deal is now known to have been worth €12m ($17.75m).  Integration of the two companies actually began taking place last month, but right now it's still unclear whether the Polymer Vision brand will be maintained.
Also unclear is exactly what the Wistron-led company will be developing.  Polymer Vision's first product was to be the Readius, a smartphone/MID device with a foldable 5-inch e-paper display, integrated 3G, Bluetooth and more.  Back when the sale was announced, it was suggested that the focus would shift from the competitive smartphone sector to wirelessly-connected ebooks instead.
The Polymer Vision team are now working in Wistron's Mobile Business Group, and the expectation is still that foldable e-paper will reach mass production.  The company was initially spun-out from a Philips research project back in 2006.  More Readius hands-on images here.