Polymer Vision bought: new foldable ebook readers planned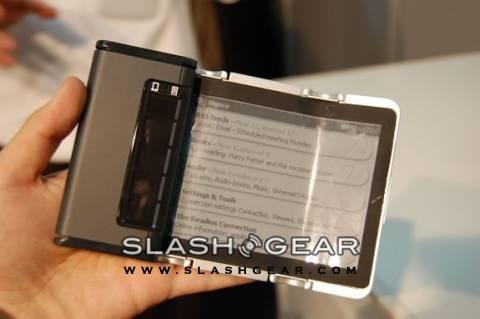 Polymer Vision has reportedly been sold to an unnamed Asian company, who will restart the firms development of foldable e-ink displays.  Having declared bankruptcy back in July, Polymer Vision – whose first device, the Readius, was to be a cellphone with a large fold-out e-ink display – will now retain around 80-percent of its staff after new contracts were signed this week.
However the company's focus will now shift, away from mobile phones and to concentrate more on ebook readers.  It's unclear whether this will mean their shipping products lack any sort of cellular connectivity, or whether it is to be more a semantic positioning whereby the integrated modem is used solely for downloading content wirelessly rather than demanding it be side-loaded.
No word on when we can expect to see the first products arrive on the market, but going by director Karl McGoldrick's comments to a Dutch paper it seems they're racing to be first to the shelves with a foldable solution.  The Readius was tipped to arrive back in fall 2008, but was scuppered when its funding turned out to have been part of a third-party pyramid scheme.
[via Mobile Read]