Readius plans fold as Polymer Vision goes bankrupt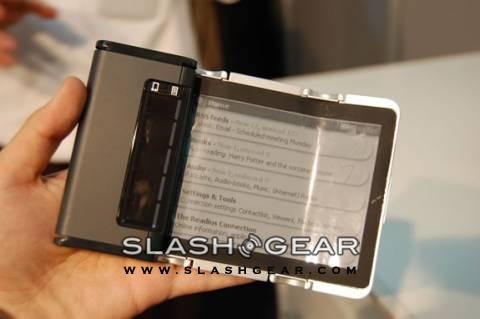 Polymer Vision, the company responsible for the Readius e-paper device first promised for the fall of 2008, has folded.  The company had most recently announced that it required further funding in order to begin production; however it could not secure that in sufficient time, and called in receivers on July 7th.
The administrators have not yet commented on their plans for the company, but it seems likely that Polymer Vision's technology will be sold off to a third-party.  The company had previously invested £3m ($4.9m) in clean-room manufacturing facilities, intended to produce the foldable screens developed by Southampton University.
Polymer Vision themselves are yet to issue a statement, and their site is unchanged.  Nearly fifty jobs have apparently been lost.  The Readius used a 5-inch folding e-ink panel and had integrated 3G connectivity, and was intended to be used as a smartphone-style device.  We caught up with it back in 2007, and you can read the full hands-on piece here.
[via Mobile Entertainment]