Polymer Vision Readius set for Fall launch
Polymer Vision have confirmed that they're on schedule to launch their Readius cellular-connected ebook reader in the Fall.  In a post to their new company blog, CEO Karl McGoldrick also announced the launch of www.readius.com, the media and content portal that Readius users will be able to access free and subscription-based information.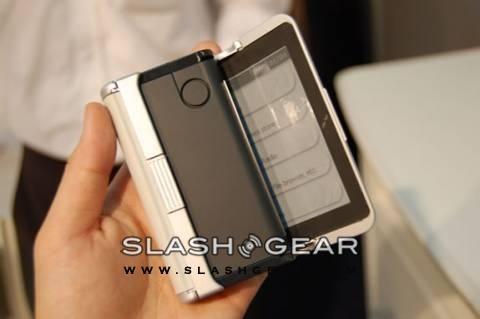 Aside from a 5-inch foldable epaper display, capable of 16 levels of grey, the Readius has 3.6Mbps HSDPA, Bluetooth, a microSD slot and promises 30hrs battery life.  Control is via a range of touch-sensitive buttons next to the display.  Pricing is still unknown, but earlier estimates suggested it would be "comparable to a high-end mobile phone".
Back at the Mobile World Congress our sister site PHONE Magazine got some hands-on time with the latest Readius prototype and shot some exclusive video footage.  Make sure to check out the link for all the details.
[Thanks Alex!]