Windows in the Car to put Cortana in the dashboard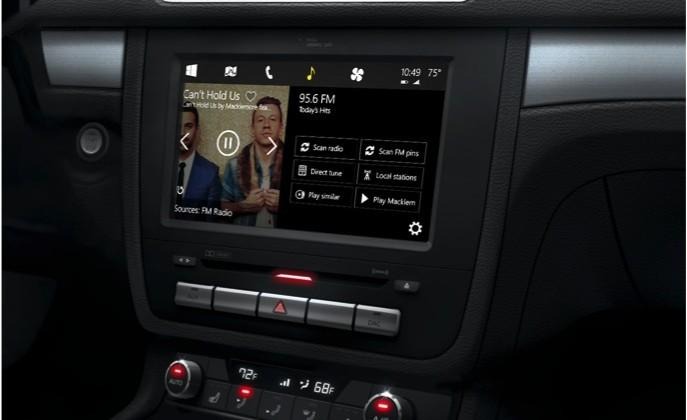 Apple has CarPlay, Google has the Android Open Automotive Alliance, and now Microsoft has Windows in the Car, its own take on piping smartphone content from your Windows Phone directly to the dashboard. Quietly demonstrated at Build 2014 this past week, in concept form at least, Windows in the Car pares back the standard Windows Phone interface to suit center console touchscreens and safer use while on the move thanks to features like Cortana.
Underneath the system is based on MirrorLink, an existing interconnectivity standard for cars and mobile devices that has already begun to show up in select head-units.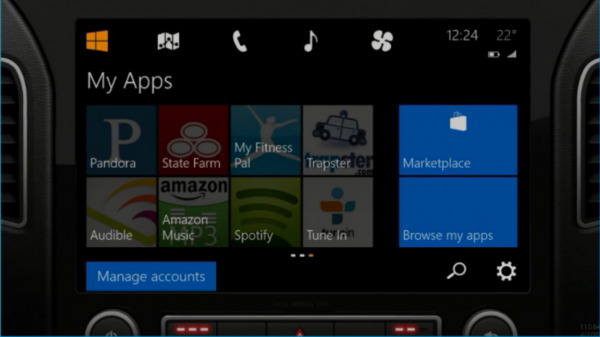 However, Microsoft dresses MirrorLink up in a familiar Windows and Windows Phone suit, with a UI that's a combination of the two. As with CarPlay, exactly which apps and which features are on offer are dependent on what's deemed safe for in-car use: think streaming media from services like Pandora, Spotify, and Amazon Music, along with maps and calls, rather than checking your Outlook inbox.
A Marketplace, presumably offering car-specific apps, is also shown.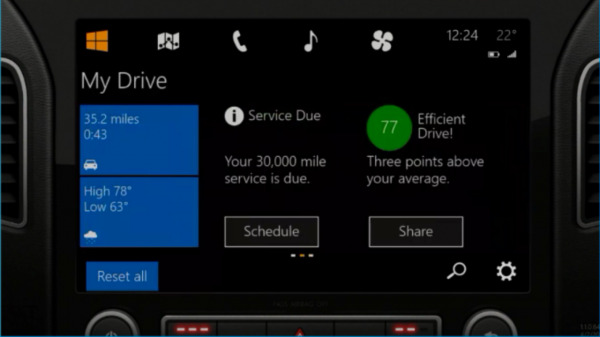 Microsoft's new Cortana virtual personal assistant is also name-checked, potentially tagging along as an intelligent co-pilot of sorts. As we saw on Windows Phone 8.1, Cortana can locate nearby businesses and give navigation directions, as well as use geofencing to trigger reminders and alerts when you're near a specific place, all features with applications in automotive.
Meet Cortana, Windows Phone 8.1's answer to Siri and Google Now
Unlike CarPlay, however, which effectively puts a video-output from the iPhone 5s onto the dashboard display, Microsoft's proposed system would apparently be more tightly integrated into the car's own functionality.  In one screen, controls for heating and windscreen defrosting are shown in among shortcuts for streaming media and notifications about the current speed limit. Whether that's actually possible remains to be seen, but it would certainly help Microsoft differentiate itself from rival approaches.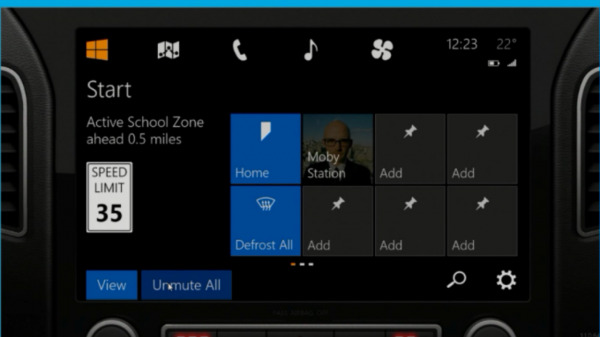 Right now this is all still in the realms of demo-tech, and Microsoft isn't saying when Windows in the Car might make it out of the labs and into your dashboard. The company is no stranger to infotainment, however; Ford's SYNC system is based on Windows Embedded Automotive, for instance, an offshoot of Windows CE intended for cars.
SYNC allows for remote media and phone access from a connected smartphone through the dashboard controls, though there have been indications that Ford may dump Microsoft for a rival system like BlackBerry's QNX after poor driver feedback, among other reasons.
Gaining a foothold in the dashboard is seen as particularly important for all the main smartphone platforms, with car manufacturers themselves warily embracing the idea as drivers begin to demand the same advanced features and app support from their infotainment as they have on their phone. Apple looks to be first out of the gate, with CarPlay set to debut on Volvo's new XC90 SUV this summer as well as models from Mercedes-Benz and Ferrari, though we're expecting to hear more about the Open Automotive Alliance at Google I/O 2014 in a few months time.
VIA Engadget
SOURCE Channel9