Windows 8 Tablets To Have 15% Market Share By 2014 Says Analyst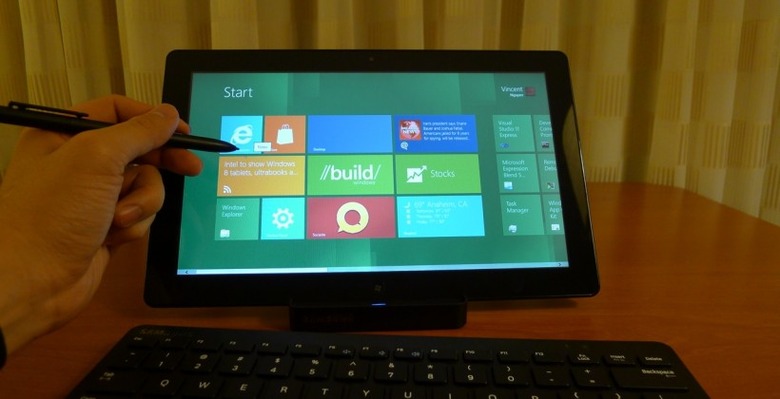 What a difference an "8" makes: Microsoft's Windows 8 only broke cover properly earlier this week, and analysts are already declaring it a future sales success. RBC Capital Markets analyst Robert Breza is predicting Microsoft will hold a 15-percent share in the tablet segment by 2014, the Financial Post reports, praising the new OS' Metro UI as borrowed from Windows Phone.
"Unlike traditional Windows 7, 'Smart Tiles' leverages multi-touch for a clever way to conveniently access most frequently used files and data" Breza points out, suggesting that this "leverages both desktop and mobile." Microsoft's existing installation base and strong position among enterprise users should also help it along the way, it's predicted, although the company will need to focus on application momentum if it wants to challenge the iPad's market lead.
Metro UI on Windows 8 tablet:
[vms e194413056248a00ce00]
The impact Windows 8 on tablets has on Microsoft's stock price could mark an end to periodic calls for CEO Steve Ballmer to be toppled, something the company's board has always resisted while denying that the outspoken exec is "stuck in the past." Earlier this week, Ballmer admitted dissatisfaction with Windows Phone sales but argued that the platform would receive a significant boost once the first Nokia devices to run the OS went on sale.
"Windows 8 tablets could be a valuation catalyst for the stock if investors begin to see Microsoft regaining leadership in the post-PC era" Breza concludes. The company's share price climbed to a high of 26.785 in the aftermath of BUILD, though with Windows 8 slates not expected to go on sale until next year the market is apparently still cautious.
[via BGR]