Will Disney edit Star Wars? Kathleen Kennedy says no (sort of)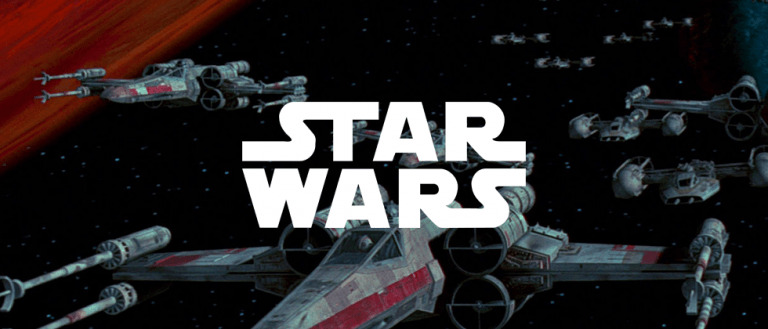 An interview with Lucasfilm CEO Kathleen Kennedy has popped up this week with a few pointed questions on the future of Star Wars. The folks at SteeleWars (comedian Steele Saunders, to be exact) asked Kennedy how free Lucasfilm is, in its current form, to edit past Star Wars films. Can alterations be made to past Star Wars films, or are they set in stone from this point forward?
The interview
This interview is part of a larger bit of audio shared through SteeleWars where it can be downloaded as a Podcast audio file. There anyone can listen to interviews with several main characters and makers behind Star Wars: The Last Jedi. That's the next major Star Wars film, the film that takes place immediately after Star Wars: The Force Awakens.
In this video you'll see just the bit we're discussing on how Star Wars can and will be altered in the future. It begins with a bit about Leia Organa – or Leia Solo Organa, or General Organa, whichever you wish to use. As Carrie Fisher died this past December, 2016, the future of Leia was suddenly found in flux.
Carrie Fisher changes everything
After her explosively influential life and untimely death, Carrie Fisher continues to shape the way Leia plays a part in the Star Wars universe. As Kennedy suggests in the interview, Fisher filmed scenes for at least one more Star Wars movie, but after that, things have changed. Instead of fading Leia out, Kennedy indicates that the entire story had to be altered to make way for the death of this major character.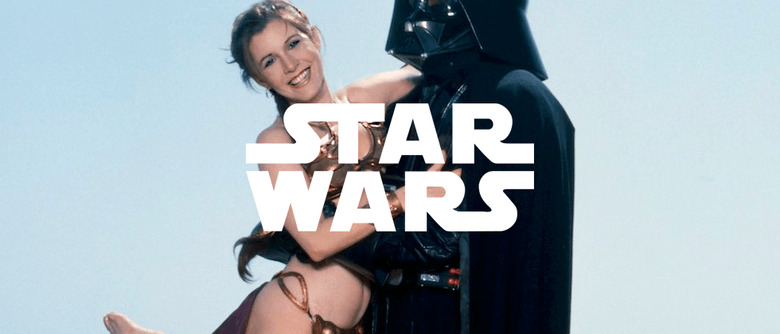 That means little to the general population who already realized that there wouldn't be more Leia at some point in the near future. Two important points that should be made abundantly clear. First, while Leia might appear in stories and movies in the future as she was before she died, she will not be represented by any sort of digitally-manufactured Carrie Fisher.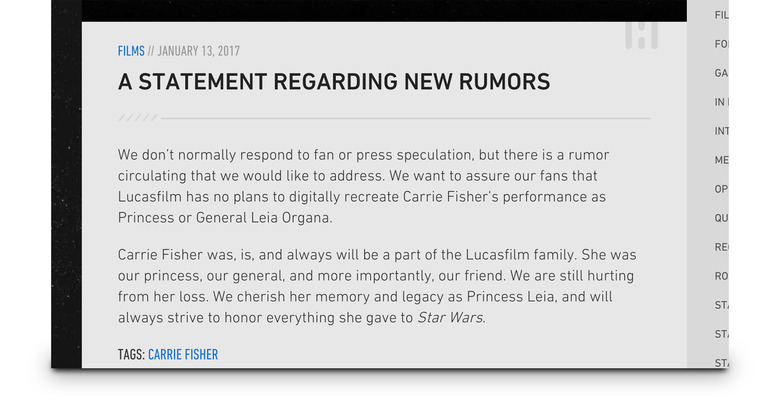 Above you'll see a statement from Lucasfilm as posted to Star Wars dot com back in January of 2017. The other important bit here is that Princess Leia will continue to pop up here and there in the Star Wars universe. The April 13th, 2017 announcement of Forces of Destiny made that abundantly clear.
George Lucas's Star Wars
The first question from Steele asked is whether Lucasfilm has any sort of agreement with Disney that "the films are locked in their current form." To that, Kennedy said no, "there's nobody actually locking us in to anything." Kennedy continued, "the beauty of our relationship with the Walt Disney corporation is that they've been absolutely fantastic at standing back and pretty much letting us do what we want."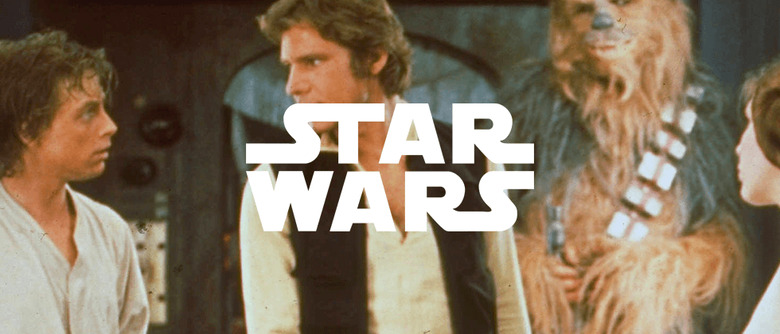 To be a bit more specific, Steel adds, "the vision of George's final cut of the films that he left us with, whether that might be altered over time." Kennedy seemed taken aback, almost comically so, saying, "I haven't* touched those, are you kidding? :laughs: Those will always remain his." *While it sounds like Kennedy says haven't, it's possible she said "wouldn't". We shall see!