Star Wars Forces of Destiny and the first Easter Eggs, Actors, and Trivia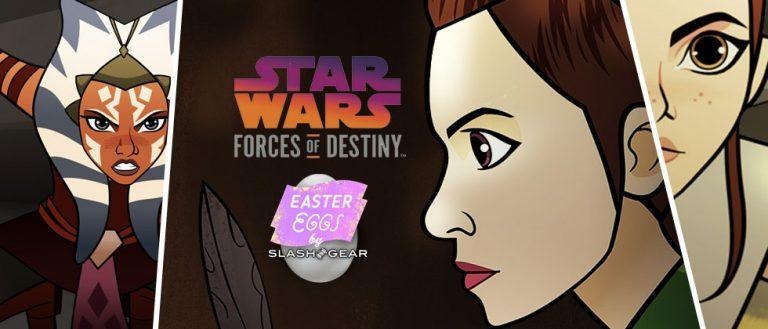 The first in a series of clips has been revealed for the newest Lucasfilm project in the Star Wars universe: Star Wars: Forces of Destiny. This show will give a boost to the already awesome new collection of female characters that've popped up in the Star Wars universe over the past couple of years. Taking place in a variety of points in the Star Wars timeline and from several different perspectives, this show will also fill in some moments between already-covered parts of the Star Wars movies.
One of the goals, it seemed, with the Clone Wars TV series was to give us an extended look at the lives and times of some of our favorite Star Wars characters. We got the opportunity to watch Padme and Anakin turn into the people they'd become by the time Revenge of the Sith rolled around. Forces of Destiny will do something similar.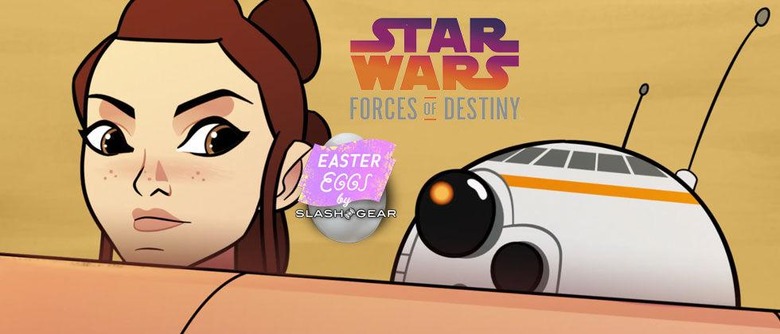 "Star Wars Forces of Destiny is for anyone who has been inspired by Leia's heroism, Rey's courage, or Ahsoka's tenacity," said President of Lucasfilm Kathleen Kennedy. "We're thrilled that so many of the original actors are reprising their roles in these shorts which capture the small moments and everyday decisions that shape who these characters are. It is a fun new way for people to experience Star Wars." This is not the first time Kennedy has spoken specifically about more female characters in Star Wars – see Star Wars Celebration 2015.
Cannon!
Lucasfilm specifically mentions "Star Wars Cannon" in their release for the press. This means that the bits and pieces we see in the videos and read in the books that'll be part of the Forces of Destiny series will be official Cannon. In essence this just means they're something someone writing an official Star Wars book will need to account for if they ever approach any of the subject matter – but for a hardcore Star Wars fan, it means that these videos and books will be required viewing and reading!
Original Voice Actors
The following set of voice actors are original insofar as they've played their roles at least once – and in most cases several times – before this series. Some have been voice actors for their roles in Clone Wars, others have been their characters in the live action movies. Each one of these reprisals of roles lends legitimacy to the series and adds to the importance of its consumption by Star Wars fans of all sorts.
• Daisy Ridley (Rey) : from The Force Awakens and The Last Jedi
• Felicity Jones (Jyn Erso) : from Rogue One
• Tiya Sircar (Sabine) : from Star Wars: Rebels
• Vanessa Marshall (Hera) : from Star Wars: Rebels
• Lupita Nyong'o (Maz Kanata) : from The Force Awakens
• Catherine Taber (Padme) : from The Clone Wars
• Ashley Eckstein (Ahsoka Tano) : from The Cone Wars and Rebels
• Matt Lanter (Anakin Skywalker) : from The Clone Wars
• UNKNOWN (C-3PO)
We'll be crossing our fingers that the always-at-the-ready Anthony Daniels will continue to helm the role as C-3PO, but we've got no confirmation as yet! Given his past track record with being the golden droid, it'd be more of a surprise if he weren't reprising the role than if he was.
Above you'll see the first preview clip of a scene that'll be in the Forces of Destiny series. This clip features Rey (voiced by Daisy Ridley) as well as BB-8 and Teedo. Teedo and BB-8's voices can be replicated from the bits and pieces recorded for The Force Awakens – which is appropriate since this scene takes place in-between scenes from that film. More time on camera, more understanding in how these characters think, feel, and act!
More Maz Kanata!
The narrator of the series will be none other than Lupita Nyong'o reprising her role as the most awesome Force-Attuned character in the Star Wars universe: Maz Kanata. She'll be hanging out at the beginnings of each episode and will (probably) play a bigger role in the final TV special. We shall see!.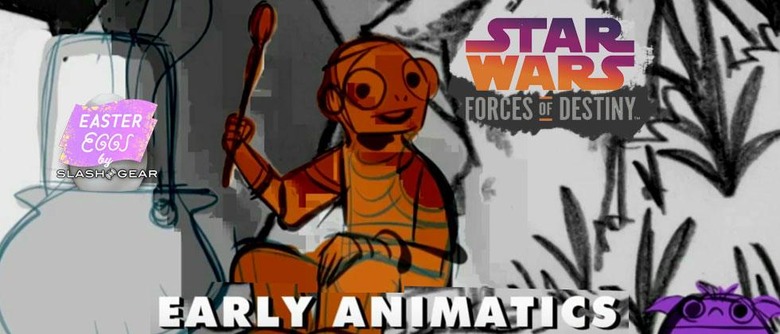 Princess Leia and the Resurrection of an Easter Egg
Princess Leia will also have a role in this series – though for the time being we do not know who'll be donning her iconic hair buns behind the mic. Leia will be appearing in at least two scenes, one on Endor with a pack of Ewoks, the other, according to EW, will be on Hoth.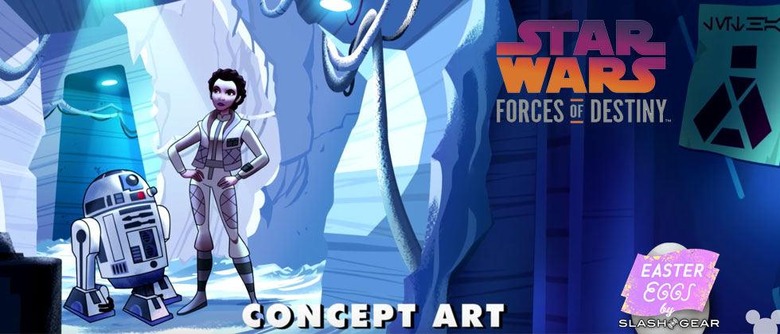 The Hoth scene will resurrect one of the most awesome Easter Eggs never seen by the vast majority of viewers of The Empire Strikes Back. A sign can be seen in the real-deal final cut of the film, one that warns against entry into a door in the Echo Base on Hoth. This sign was part of a two-part plot string that ended up being too weird for the full film.
Above you'll see the scene as it exists in the film, followed by the ROUGH cut of what was meant to follow. In Forces of Destiny, there'll be a scene where Leia, C-3PO, R2-D2, and poor Chewbacca come in contact with a Wampa that's found its way into the base on Hoth. We'll go ahead and assume it'll look something like what's included in the set of cutscenes you'll see in the video below – from the Blu-Ray, looking a whole lot better than what's above:
Wrap-up and Release
Around about July of this summer we'll see the first set of 2-3 minute episodes of Forces of Destiny. These will appear on Disney XD, much like past Star Wars video properties have over the past several years. That'll be the same place Star Wars Rebels continues to be shown, too. UPDATE: They'll also be appearing on Disney's YouTube channel, while a two-part TV special will appear on the Disney Channel in Fall 2017.