Will Apple snipe down Google's Schmidt with iPad 3?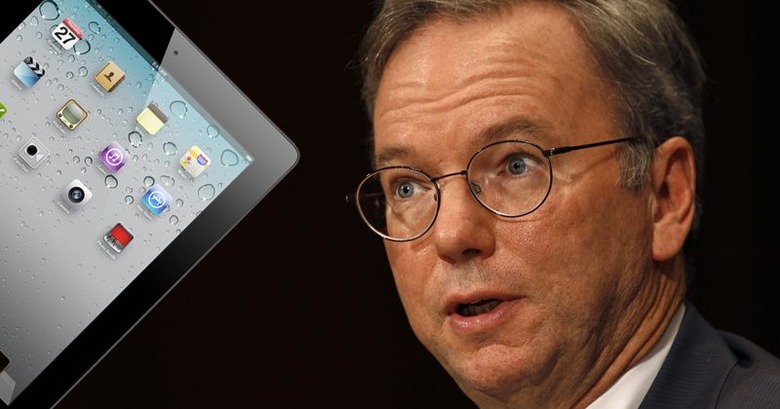 Google's Mobile World Congress keynote is set to kick off in just over an hour, with chairman Eric Schmidt expected to drop the latest Android tidbits; it also gives Apple the perfect opportunity to steal focus from its arch-rival with a well-timed event invite. Apple is widely expected to unveil its third-generation iPad at a March 7 event, just seven days away. If the company is true to form, that means we could expect press invites to hit inboxes as soon as this morning.
That would coincide neatly with Schmidt's keynote speech, and certainly give Apple the opportunity to distract headlines and attention from whatever the Google chairman has to say. On the rumored agenda are details about Google I/O 2012, as well as the mysterious Android@Home hardware products that have cropped up in recent weeks.
We've already said that Apple is likely to dominate Mobile World Congress this week as the company every Android device manufacturer and others will be compared against. If Apple really wanted to upset things, it could do so with as little as an invite.
As for the iPad 3 - or perhaps the iPad 2S – the new tablet is believed to have the same 9.7-inch screen size as the current model, but run at 2048 x 1536 resolution instead. It's also said to have a supercharged dualcore chipset, potentially the Apple A5X, with an upgraded GPU. We'll know more very soon.