WiFi-only Galaxy Tab suffering "manufacturer delay" tip Best Buy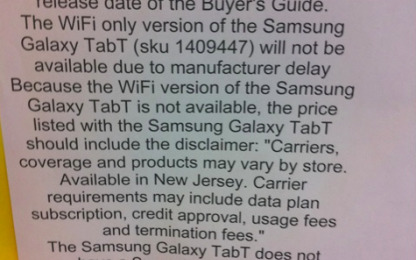 The WiFi-only Samsung Galaxy Tab, tipped as incoming in Best Buy's November "Mobile Buyer's Guide", has been delayed. According to an internal pullback notice snapped by Jeff Jarvis, the retailer is blaming "manufacturer delay" for the WiFi-only Galaxy Tab not arriving this month, leaving only carrier-supported 3G models on offer.
The nature of the delay itself is unclear, though there has been speculation from analysts that Samsung had been forced to "dramatically revise" Galaxy Tab production in the face of underwhelming market demand. Nonetheless, the company announced earlier this week that it had sold over 600,000 of the 7-inch Android tablets worldwide since the official launch, and confirmed that it was on track for 1m sales by the end of 2010.
[via Android Community]