WiFi-only Samsung Galaxy Tab listed at Best Buy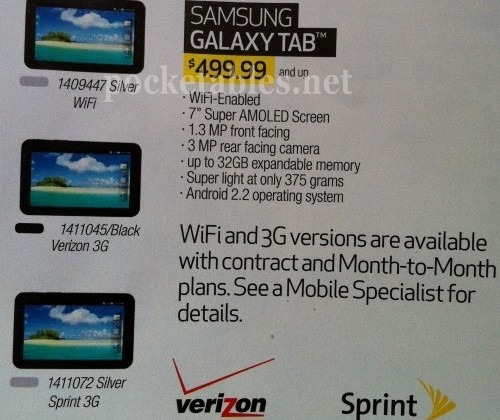 Best Buy is apparently throwing in with the Samsung Galaxy Tab crowd, with Pocketables spotting an in-store listing for not only the Sprint and Verizon versions of the 7-inch Froyo slate, but the WiFi-only Galaxy Tab as well.  Pricing for each model isn't listed, but Best Buy says the range starts from $499.99 and that there will be both contract and month-to-month data plans available.
We've already seen Verizon's pricing for the Galaxy Tab, with the carrier offering very little in the way of a subsidy.  The tablet itself is $599.99, with month-to-month data plans from $20 for 1GB.  That seemingly leaves Sprint to offer the contract plans that Best Buy is talking about; it's unclear whether the $499.99 is Sprint's subsidized price, or the cost of the WiFi-only model.
According to Best Buy, the 1409447 WiFi-only Galaxy Tab will be silver, as will be the 1411072 Sprint 3G version; the 1411045 Verizon 3G model will be black.  Verizon has already confirmed that the Galaxy Tab will be launching on its network on November 11, but leaks this weekend suggest Sprint will be offering it from November 14.
[via Android Community]