Why is Google going backwards with Project Tango tablets?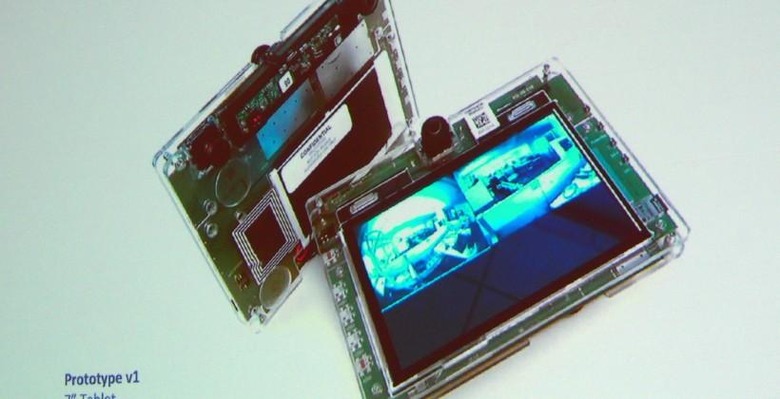 Google's Project Tango is set to spawn a new device, so the leaks would have it, with the company tipped to be readying 4,000 prototype 3D scanning tablets just in time for Google I/O late in June. Whether they'll be I/O giveaways or something else is unclear at this stage, though the goal is believed to be furnishing developers ahead of a broader launch. What's interesting, however, is that Google already had a Project Tango tablet: in fact, it replaced it with the current developer device.
The current Project Tango device – and the one Google revealed the R&D with back in February – is a 5-inch smartphone which Google specially commissioned for its scanning purposes.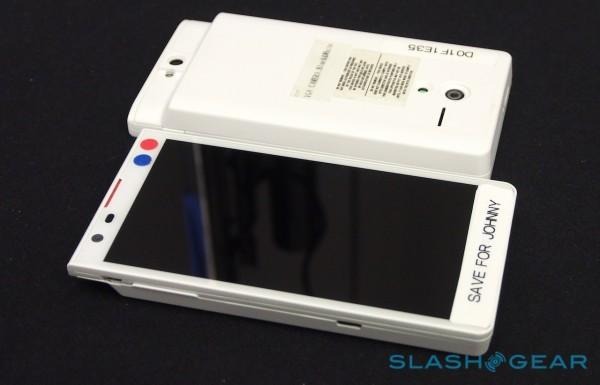 As Johnny Lee, technical program lead at Google's Advanced Technology and Projects Group responsible for Project Tango explained to me in March, there's a whole lot of unusual technology packed into that Android handset. On the front, there's a wide field-of-view camera, while on the back there's a high-speed, 4-megapixel RGB-IR camera, a motion-tracking camera, and a depth-sensing camera.
Inside, meanwhile, two separate vision processors do the heavy lifting, allowing the phone to mimic how the human eye works. A detailed central section is surrounded by a broader – but less detailed – area of peripheral vision. Used in combination, they can build up a 3D model of a room or other area, with photographic detail layered on top.
Google Project Tango hands-on:
The phone, however, was actually the second prototype that the ATAP team produced. The first, Lee told me, was a 7-inch Android tablet made in late Q2 2013. That had the same sort of sensors as the smartphone, but a far more rudimentary shell: effectively two sheets of transparent plastic between which the various boards, sensors, and other components were sandwiched.
Google has already been trialling the Project Tango phone with third-party developers – one firm, Matterport, contrasted it favorably with its own, far more expensive 3D mapping system – but devices have been limited in number. Lee told me only around 200 were produced, unsurprisingly leading to a bottleneck in availability.
This next batch of 4,000 would seem to address that, but it's unclear why Google would go back a step to the 7-inch form-factor, rather than sticking with the slightly-chubby but still pocketable phone.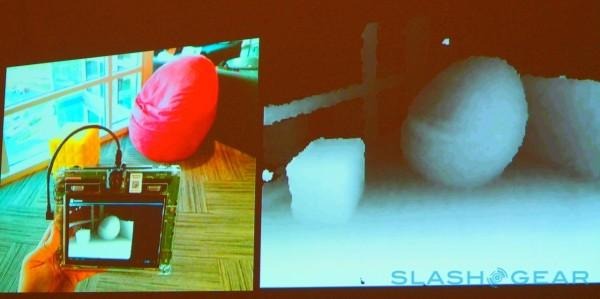 A possibility is cost. Lee wouldn't say how much Google paid for each device, referring only to the overall technology as being intended for consumers not niche professionals, but the expense of creating a special run of phones that squeeze in unusual sensors is likely to be high. Google might be able to save money by going bigger, potentially allowing for larger, cheaper components to be used, or generally avoiding some of the expense of miniaturization.
Another explanation could be battery life. The current phone uses tricks like cycling the depth sensor on and off, Lee said, so as to cut power consumption and processor load, but 3D scanning is still an intensive activity.
Opting for something more akin to a Nexus 7 in size would allow Google to fit in a considerably larger battery.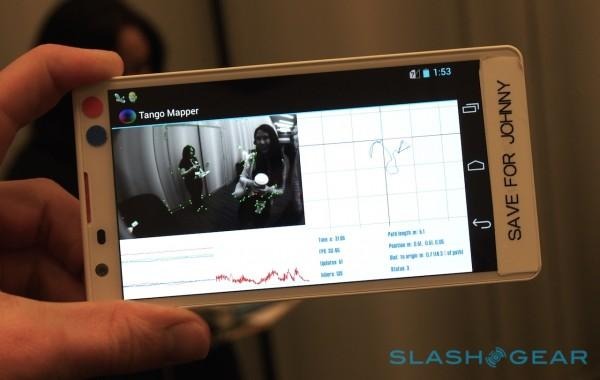 Finally, there's the prospect of the "killer app", something Lee conceded that Google was still figuring out for Project Tango overall. The ATAP team had settled on games to most easily demonstrate what the smartphone could do, cooking up a few simple titles that showed how a virtual character could interact with the physical surroundings.
That, along with mapping applications, simply may work better and be more effective for users on a larger screen.
Whatever the reasoning, there won't be long to wait. Google is believed to be readying its Project Tango tablets for June, which tallies neatly with I/O. SlashGear will be there to bring back all the news.