Why IKEA's $99 Sonos speakers get me excited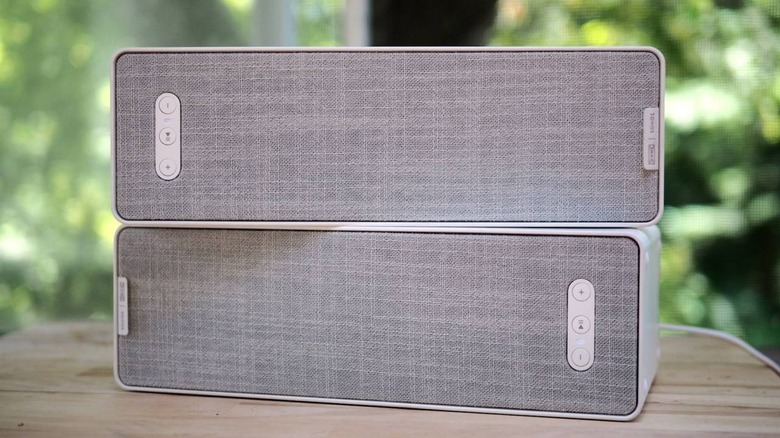 I confess, I was skeptical about the IKEA SYMFONISK speakers, the Swedish retail behemoth's first collaboration with multi-room audio specialists Sonos. IKEA has always been about affordability, building products to a strict price tag. In contrast, Sonos represented a more polished – and more expensive – experience.
When pricing for the SYMFONISK Bookshelf Speakers was confirmed earlier in the year, a mere $99 for each of the white or black rectangular units, I was even more concerned. Sonos has always been about the wireless speaker functionality, of course: the ability to control one, or a group of speakers from an app on your phone. To bring that down to under a hundred bucks, I assumed, would mean either sacrificing features or sound quality, or more likely both.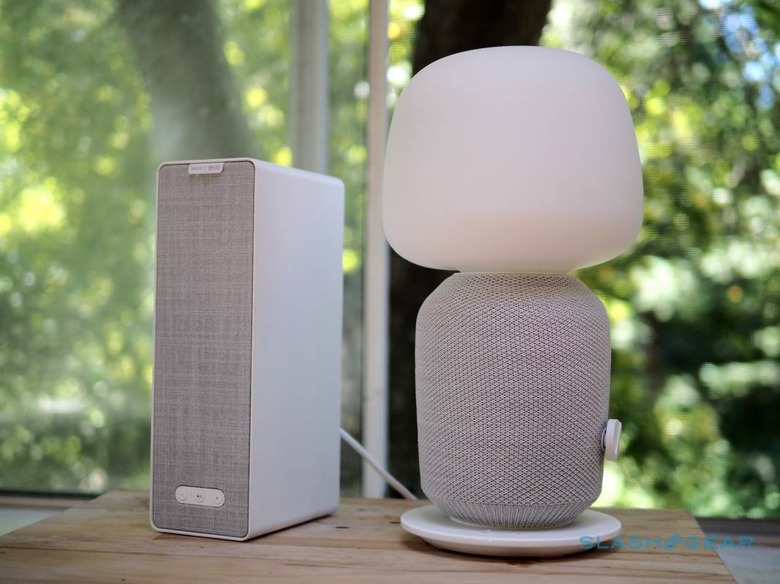 Having lived with the SYMFONISK speakers – both the Bookshelf model and the dual-purpose Table Lamp – I now know that's really not the case. The casings may match IKEA's white and black tones, but they still look and feel like Sonos quality. They sound astonishingly close to a Sonos One as well, and you still get all the same integration in the Sonos app, and indeed features like Apple AirPlay 2 support.
I have a fair number of Sonos speakers, and I'm a big fan of how the technology works. Even so, I'm still reluctant to go the whole hog. While Sonos' ability to add a pair of wireless speakers to a soundbar like the Beam, for example – to act as rear stereo channels for your TV – is great, the idea of dedicating a set of Sonos One to that always seemed... profligate.
I doubt I'm alone in that thinking, but now IKEA presents another option. A pair of SYMFONISK Bookshelf Speakers mean I could have those rear surround channels for under $200. That seems a whole lot more reasonable, not to mention easier to recommend to people looking for advice on a straightforward home cinema audio system but not wanting to entirely drain their wallet.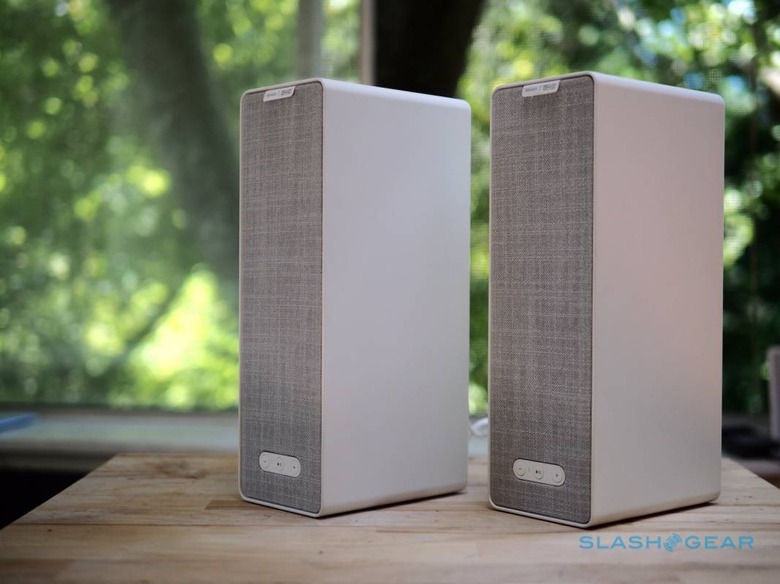 The other reason for my enthusiasm begins with a more selfish attitude, perhaps. Sonos has been around for a while now – the company was founded back in 2002 – but the connected speaker market is exponentially more competitive today. Sonos has reacted by inking deals with Amazon and Google to put Alexa and the Google Assistant in select models of its recent speakers, but there's no denying that many had concerns that it could avoid getting swallowed up by an acquisition from some tech behemoth.
The specter of Sonos potentially losing its way – or disappearing altogether – isn't something that has kept me awake at night, but I can't deny I've been wary about it. Part of the challenge has been low-cost competitors like Google Home and Amazon Echo. Speakers which sacrifice audio quality in contrast to Sonos' models, certainly, but which are so much cheaper that they appeal to people looking to dip a first toe into the category – or outfit multiple rooms without it costing thousands of dollars.
For a long time it looked like Sonos had no plans to go cheaper than the $199 Sonos One, and now we see the reality of that strategy. It's IKEA – with its vast economies of scale and its ruthless approach of beginning with a price tag and working back from that in designing each product – that will deliver the most affordable Sonos experience. Not some cut-down, pared-back version of how a Sonos speaker behaves, just a more attainable one.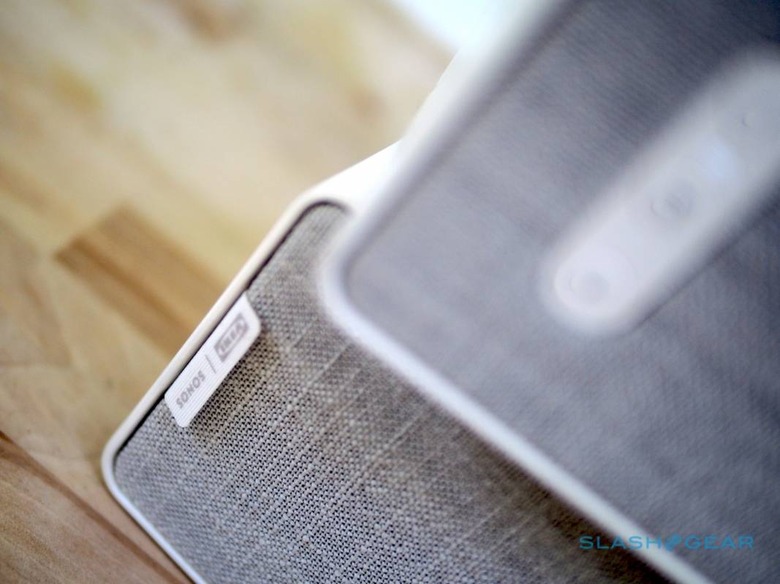 That's good news when you consider it'll put Sonos technology in front of a whole new audience, and within reach of a new group of people. However I suspect it will also encourage existing Sonos users to expand their installation. Just as the prospect of a pair of $99 rear surround speakers is a whole lot more palatable, so suddenly the idea of adding a speaker to a "secondary" room – one where you might not listen so much as to warrant a $199+ Sonos speaker, but could justify one at half that price – becomes less problematic.
It leads me into the other big reason I'm left excited by IKEA and Sonos' partnership: it just feels more playful. Part of Sonos' charm has always been the way the technology blends into the background and allows you to focus on the music alone. That's great, but it doesn't leave the company much room to experiment with form-factor and other functionality.
IKEA, though, is an unarguable master of style and design. We're seeing the first aspects of that with these initial SYMFONISK products. The Bookshelf Speaker, for instance, really can work as a shelf: IKEA sells mounting kits, so you can use it as a little nightstand or hang it from a rail in the kitchen. The Table Lamp condenses both a speaker and a light into something that runs off a single outlet.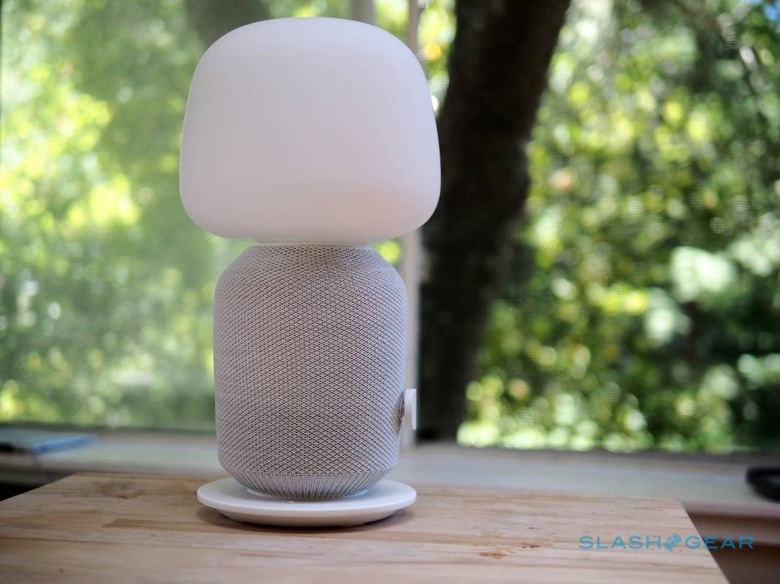 It's a whimsy that appeals to me, and I think will appeal to other people too. There are hints of much more as well. Neither IKEA nor Sonos are saying much when it comes to the possibility of future color options or customization, but it's clear they're thinking about it. Removable speaker grilles – or, in the case of the SYMFONISK Table Lamp, a completely removable knitted "sleeve" – suggest one day modularity might be embraced.
There are "no concrete plans at this time" for interchangeable grilles or even offering up the specifications for third-party or individual versions, Sonos' Lizzie Manganiello tells me, "but we know that people are always interested in customizing their space." The huge community of IKEA owners hacking their products would likely agree.
Even without that, the fact that these aren't solely speakers but something more has a charm that we don't typically associate with home electronics. A Google Home or Amazon Echo relies on the personality of its assistant to be engaging and appealing. In contrast, IKEA's connected speakers are smile-provoking all by themselves.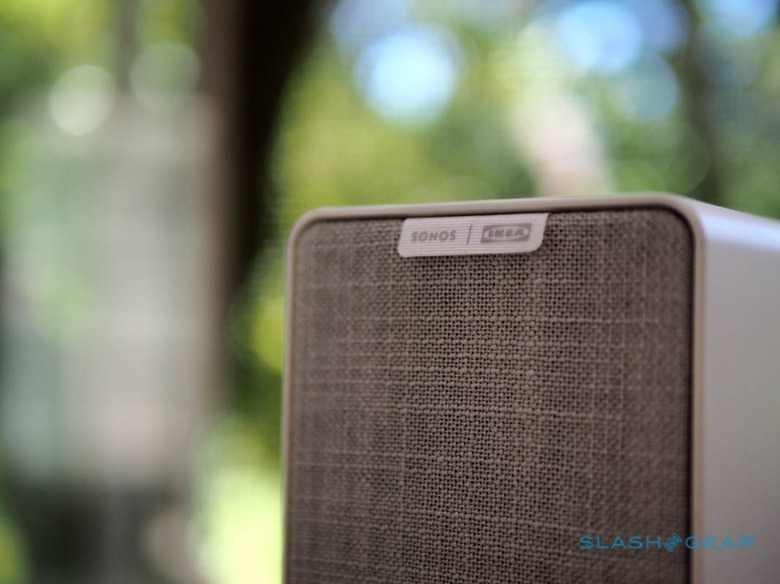 What's in the pipeline, neither company is fessing up to. Still, both are insistent that SYMFONISK is no one-off collection. The Table Lamp and the Bookshelf Speaker are each permanent members of IKEA's range, and "this is just the start of our partnership, our collaboration," Manganiello insists. That's good news for Sonos, and exciting times for fans of gadgets that blend functionality and design without breaking the bank.