IKEA SYMFONISK Review: Sonos' Swedish speaker stars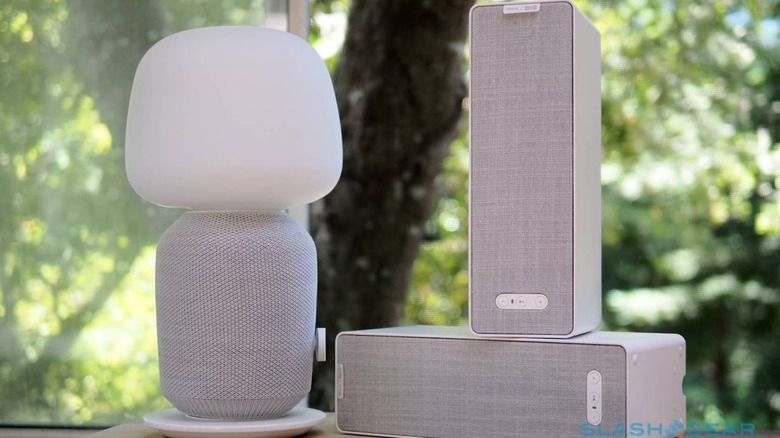 IKEA and Sonos are the WiFi speaker partnership we never knew we needed, but SYMFONISK could well propel the category into the mainstream. Combining the focus of the price-obsessed Swedish retailer with the increasingly-capable connected speaker specialist, the result is a pair of streaming speakers that are not only affordable but don't sacrifice performance and quality in the process. Frankly, it all sounded too good to be true.
IKEA style, Sonos heart
As origin stories go, SYMFONISK's is pretty straightforward. Having taken on the smart lighting segment with affordable connected bulbs in 2015, IKEA turned to Sonos the following year to collaborate on audio products. The result is no limited-time collection, but a whole new line of WiFi speakers for IKEA of which the Table Lamp and Bookshelf Speaker are just the first.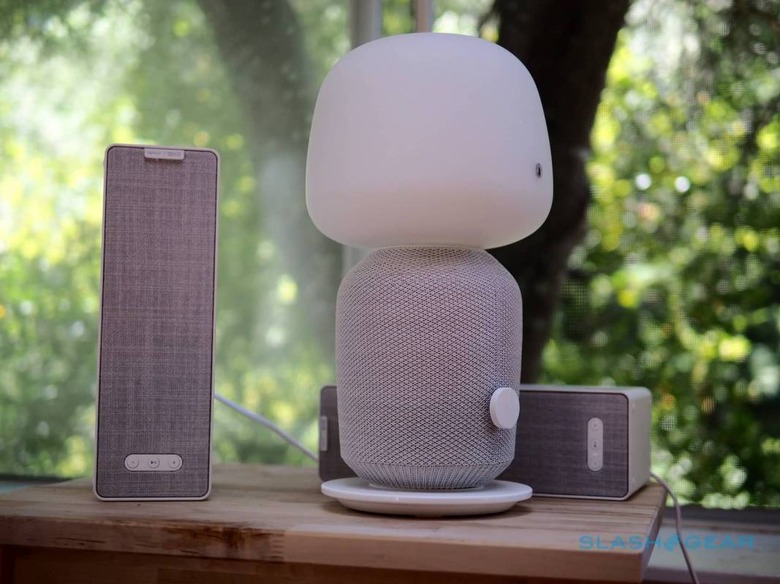 They'll only be sold through IKEA, not via Sonos' online store or its usual distributors. "This is just the start of our partnership, our collaboration," Sonos' Lizzie Manganiello, brand PR manager, explained to me. SYMFONISK – which is Swedish for "symphony" – is designed to fit perfectly into an IKEA-furnished world. It's even the furniture store's favored shade of white and black, rather than the tones Sonos has used for its speakers.
SYMFONISK Table Lamp
You could think of the $179 SYMFONISK Table Lamp as a Sonos PLAY:1 topped with a bulb and shade. It's not quite the same, but that was Sonos' starting point. The knitted fabric cover hides a tweeter and a mid-woofer, each with a class-D digital amp. While it might look like a 360-degree speaker it's actually not: the drivers are both directional.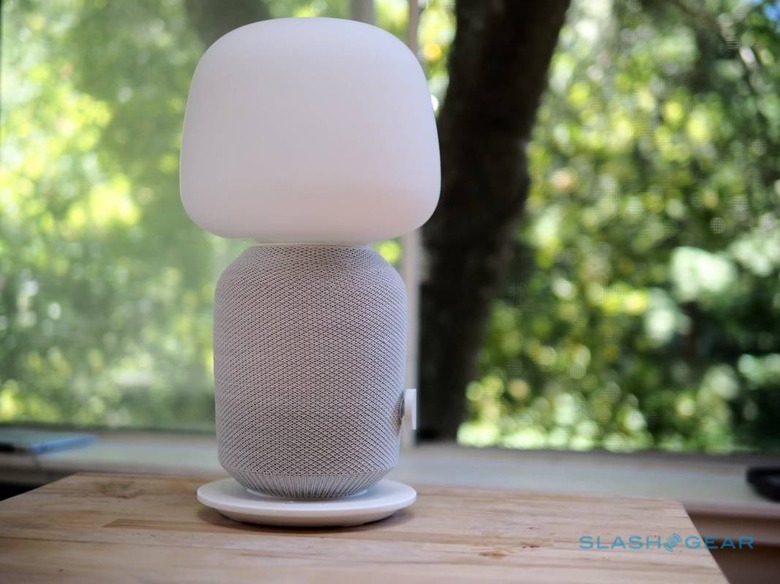 Like a regular Sonos speaker there are volume and play/pause buttons, along with an ethernet port on the back. You get a handsome, fabric-covered power cable, too. Setup and control are via the Sonos app, and as simple as you'd expect: the app finds a new speaker, you press two buttons on the Table Lamp to confirm, it's registered and then you can name the zone and optionally go through Sonos' Trueplay tuning.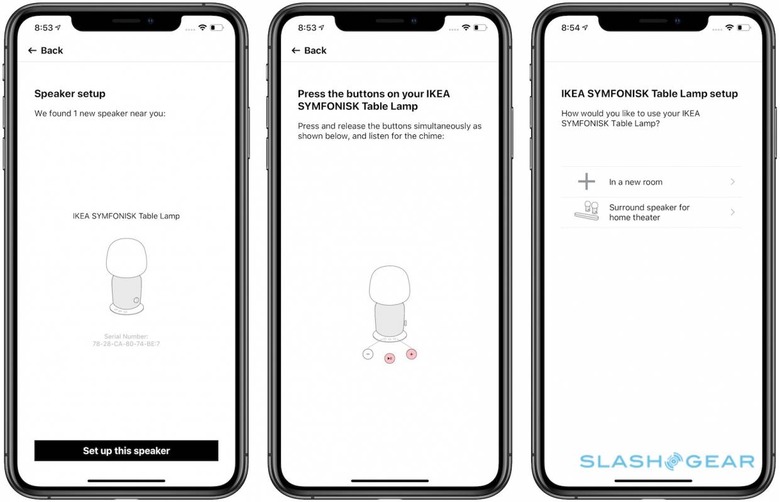 From that point on, it's basically just another Sonos speaker. You get integration with Spotify, Apple Music, and other streaming services, as well as AirPlay 2 support for direct playback from an iOS device. It sounds markedly similar to a PLAY:1 or Sonos One. Side-by-side with the latter, mids and trebles are pretty much the same. Only slightly weaker bass than the One hold the Table Lamp speaker back. The One gets louder at the upper limit, too, though for most rooms the Table Lamp should be plenty loud, I suspect.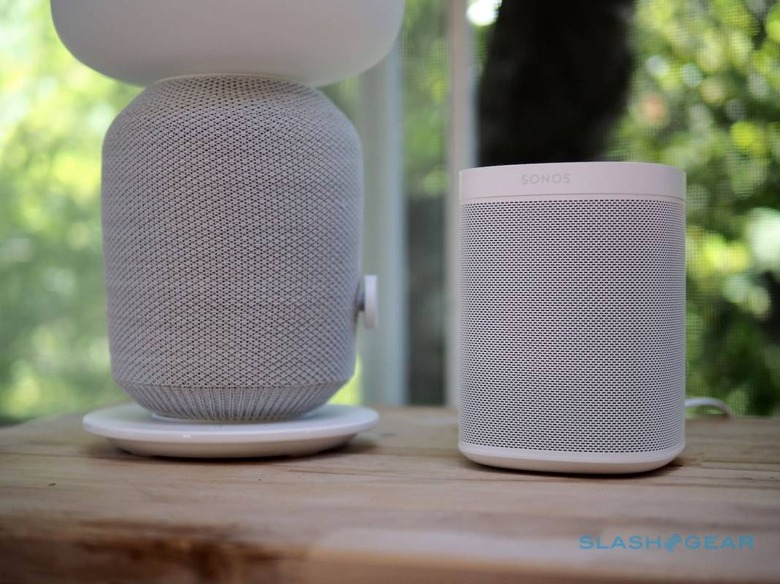 There are some limits on the lighting side, which you might not initially expect given the scale of the lamp. It uses an E12 candelabra fitting, smaller you might have thought, and because the glass shade is enclosed, you can only use an LED bulb with it. Even then, it has to be 7W or under, else the lamp will automatically shut off for safety.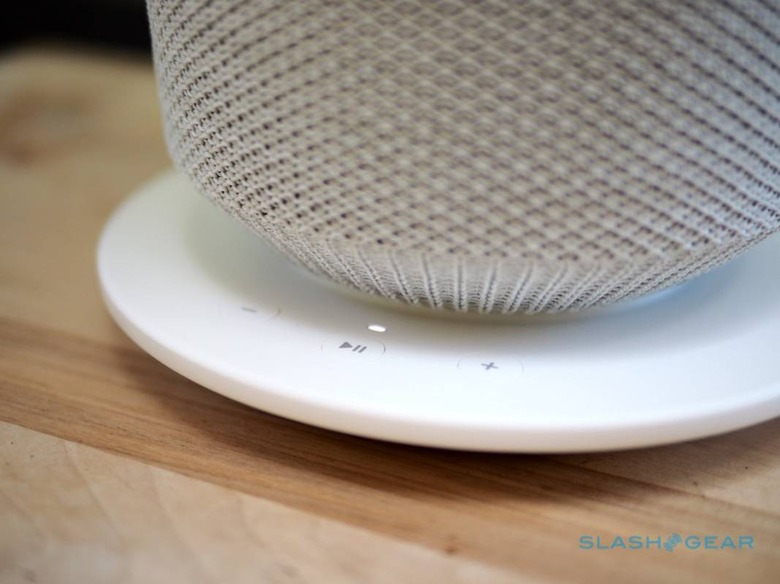 Though it looks like a dimmer dial, the light switch on the side actually just turns the bulb on and off. There's no smart connectivity there, either: if you want to remotely control the lighting as well as the music, you'll either need a third-party smart bulb (Philips Hue offers one with an E12 fitting, among others) or use IKEA's own LED bulbs. There's also a compatible IKEA wireless dimmer.
SYMFONISK Bookshelf Speaker
If the Table Lamp is a PLAY:1 with a light-up hat, the SYMFONISK Bookshelf Speaker is something very new. It epitomizes IKEA's approach to product design: start with the price tag, and then work backwards from there. In this case it's an aggressive $99, and to be frank I wasn't expecting great things.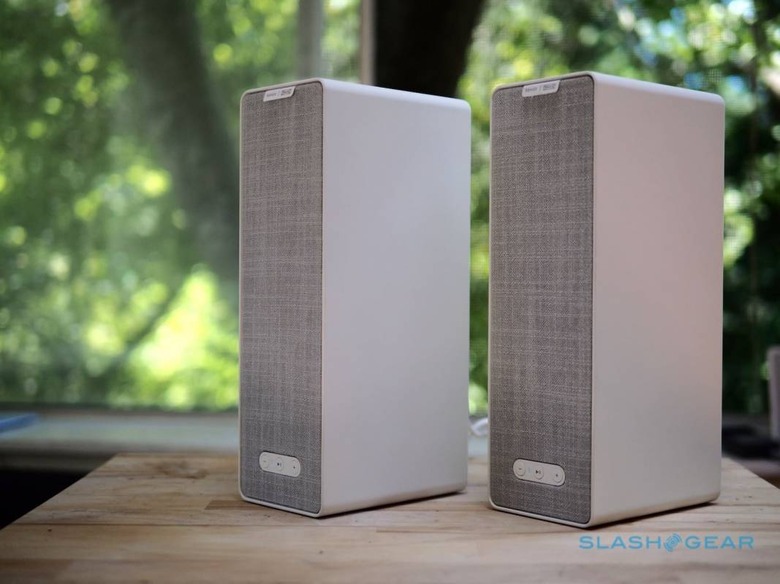 The reality is that, while it does lack the power of, say, its Table Lamp sibling, the Bookshelf Speaker is still surprisingly good. Better, certainly, than a similarly-priced portable Bluetooth speaker. Side-by-side with the Sonos One there's a noticeable drop-off in bass, certainly, and clarity isn't as precise. Nonetheless, it punches far higher than its price tag would suggest.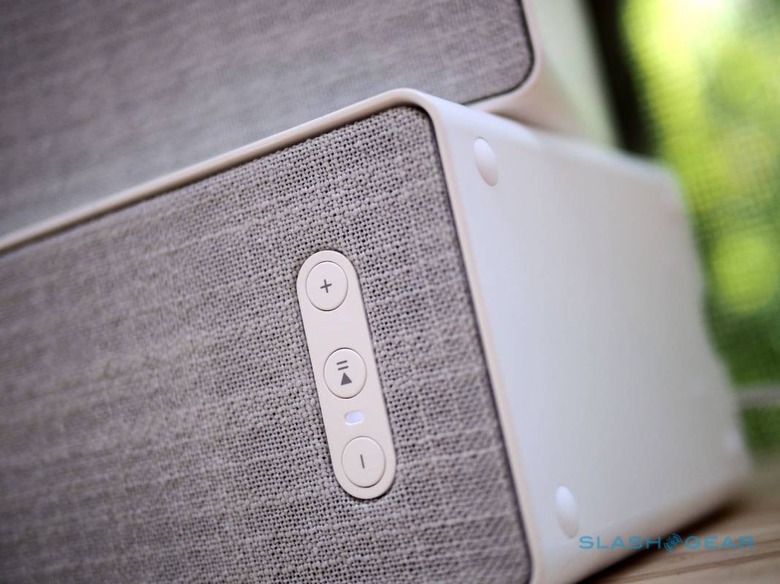 IKEA provided me with two Bookshelf Speakers, and I suspect that's one of the configurations that Sonos fans will be most excited about. You can pair two speakers together – it works for the Table Lamp too – and have them work as a stereo pair. Alternatively, you can pair them wirelessly with a Sonos soundbar, like the Beam, and use them as the rear stereo channels.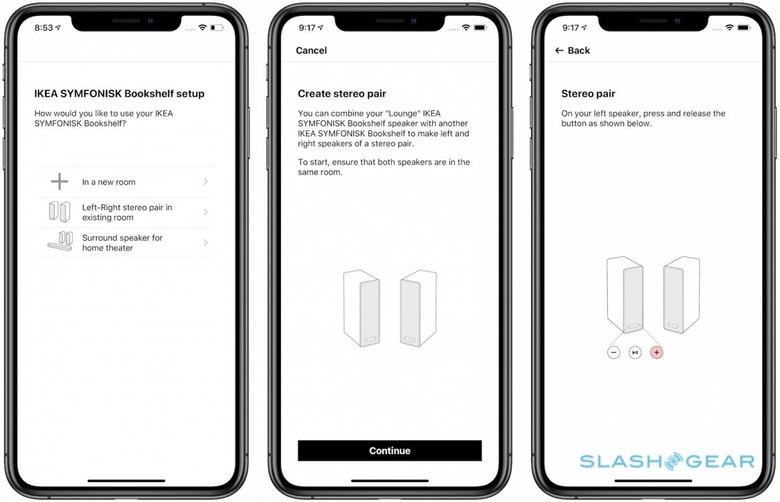 That was always something you could do with, say, a pair of Sonos One speakers, but it always seemed a little... profligate. Even with recent price cuts, a couple of Sonos One speakers will set you back around $379; that's a lot to dedicate to rear surround speakers you might not use all that often. Spending $198 on a pair of SYMFONISK Bookshelf Speakers, though, seems a lot more reasonable, and the quality is more than sufficient for that use.
The other fun feature to the Bookshelf Speaker is how it can be positioned. Like a PLAY:5 you can stand it upright or lay it on its side, though either way it'll sound the same; unlike the more expensive speaker, there's no accelerometer to track orientation and change the sound profile accordingly. However IKEA also designed it to work as a floating shelf. You can buy a wall mounting kit – which comes with a little rubber non-slip mat – and have a SYMFONISK as your compact nightstand, for example; the only thing missing there, frankly, is a USB port to plug in your phone charger. It'll hold up to 3 kg or around 6.6 pounds.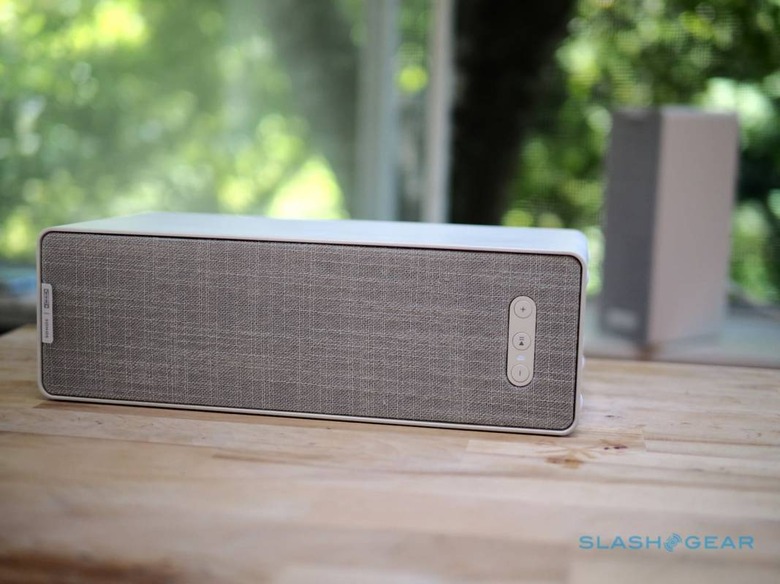 Alternatively, it works with IKEA's KUNGSFORS and FINTORP rail systems, popular kits for kitchens and other rooms. I really like the idea of bringing more wireless music to rooms where, typically, even the most affordable Sonos speaker might still seem too expensive.
Bring on the ecosystem
There are a few omissions from what you might find on a recent Sonos speaker. For a start, unlike a Sonos One or Beam, there's no integrated support for Amazon Alexa or the Google Assistant. That's a cost-saving measure, though if you have one of those assistant-enabled speakers – or indeed a Google Home, Amazon Echo, or any of the other array of smart speakers – you'll be able to control the SYMFONISK range by voice through those.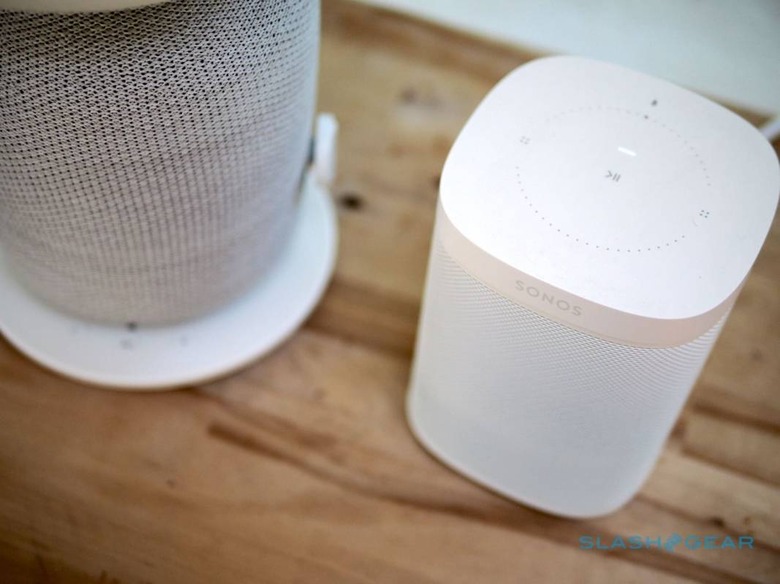 This fall, meanwhile, IKEA will have a SYMFONISK sound remote, a compact controller to save you from having to shout out to an assistant or pull out your phone. That's something Sonos fans have long been clamoring for. There'll also be an update for the IKEA Home smart app (formerly known as TRADFRI) which will integrate speaker control with lighting and the company's other smart home products like its upcoming blinds.
IKEA SYMFONISK Verdict
Honestly, I wasn't sure what to expect from the news that IKEA and Sonos were collaborating. I'm a long-time Sonos user (and I have a fair amount of IKEA furniture too) and my primary concern was that, to hit a price tag palatable to mass-market shoppers, audio or build quality – or both – would end up being sacrificed.
The reality is far more impressive. The SYMFONISK Table Lamp is a clever, affordable hybrid of a lamp and a speaker: if you've been reluctant to add rear surround channels because you don't want obvious speakers on your side tables, disguising them as light fixtures is a smart way to work around that. If audio is your primary focus I'd still say you should go for a Sonos One, mind, which can be had for around the same $179 as the IKEA speaker.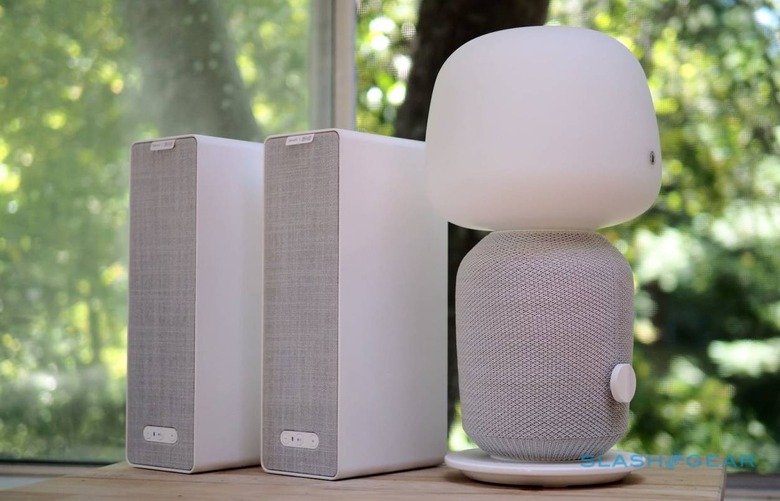 It's the SYMFONISK Bookshelf Speaker where things get really interesting. A sub-$100 price tag for a Sonos speaker opens up a whole new audience, and I suspect that when they discover the multi-room and streaming flexibility they'll be hooked. Sure, SYMFONISK buyers might opt for an IKEA speaker instead of, say, a Sonos One, but Sonos is counting on them graduating up to more expensive models as they outfit more rooms in their home.
If you've been on the fence about Sonos, IKEA's new speakers offer a lower risk way to dip a toe. For established Sonos users, it's a far more affordable way to get outfit more rooms, as well as get cutting-edge features like AirPlay 2 support. That sounds like a win-win to me.