This morning Game Director Steven ter Heide of Guerrilla Games showed off his brand new DualShock 4 controller for the PlayStation 4. While the controller likely works exactly like the original, this model is the first all-white model we've seen in the wild. This controller is also branded with the title KILLZONE: Shadow Fall, likely set for release with a future edition of the game for PS4.*
*Of course our KILLZONE Shadow Fall Review shows that the original game was a – or THE – launch title for the PlayStation 4 as it were. This game was released at the same time as the PlayStation 4 itself, and is part of a new tournament having taken place this month, worldwide.
UPDATE: as confirmed by no less than @KILLZONE itself, these controllers will be shipped to tournament winners and challenge winners this month. It's likely, therefor, that the controller will not be available for general sale.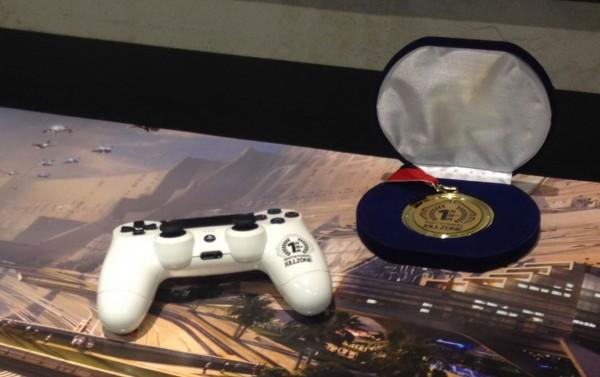 You can also see a photo (above) of the controller from a different angle as well as a massive autographed poster (underneath) from the artist responsible for backdrop in the game. These were given out to a number of tournament winners for the game and will be delivered this month. This also comes from @KILLZONE.
Down at NeoGaf, users are walking through the possibilities with teasers and mock-ups which you'll also see here. While the white PS4 is a possibility – same as the other controllers here – we've not yet seen confirmation of any of these products as such. Crossing fingers!
UPDATE: The Red and Blue controllers shown here are set for release at some time inside 2014 inside the United States, for real, officially. Apparently they've been released in some areas overseas, and the gray version has an unknown release date as well.