When Marketing Goes Wrong: TabCo and Fusion Garage's Grid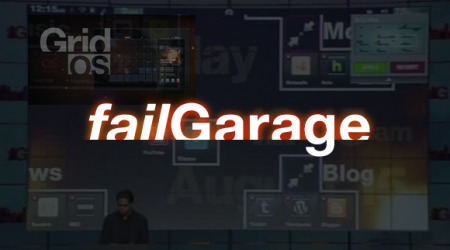 This Monday we were treated to the final reveal of what the mysterious "TabCo" group was and what sort of tablet they'd be making that would, as they said several times, "reinvent the wheel." This presentation began with an absurd video filled with a collection of the worst possible set of actors that whoever is in charge of casting for TabCo was able to find – a line spoken in the video encapsulates the absurdity: "Okay, Bye, Hungry?" What was supposed to act as a revelation and a simple showing of a brand new way of going about working in the mobile market quickly descended into a renewed set of confusing points of order and a tablet which, in fact, wasn't going to be made or branded with the TabCo name at all – it was all a front!
After the video we were greeted by a man by the supposed name of Ian Quincy, calling himself the TabCo CEO and letting people know that apparently he was better known as "IQ." He spoke quickly of the many parody and viral ads that had been released over the past few months, crowning this speech off with a shocker:
"TabCo is a parody company, and I'm not a real CEO."
Quincy at this point introduces the "true" CEO of the group that would ACTUALLY be taking charge of the project they were about to reveal, that being Chandra Rathakrishnan of Fusion Garage, a group we know as the creators of the joojoo tablet and the proposed second generation joojoo tablet running Android. For those of you not having followed along with what may have been the least successful tablet of all time, this is a tablet that was out fairly early in the game, saw installs of both Mac OS X and Windows 7, and saw some criticism at the hands of those not particularly happy with Fusion Garage's handling of the joojoo software. One of the first items Rathakrishnan speaks about is that everyone who had previously purchased a Fusion Garage joojoo tablet would now receive this new tablet he was about to reveal for free – a rather sizable claim unless you actually believe that only 64 of those old tablets were sold in the first place.
Next at this point, we're feeling sort of duped. What we're seeing in the presentation video is a big screen with admittedly nice looking graphics (whipped up by the same ad agency responsible for TabCo) and Rathakrishnan speaking about the tablet (and eventually the phone, but we'll get to that later.) After each "amazing" announcement, a pre-recorded applause is played, leading us to believe that Fusion Garage is trying to have us think that this presentation is taking place in a room full of viewers. Of course in reality its VERY obvious that there's likely a couple of people running cameras, Rathakrishnan, that fake TabCo CEO, and a couple other people in the room to run the lights.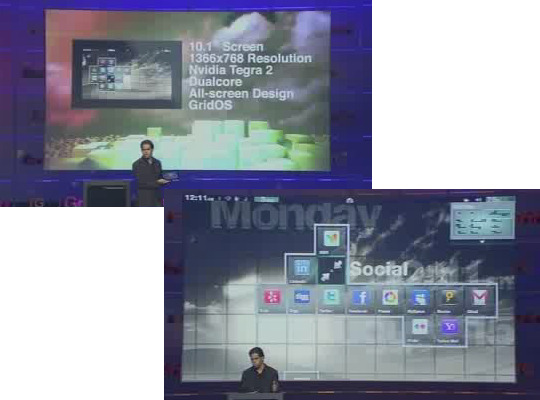 Rathakrishnan attempts to speak on this point almost immediately by saying "I'm confident I'm sure, but I'm not insane," noting how the first Fusion Garage tablet was much less than a hit, and that if he'd come forth with another Fusion Garage tablet without promoting it like a brand new product, (with TabCo,) he'd never be taken seriously – his new tablet would not be given a fair chance.
Before we continue, I'd like to direct you to our two posts on the main products of this event: Grid 10, a 10-inch tablet with a dual-core processor, and the Grid 4, a smartphone with a 4-inch screen running the same Grid OS as the tablet.
Check out the "Product Final" videos for both the tablet and the phone here:
Grid 10 Tablet
Grid 4 Smartphone
Certainly enticing looking devices when you consider the preview videos. Rathakrishnan notes that Grid OS is built on the Android kernel, making sure to note several times that this is not a rebuild of Android, but a wholly new look at how mobile OS can function. What we're seeing, on the other hand, is an operating system that could, given a few weeks work by the ravenous teams of developers at a place like XDA, could be replicated on top of Android relatively easily.
After presenting several elements inside the tablet and showing off the tablet in short by holding a possibly final version of the tablet aloft on stage, Rathakrishnan noted that they had one more thing to reveal. I don't need to remind you what this reminded everyone who was watching of: Apple's classic "one more thing" process of revealing devices and services in their own always-classic keynotes. That one more thing was the Grid 4, a 4-inch smartphone that would be released Q4 of 2011.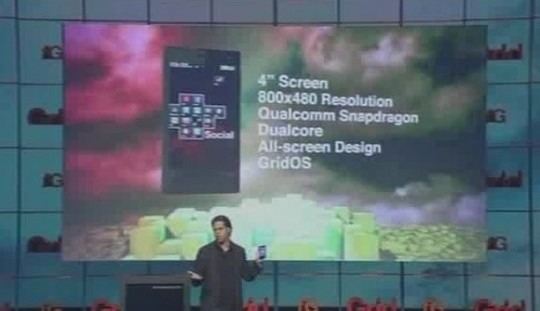 Nearing the end of the presentation portion of this obviously pre-recorded video, we see a flash at the bottom of the screen prompting us to send in questions about the tablet, the phone, and/or the operating system. At the end of the presentation by Rathakrishnan, he's asked questions as, again supposedly, sent in via email, each of them extremely well placed, none of them coming from a publisher, and each of them with an answer well rehearsed by Rathakrishnan.
One of the questions asks how Fusion Garage plans on competing with the iPad given the fact that they'd already thrown down the gauntlet with their TabCo ad campaign. Rathakrishnan responds by saying they never meant to go after Apple specifically (except they obviously DID with some airplanes sky-writing "forget the fruit" this spring) and that they recognize that Apple "will always be the dominant player in the short term." How on Earth a group can "always" be the dominant player at the same time as only being the dominant player "in the short term" is beyond me.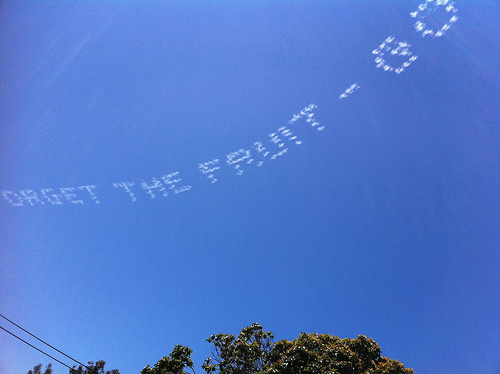 Photo by dlytle from Flickr
Another question addressed the Android situation, asking why Fusion Garage would make a brand new OS when Android was already so popular. Rathakrishnan answers with a comment that would have had people walking out of the room had there been anyone there in the first place:
"I'm not sure Android is popular."
Rathakrishnan justifies this unsureness by noting that there are many different devices running Android, each of them running a different version of Android and not having many hardware differences between the lot of them.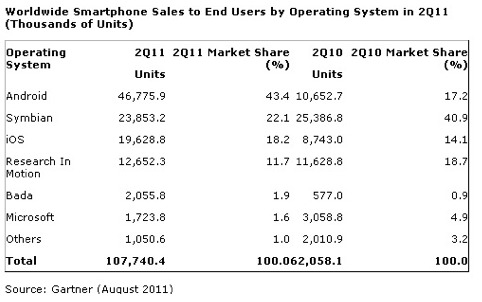 Sales Chart from Gartner study from Q2 2011
Again I must remind those of you not lucky enough to have caught this anti-masterpiece for yourselves, every 5 to 10 minutes we'd been treated to another pre-recorded round of excited applause after Rathakrishnan revealed a new element in the Grid ecosystem. Those of us who have been watching television for a good portion of our lives know a real live applause when we hear it – and this was not that.
The cameras were not trained on the elements we should have been seeing on the screen as they were presented throughout, a whole mess of factoids on the screen were lost as Rathakrishnan smoked through his nervously-presented speech, and the overall message was lost when, at the end of the presentation, I and we found ourselves with a whole lot of glitz but not a whole lot of guarantee of anything, be it hardware quality, trust in the Fusion Garage brand, or the ability of Grid to work in any every-day situation.
In other words, the design group responsible for the TabCo campaign did too good a job promoting what appears for now to be a dead on arrival set of devices and operating system from Fusion Garage. This is a letdown for everyone who has thus far partnered with Fusion Garage on the project and I hope for THEIR sakes that these devices turn out to be much more than what we've been presented here today.