Fusion Garage Grid 10 drops TabCo disguise: 10-inch custom slate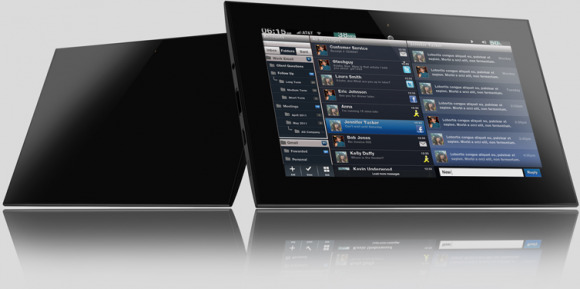 TabCo has come clean, and as expected the "brand behind the brand" is Fusion Garage. The CEO behind the underwhelming JooJoo, Chandra Rathakrishnan, is back with his team's second attempt at a tablet, along with the confession that "our initial [JooJoo] hype did not meet the performance of the product." Grid 10 is the slate he believes will change all that, based on the Android kernel but with "a stunning" interface on top.
"We love the iPad, but other than that... a whole lot of samesies" TabCo's faux CEO suggested, and Rathakrishnan carried on that theme by accusing Android devices of copying rather than innovating. Grid – the name of the OS as well as the tablet – is no skin, he insists, but a legitimately new platform, with social built in and the promise of "seamless state" so as to be able to pick up and leave off multimedia content between the slate and the Grid 4 smartphone Fusion Garage also announced.
Google search is out, replaced by Bing, and the Grid 10 runs on NVIDIA's Tegra 2 processor with a 10.1-inch 1366 x 768 display. Amazon's Appstore is loaded, but Fusion Garage has the Grid Shop that will distribute software using the company's own Grid-specific APIs. The "Grid Desktop" works with GridFrames, Fusion Garage's own productivity suite with word processing, spreadsheet and presentation support.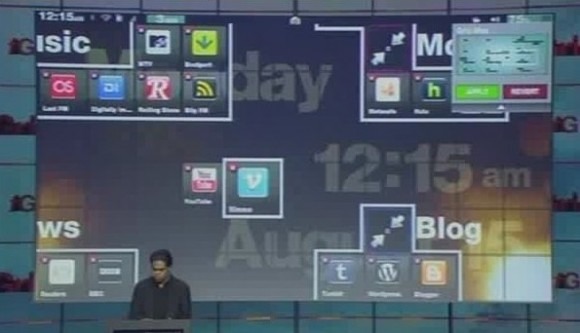 The Grid-layout homescreen consists of various "clusters" of apps, which can be collapsed into a single square, and using a grid-map to show an overview of whole desktop. Unlocking the device involves signing your name with your finger. There's a chromeless-browser and a new email app which can show messages in a traditional three-pane layout or by pulling important messages out as tiles.
Specs for the 122.4 x 63.9 x 9.6 mm, 690g tablet include 512MB of RAM, a front-facing 1.3-megapixel camera, two 0.5W speakers, WiFi b/g/n, Bluetooth 2.1+EDR, GPS/AGPS and a digital compass, along with 16GB of integrated storage and a microSD card slot. The combo docking port will support USB and HDMI, and Fusion Garage will offer HDMI and USB Host adapters for it. The 3G model will have quadband HSPA, though carrier partner is unannounced; seeing as the model we saw at the FCC had AT&T support, though, that's a pretty big clue.
To try to curry some early favor, Fusion Garage will be giving a Grid 10 to each JooJoo buyer; they should be getting emails about the offer very soon. The Grid 10 will ship on September 15 – pre-orders begin today – priced at $499 for the WiFi model or $599 for the WiFi + 3G version.