What To Expect At Apple's October 27 MacBook Event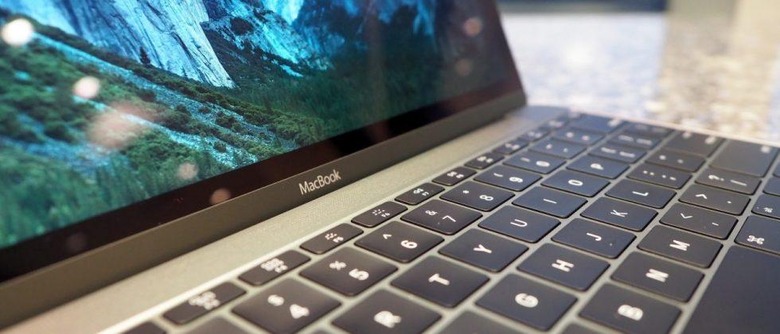 Apple has an event planned for later this month, and rumor has it we'll be seeing a new MacBook Pro, as well as a high-resolution display to replace the Thunderbolt display the company discontinued in June, among other things. Speculation about when the event will take place has been somewhat varied. Though Apple hasn't yet confirmed the date, it seems it'll be happening on October 27, the day after Microsoft's own event.
MacBook 2016 Review – Still controversial
Apple's event will be taking place on October 27, Recode and TechCrunch report, which confirms what sources speaking to SlashGear have said. The 27th is a Thursday and slightly at odds with Apple's usual course of things.
Assuming what we've been hearing is true, Apple will likely launch the new 2016 MacBook Pro at this event, and it'll come bearing the same USB-C port we saw on the controversial 12-inch MacBook. The connector type, though still somewhat uncommon, is quickly making its way into many devices, including other laptops, as well as smartphones and tablets.
Just as notable as what we'll see is what we won't be seeing, which is likely the smaller of the two MacBook Airs, the 11-inch version. Dropping this model from the lineup would make sense in light of the 12-inch MacBook's existence, and likely very few people if any will miss it. Apple will set its focus more heavily on the 13-inch MacBook Air in its absence.
Rumor has it both the new MacBook Air and the new MacBook Pro will sport USB-C and not offer any other USB types. However, rather than the single port on the MacBook (which is largely responsible for the controversy around it), the new MacBook Pro will have up to four of them, per sources. Both new laptop models will also support Thunderbolt 3.
Given the inclusion of USB-C, you can bid farewell to the MagSafe power connector, as there's no reason to keep it in light of the new USB variety. Likewise, all signs point toward users rightly anticipating a large design update, which may include a touch strip replacing the function keys on the MacBook Pro similar to what Lenovo did with its Carbon X1. Rumors have it we'll also be seeing the arrival of Touch ID in the new Macs.
And, of course, there's that Thunderbolt display. Apple quietly discontinued it back in June, and that led to the logical assumption that we'll probably be seeing a refreshed device — possibly with a 5k-resolution — arrive in its place later on in the year, assuming Apple does plan to replace it. Other details about that display aren't forthcoming at this time, however.
SOURCE: TechCrunch, Recode