Watch Samsung's rollable display in action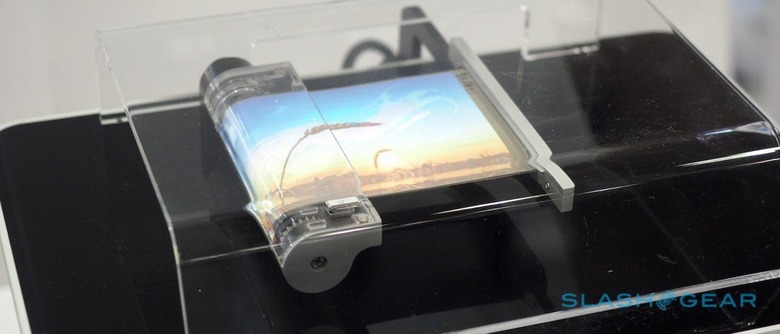 Samsung knows how to make an eye-catching concept device, and the company's rollable display prototype doesn't disappoint. Shown off for the first time at SID 2016 in San Francisco this week, the 5.7-inch screen takes Samsung Display's OLED technology and furls it up into a very pocket-friendly form factor.
Opened out, it's a 5.7-inch screen running at 1920 x 1080 Full HD resolution, for a total pixel density of 386 ppi. It's just as bright and the colors just as vivid as we've come to expect from the company's displays on production devices like the Galaxy S7 edge, too.
However its party trick is how small it gets. The screen rolls up into a small metal stick, roughly the diameter of an old canister of 35mm film, but longer.
Samsung can do that because the panel is just 0.3 mm thick, and weighs 5g. It has a rolling radius of 10R, which basically means that it could be rolled into a tube with a 10mm radius.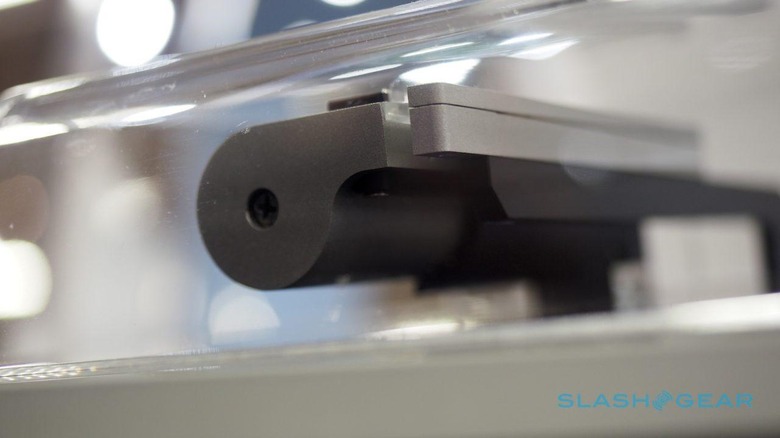 There are a few caveats, unsurprisingly, before you get too excited. That 0.3 mm thickness is before you add in a touch layer: that's going to impact not only the heft of the panel itself, but how flexible it is overall.
Meanwhile you'd also need to figure out a place to put the battery in a commercial device – this concept was externally powered – and you'd presumably want some sort of protective layer on the OLED since otherwise it could be damaged fairly easily.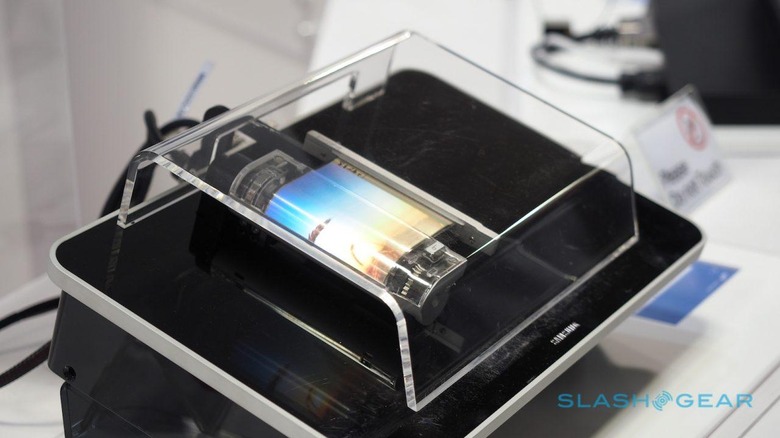 What Samsung Display isn't saying is just how many roll-ups and unrollings the OLED could handle before it might be expected to crack or otherwise break. When asked, a representative said "that's a good question" and declined to give specifics.
It's not the only flexible panel Samsung Display has at the show. Less dramatic, arguably, but just as technically impressive is a 5.7-inch flexible screen running at 2560 x 1440 resolution and 420 nits of brightness.
It too is 0.3 mm thick, and comes in with a pixel density of 551 ppi.
Samsung's use for such a panel is a little easier to envisage, too: think along the lines of the Galaxy S7 edge, but even more curvaceous. Alternatively, you could wrap it around components in a car dashboard, or onto other form-factors.
Though concept mock-ups and prototypes aren't, obviously, an indicator of a final, commercial product, Samsung Display does have some prior form when it comes to previewing devices that later slot into the company's smartphone line-up.
All the way back in January 2013, for instance, Samsung was discretely showing off a prototype with a display that curved around the casing; that went on to spawn the Galaxy Note Edge in late 2014.
With this new, rollable display, we may have even less of a delay. Samsung is rumored to be readying a rollable smartphone – believed to be the Samsung Galaxy X – as one of its 2017 flagship Android phones.