Watch LG roll up its beautiful 18-inch flexible OLED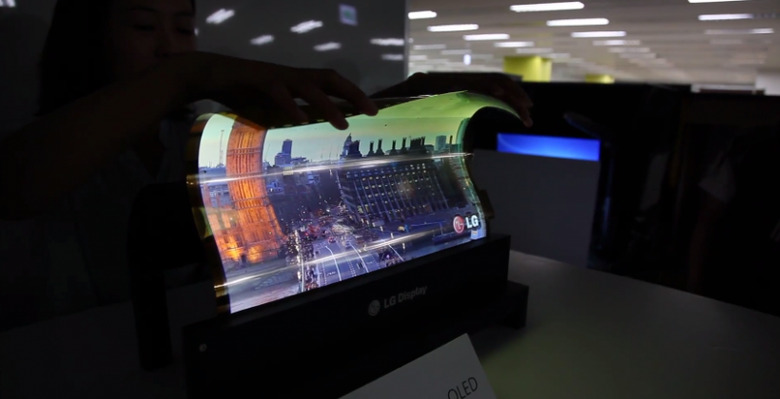 LG wasn't the first to show us flexible OLED when it revealed its 18-inch panel last week, but there's still something magical about seeing a bright display getting rolled up, and now we get to see that on video. LG Display has shared some new video of the plastic-substrate OLED doing its thing, as well as its transparent sibling.
According to LG, the 18-inch panel can be rolled up into a tube just 3cm in diameter. That opens the door to collapsable digital newspapers, perhaps, or portable movie screens that can be unfurled in the car and then quickly packed away again.
It could also one day mean a new type of laptop, with a pull-out screen sized perfectly for gaming and entertainment, but in a considerably smaller chassis than a notebook of that scale would normally demand.
LG Display also says that it's capable of using the same manufacturing processes to create up to 50-inch rollable panels based on the same OLED technology, though there's no indication of when such screens might ship commercially.
As for the transparent version, again it's not the first time we've seen this technology in action – Samsung was showing a display case prototype using see-through OLED to overlay advertising over physical products at CES in 2013 – but LG claims its screen is clearer while also being more transparent than other systems.
VIA OLED-Info