VYE S41A touchscreen UMPC with DVD burner gets price slash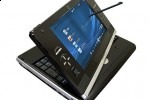 Ultraportables with integrated optical drives are rare beasts – the netbook world only has one, for instance – and they usually carry a pretty high price premium.  That was certainly the case when the VYE S41A first arrived, complete with its convertible 7-inch touchscreen, DVD burner and 800MHz Intel A110 processor: you were looking at around $1,500 when it first launched.  Now, Expansys UK have it listed for just £449.99 ($661).
That's quite a lot of UMPC (or quite a small amount, depending on how you look at it) for the money.  Okay, so the processor probably isn't going to be doing any HD video crunching anytime soon (though if a 600MHz Intel A100 can cope with Windows 7, the S41A should have no problems) but the 80GB hard-drive is reasonable for a companion device of this size, and there's WiFi, Bluetooth and a similar range of ports as you'd find on a current netbook.
If you fancy a touchscreen ultraportable and simply have to have DVD burning capabilities, or alternatively you've been looking at DIY netbook-tablets but don't have the modding skills, this could be worth a look.  Anybody tempted?
[via Twitter]