Mouse Computer LB-F1500W netbook with DVD burner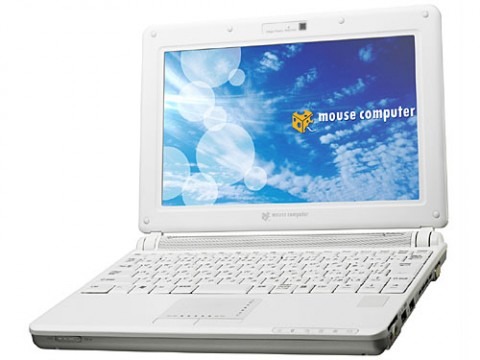 Japanese firm Mouse Computer are looking to stand out from the crowd with their new netbook, which is why the LB-F1500W has an integrated DVD burner.  A rare sight on these budget ultraportables, the optical drive – which makes the LB-F1500W a much more tempting prospect for travellers looking to not only work but watch the odd movie – accompanies a 6-cell battery which Mouse Computer suggest is good for up to 5.2hrs runtime.
It's not clear how much DVD use that estimate takes into account: we'd say none at all, given how power hungry they can be.  Meanwhile the rest of the specs are netbook-by-numbers again, with Intel's Atom 1.6GHz N270 processor, 1GB of RAM, a 160GB hard-drive and 1024 x 600 10.2-inch display.  Connectivity includes WiFi b/g, two USB 2.0 ports, video output and audio in/out.
Unfortunately, the current exchange rate pushes this Japanese netbook well out of the budget category.  At  64,800 yen ($729) it's more expensive than many entry-level notebooks, complete with DVD burning functionality and far more performance.  Unless you particularly want a smaller display, the promise of longer battery life and simply have to have occasional DVD creating facilities, the Mouse Computer LB-F1500W prices itself out of the market.
[via Crave]