Volkswagen I.D. BUZZ reboots Microbus as self-driving EV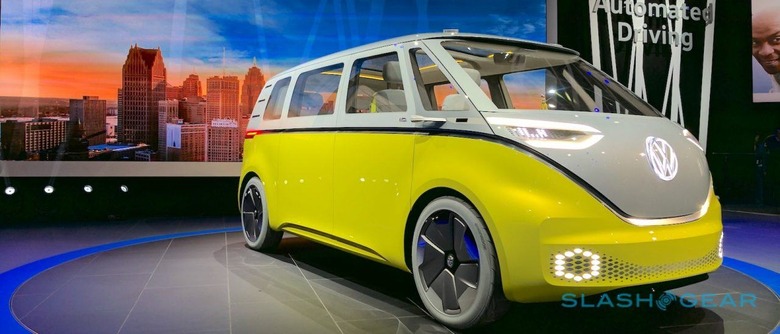 Volkswagen has recreated the Microbus for the 21st Century, with the I.D. BUZZ Concept giving the beloved van an electric refresh. Making its debut at the North American International Auto Show (NAIAS) 2017 today, the zero-emissions vehicle has seating for up to eight and all-wheel drive, along with a fully-autonomous driving mode. It's part of VW's ambitious goal of making EVs a cornerstone of its future line-up.
That falls under the new I.D. branding, which we saw first at the Paris Motor Show last year. Then, VW's car was a Golf-sized compact EV, atop a completely new architecture that the automaker has dubbed its "Modular Electric Drive Kit (MEB)". The I.D. BUZZ borrows that same platform but with a completely different use of space.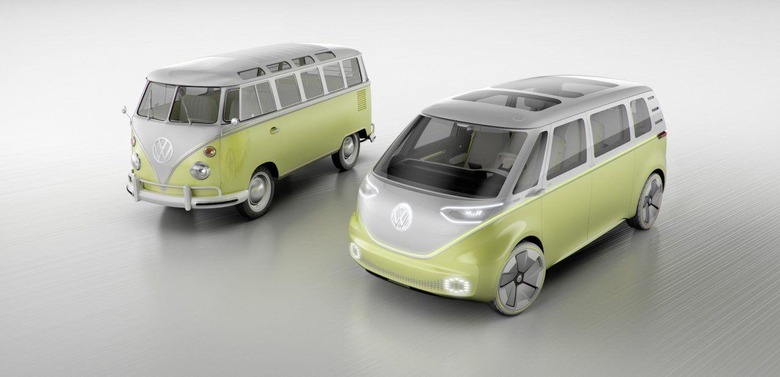 It's called the MEB-XL, and it makes the I.D. BUZZ considerably larger than the original 60s Microbus. Indeed, at 194.5-inches long, 77.9-inches wide, and 77.3-inches tall, the I.D. BUZZ is bigger in all directions than its classic predecessor. The interior space has room for up to eight people, with seats rotating atop the Silver Birch wood floor to turn it into a mobile lounge, and there are two luggage compartments.
Seating is mounted on a rail system sliding forward and back, and the seats can fold flat to form tables; the third row can convert into a bed. The seats themselves use a knitted fabric with yellow piping and metallic backgrounds, rather than leather, and there are aluminum inlays to the wood and metallic leatherette on the door trim. Because the battery is mounted under the floor, it allows for a 129.9-inch wheelbase and helps keep the center of gravity low; the rear has multi-link air suspension, while front and rear use decoupled subframes.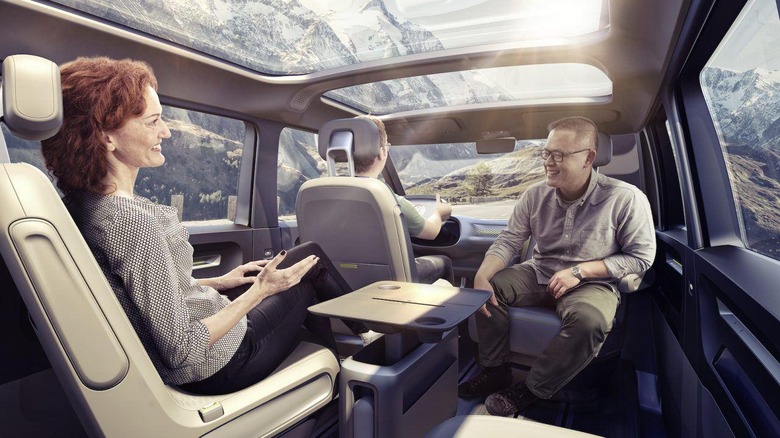 The AWD drivetrain has a total of 275 kW or 369 HP. The integrated motors each muster 150 kW (201 HP) front and rear, which VW says is good to propel the concept from 0-60 mph in 5.0 seconds; top speed is electronically limited to 99 mph. Due to the modularity of the MEB-XL platform, however, VW says it could just as easily make a rear-wheel drive version, which could output 268 HP and fit a smaller 83 kWh battery.
As for charging, both the 83 kWh and 111 kWh batteries support both 150 kW DC charging and 11 kW inductive charging with a wireless pad. On the former, Volkswagen says, it should recharge to 80-percent in roughly 30 minutes. Total range is estimated at 200-270 miles on the EPA's US cycle.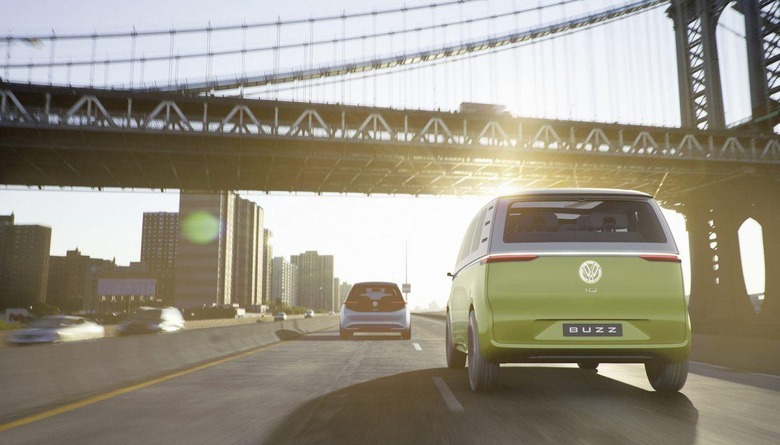 That could be with a human at the wheel, or alternatively with the I.D. BUZZ driving itself. Pushing the touch-sensitive steering wheel – which is trimmed in Nappa leather, and is covered in capacitive panels that control drive modes, turn signals, and the infotainment menus – switches the car into I.D. Pilot mode, VW's name for its self-driving system. The interior lighting automatically changes from the regular bright white to a more relaxing mood lighting, stretching into the rear, and the front seats can rotate into lounge mode.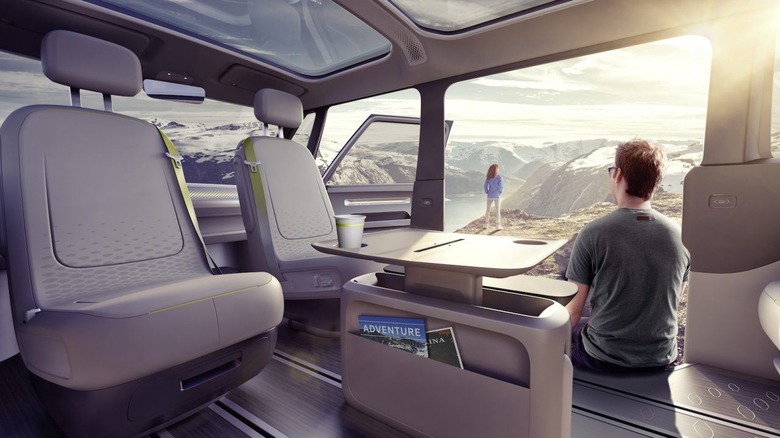 Four laser scanners emerge from the roof, both giving the I.D. BUZZ a 360-degree view of the road around it and indicating to other traffic that the Microbus is driving itself. Ultrasonic and radar sensors, along with side and front cameras, augment that data, together with cloud-based traffic updates. VW says it expects the technology for all this to be road-ready by around 2025.
Before that, though, there'll be other technology. For instance, there's an augmented reality head-up display and a tablet interface in the central "I.D. Box". The latter is between the front seats in manual driving mode, but slides back in autonomous mode so that it – and its Bluetooth-paired Beats speakers – can be used by all. The tablet and speakers can be removed for use outside the I.D. BUZZ too.
Cameras replace exterior mirrors, and there's the ability to flag up friends' locations in the HUD. The infotainment system can pull in personal calendars and act as a virtual assistant, plotting out navigation and such depending on the day's agenda, while the AI can also offer to add diversions such as a suggested coffee shop or launch spot based on learned driver preferences.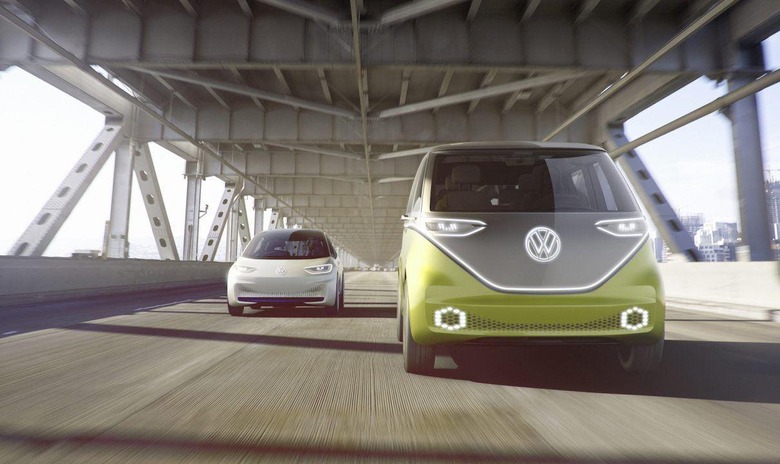 NOW READ: Meet I.D., the future of Volkswagen's EVs
Outside, the Microbus-inspired design borrows the monolith surfacing of the original but with a modern twist. That means plenty of LED lights that can be used, in I.D. Drive mode, to communicate with pedestrians and other traffic, whether by "looking" at them like headlamp eyes, or squinting as the car moves faster. Short overhangs and a low, 23.6-inch high rear sill height make for practical cargo loading: there's between 23.3 and 162.5 cubic feet of rear space, depending on seat configuration, as well as 6.1 cubic feet in the front. All doors and trunk lids are power-opening, triggered by waving a hand over the relevant sensor.
While it may be VW's second I.D. concept, the I.D. BUZZ won't be the second car in the series to actually hit the road. VW tells us that, while the first such car is expected to be a Golf-sized hatchback in around 2020, the second vehicle will be an SUV. Volume cars, after all, are vital if the automaker is to deliver on its goal of selling more than a million electric vehicles each year by 2025. Check out more live photos in the gallery below!