Vodafone Galaxy Tab 10.1 hands-on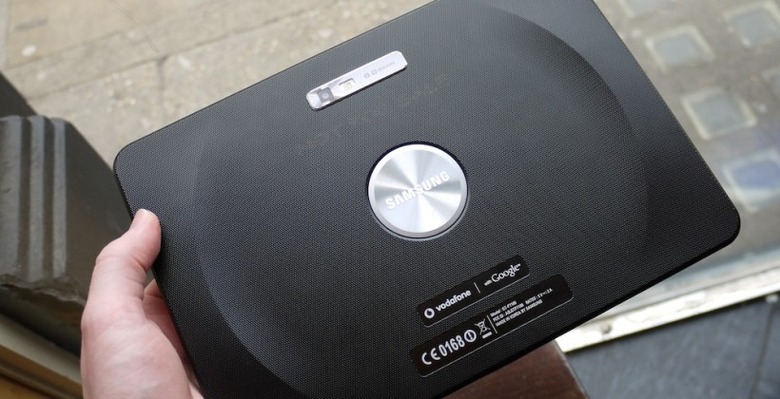 We're no stranger to the Samsung Galaxy Tab 10.1, having given the Android 3.0 Honeycomb slate a good going-over while at MWC 2011 last week, but we didn't turn down the chance of some one-on-one time with the Vodafone-branded version set to launch imminently. Sighted for the first time with the carrier's logo getting up close and personal with Google's own, the tablet still impresses with its lightweight build and XOOM-busting 8-megapixel camera.
This particular Galaxy Tab 10.1 was running non-final software, though when it arrives it'll be the same Honeycomb experience as we know from the XOOM. Since carrier software modifications can make a big difference to upgrade schedules, we took the opportunity to ask about what tweaks Vodafone plans to make to Android 3.0 before the Samsung hits shelves. Apparently, bar the potential for a Vodafone splash-screen, no real changes are expected (similarly, the hardware is believed to be final, but could still be polished a little just prior to release).
However, given the way OS updates are handled by all carriers, it's worth noting that there could still be some delays involved along the line. Actual OTA distribution for Android devices is managed by Google, but before carrier-specific versions – even if completely stock – can be pushed out, the operator itself has to put it through their testing. Otherwise, if it doesn't play nicely on their network, they'll bear the brunt of customer complaints (and rightly so).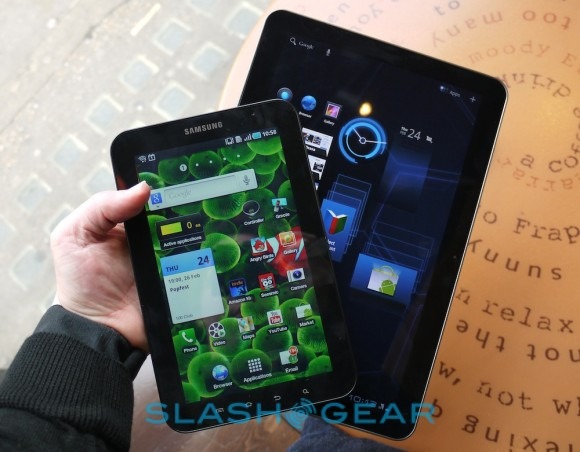 Vodafone tells us it's pushing hard for as early access to software as possible, which should hopefully minimize delays between future Android 3.x releases and slates like the Galaxy Tab 10.1 getting them, and it's interesting to see firmware timeliness becoming another of the metrics by which carriers are measured. Considering up until a few years back users were pretty much content with the software their new phone came with over the entire course of their agreement, it's quite a shift for the smartphone industry as a whole.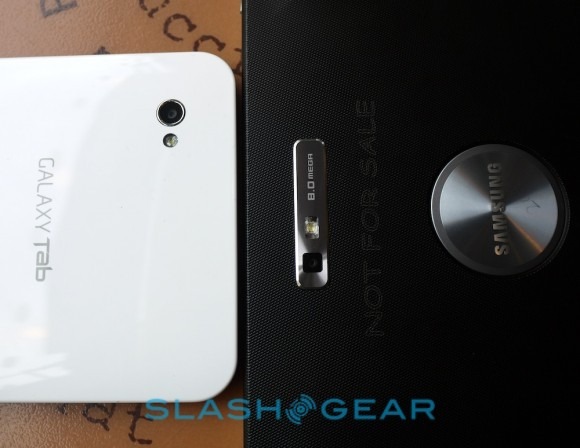 As for the Galaxy Tab 10.1 itself, at around 200g lighter than an iPad (or, for that matter, a XOOM) it's easy to hold, with a one-handed grip practical even when in landscape orientation. The textured plastic back doesn't feel as high-quality as a metal chassis would, but the compromise seems more acceptable when you consider the heft saved. The 10.1-inch display is maddeningly glossy, making not just photographing the tablet but using it under bright lights frustrating. Vodafone could do worse than include a matte screen protector in their retail packaging.
Otherwise, the speedy dual-core 1GHz processor means things run smoothly and slickly, and missing HDMI connector aside it seems a solid alternative to the XOOM. What we're perhaps most excited about is being able to film in HD using the 8-megapixel camera, edit clips on-device using Google's Movie Studio app for Honeycomb, and then upload them straight from the device. We'll save our final judgement until review units are available, so until then check out our video demo from MWC and our hands-on gallery below!