Samsung Galaxy Tab 10.1 hands-on [Video]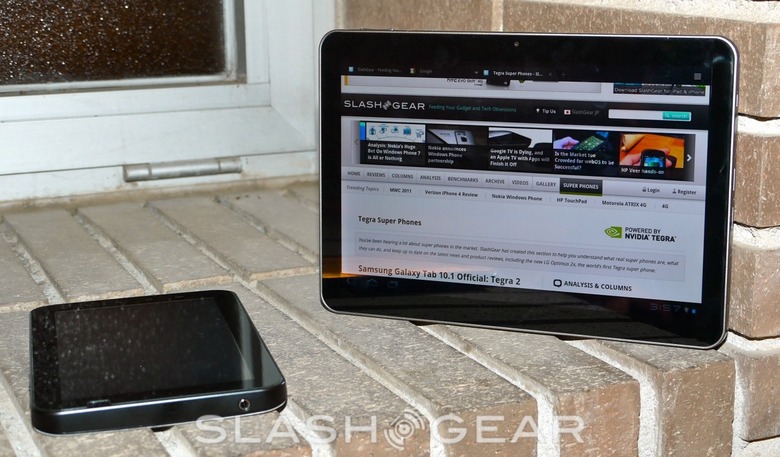 Samsung's Galaxy Tab 10.1 all but leaked in its entirety over the weekend, but we were still excited to see what the company had done to bring the original Galaxy Tab concept up to speed with Android 3.0 Honeycomb. Making its debut at MWC 2011 today, and set to hit the Asia and European markets in March, the Galaxy Tab 10.1 may not have a Samsung CPU powering it – NVIDIA's Tegra 2 does the crunching duties instead – but it still manages to distinguish itself somewhat from the XOOM.Click through to watch our hands-on video of the Samsung Galaxy Tab 10.1.
Samsung tells us one of the key priorities with the Galaxy Tab 10.1 was to bring it in significantly under the weight of the iPad, and they've certainly achieved that. At 599g, the slate is surprisingly lightweight, and thanks to the newly-textured back panel you can comfortably hold it in one hand and use the touchscreen with the other. Also on the back is a glossy Samsung logo and an 8-megapixel camera with autofocus and Full HD video capture, though unlike the G-Tablet there's no 3D support.
Honeycomb is pretty much exactly as we remember it from the XOOM, unsurprising given that as a "Google Experience" device there's been no modification made to the software. Overall it's a far better user-experience than the original Tab, even with the 7-incher's various modifications to the core apps. 1080p HD video playback was smooth and should stream reasonably via DLNA over the WiFi a/b/g/n, but the absence of an HDMI port – given Tegra 2 has native support for it – is an odd decision.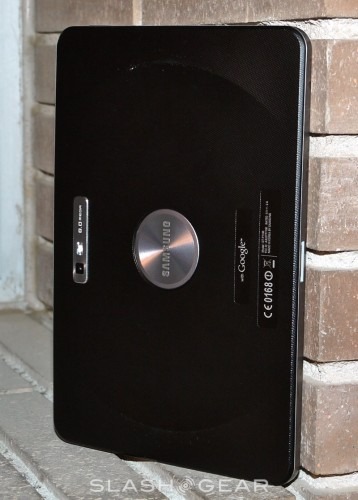 Samsung may not have used a Super AMOLED or Super AMOLED Plus display for the Galaxy Tab 10.1, but the TFT LCD screen is nonetheless bright and offers broad viewing angles. The touchscreen itself is responsive, and we didn't spot any sluggishness in general use. What will make the biggest difference, then, is pricing, and unfortunately that's not something Samsung is talking about right now. The first units will arrive in March, as a Vodafone exclusive in some European countries at least, and we'll have to wait until then to know exactly what the cost of entry will be.
Galaxy Tab 10.1 hands-on demo
[vms ae62f4140325d09b9afd]