Vizio 21:9 Cinema Display HDTV Promises 2560 X 1080p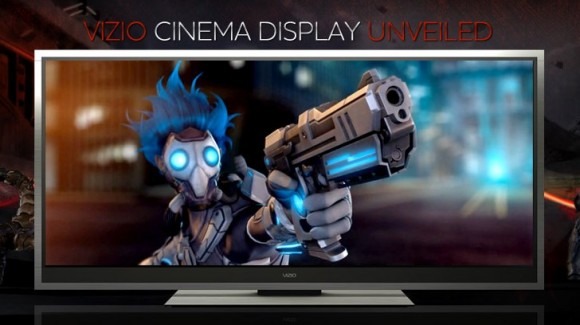 Vizio's new smart TV range aren't the only HDTVs the company is bringing to CES 2011 this week; a new teaser for the 21:9 aspect 58-inch Vizio Cinema Display has appeared on the company's site. Running at extra-wide 2560 x 1080 resolution, the Vizio Cinema Display follows in Philips' footsteps but hopefully with a more affordable price tag.
Specifications are currently unconfirmed, but according to last year's press release (in which the new Cinema Display was teased) the set will support smart dimming backlighting, 120Hz refresh, and integrated dual-band WiFi b/g/n. The latter will enable VIA apps support, with control by a Bluetooth remote with a slide-out QWERTY keyboard.
Back at CES 2010, Vizio expected to ship the Cinema Display sometime last year; that failed to transpire, hence the second showing. No word on whether it will feature Google TV functionality, which would be the icing on the cake.