Viliv X70 UMPC gets reviewed: best 7-inch handheld yet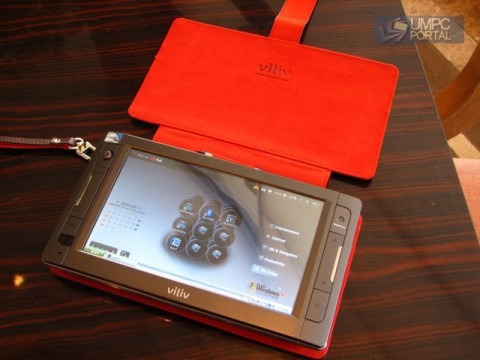 We've already seen enough of Viliv's X70 to know it could arguably be the company's best device to-date, and now the first full review of the 7-inch UMPC is in from our friend Steve over at UMPC Portal.  He describes the X70 as "the best 7-in Tablet UMPC we've ever tested", praising its great build quality, long battery life and impressive web browsing and media playback.Video demo of X70 running StreetDeck PND app after the cut
The X70's battery is good for around 6hrs of WiFi browsing or 5-6hrs of video playback, and the Intel Atom Z520 processor managed full-screen HQ YouTube videos though struggled with HD versions.  The Viliv X70 is available to preorder now, priced from $599.
Current negatives include poor battery status management to Windows, though Viliv are hoping to have that fixed in time for the final build, and the lack of handwriting recognition in the standard OS.  There's also no palm-rejection technology, so this probably isn't the UMPC for large-scale pen input.  It's a short list, certainly.
As for StreetDeck, in the video below you can see the X70 docked in Viliv's own car-kit, and taking advantage of the UMPC's inbuilt GPS receiver.  The X70 puts in a better performance than the S5 managed, even, helped no doubt by the extra screen real-estate.
Viliv X70 StreetDeck demo:
[via UMPC Portal]