Viliv X70 MID priced from $599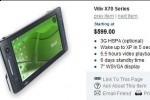 It's had nowhere near the coverage of their S5 MID, but the Viliv X70 looks set to gain a whole lot more attention now that preorder pricing has started to emerge.  Importer Dynamism is listing the X70 for $599; whether or not you think that's good value for a 7-inch touchscreen UMPC with 6 days standby, it's certainly well priced against the S5.
Pricing for the Viliv S5 – which has a smaller, 4.8-inch touchscreen – is also around $599.  Your money gets you an X70 with an Intel Atom Z515 processor (running at 1.2GHz; the Atom Z520 1.3GHz CPU is an option) plus a 16GB SSD (compared to the S5's 60GB HDD; the X70 can also get a 32GB SSD) and 1GB of RAM.  Options include integrated HSPA and cables to hook the X70 up to a computer display or a TV via component.
While you lose out on pocketability with the X70, you gain on usable screen space.  The resolution of both Viliv devices is the same – 1024 x 600 – but an extra couple of inches should make for less squinting.  No word on pricing for the 32GB SSD or 32GB SSD/3G models, nor when any of them will begin shipping.
[via jkOnTheRun]