Viliv S7 touchscreen netbook caught in wild [Video]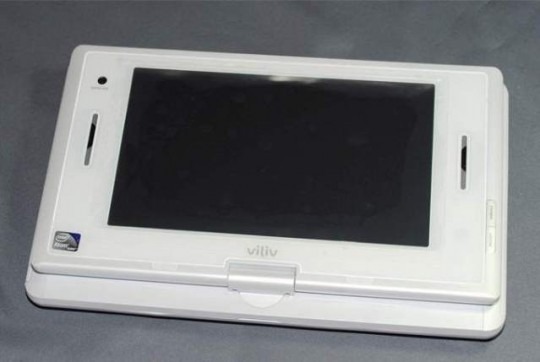 With pricing and final specifications – for its Korean home-market at least – confirmed, the first Viliv S7 engineering prototypes are finding their way into the public eye.  The company has been showing off the 7-inch convertible touchscreen UMPC, including its new "Shuffle" UI.Video demo after the cut
Shuffle is seemingly the follow-up to Viliv's Cube UI as seen on the S5 and X70 devices.  It more closely resembles a Media Center UI, with CoverFlow-style browsing, while underneath there's Windows XP.
No sign of the final packaging as yet – this is just a sample, so only the battery and charger came with the S7 itself – but we can still see the final ports and keyboard layout.  Viliv have found space for two USB 2.0 ports, a VGA output, audio in/out, mini-USB and an SD card slot; however they've made a few unusual design decisions, in putting the right-hand shift key to the extreme right, next to the arrow keys, and pushing the trackpad to above the number row.
Still, we imagine the touchscreen will bypass any trackpad worries, and keyboard layout on these compact machines is always going to be a compromise.  We're still waiting to see import pricing for the Viliv S7, especially for the 2GHz "flagship" version; in Korea it will start from the equivalent of $555 for the 1.33GHz Atom Z530 model.
[via UMPC Fever]