Viliv S7 flagship with 2GHz Atom & 3G tipped for international buyers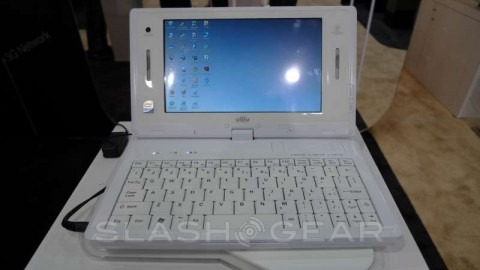 Earlier on today we told you about Viliv's Korean prices and specifications for their upcoming S7 convertible touchscreen UMPC; now we have word on the international versions.  Not only will these offer the same Intel Atom Z520 1.33GHz processor, but there'll also be a "flagship" model with a 2.0GHz Atom processor (likely the Z550), a 32GB SSD, integrated 3G and a free upgrade to Windows 7.
According to jkkmobile, the 2GHz flagship will also have a number of as-yet unrevealed features that Viliv will announce closer to launch.  Considering the Korean model has an optional DMB TV tuner and optional WiBro, we've high hopes for what these new features might be.
As for the other international S7 models, these will use the Atom 1.33GHz processor with various combinations of HDD, SSD and integrated 3G available.  All have a 7-inch 1024 x 600 resistive touchscreen, WiFi and Bluetooth.  More on the S7 from our CES coverage.