Some of the most anticipated devices at CES have been Yukyung's Viliv range of PMPs, UMPCs and MIDs.  The company has three models on show this week, the S5 "Entertainment" MID, the X70 Atom "Communication" MID, and the S7 "Productivity" MID.  The S7, shown here, has a 7-inch WSVGA convertible display, full QWERTY keyboard and either 16GB SSD or 60GB hard-drive.
Gallery of the other Viliv models after the cut, together with hands-on first impressions
Hands-on, the Viliv S7 is surprisingly sturdy and polished.  Internet access and general everyday tasks were speedy, despite the low-power 1.86GHz Intel Atom Silverthorne processor (a 1.33GHz version is an option), the touchscreen is responsive.  It'll be interesting to see how it compares in testing to the ASUS Eee PC T91, which has a larger display and therefore more spacious keyboard, but at the sacrifice of size and integrated WiMAX and HSDPA.
The Viliv S5, meanwhile, is being positioned as more of an entertainment device, with a smaller 4.8-inch display running at either WVGA (800 x 480) or WSVGA (1024 x 600) resolution.  The screen is incredibly bright and crisp, ideal for video, and we'd certainly suggest opting for the 60GB versus the 30GB hard-drive so as not to run out of space for higher-resolution content.  Unfortunately there's no SSD option, but you still get WiMAX and HSDPA, together with the same Windows XP base and therefore netbook-style functionality as the S7.  If they can keep the price of the S5 down, its combination of connectivity and 6hrs continuous movie playback runtime will add up to a very competitive PMP.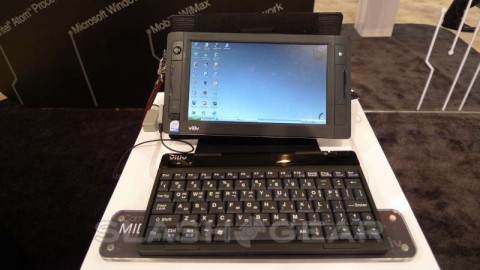 Finally, the Viliv X70 Atom is an update of Viliv's existing X70 PMP using Intel's new low-voltage 1.33GHz Silverthorne CPU.  It's a mixture of S7 and S5 specifications, with the same 1024 x 600 7-inch touchscreen as the former, together with either 8 or 16GB SSD or 30 or 60GB hard-drive, with the tablet form-factor of the latter.  Either an external USB keyboard or an on-screen one can be used, and you get the same connectivity methods as its siblings.  In terms of speed, our brief hands-on suggests its certainly capable of general media playback – great news, given the excellent screen – but we'll have to see whether the 1GB of RAM and the relatively slow processor hold it back from high-resolution content.
According to the Yukyung rep, the Viliv devices should be available in Spring 2009, priced between $500 and $700.  We're hoping to arrange some review units, to test out whether they're quite as useful as they're promising.