ViewSonic's ViewPad 10 is the bigger, dual-boot sibling to the all-Android ViewPad 7, offering a choice between Android or Windows 7 in one, 10.1-inch capacitive touchscreen slate.  Back at IFA 2010 it was still known as the ViewPad 100 and all the company had to show was a rather unstable prototype; now, with the full launch expected on November 15 priced at £449 and with the same trade-in discount scheme as the ViewPad 7, we caught up with the ViewPad 10 to see if its dual-personalities had bedded in.
Video demo after the cut
Unlike the ARM11 ViewPad 7, the bigger slate runs Intel's 1.66GHz Atom N455 processor with 1GB of RAM and a 16GB SSD.  There's also WiFi b/g/n, Bluetooth, two USB 2.0 ports, a headphone socket and a 1.3-megapixel camera, together with a microSD card reader.  The 1024 x 600 display supports multitouch gestures, and the whole thing measures in at 275 x 170 x 14.5 mm and weighs 835g.
ViewSonic reckon the ViewPad 10 is, thanks to the Atom CPU, the fastest Android tablet around – at least in terms of pure clock speed – but there's a downside to the x86 core.  So far, only Android 1.6 has been coaxed into running on Atom, so while the smaller ViewSonic gets Froyo, the bigger model languishes with a version several generations behind.  It adds up to a less than impressive experience overall; there's no Android Market, only a third-party download store for apps, and the absence of any customizations to suit a larger touchscreen mean that the regular Android apps are simply inflated to fill the extra pixels.
ViewSonic ViewPad 10 hands-on:
[vms 2ce1a1aec05359cc16dd]
Note: In the video we mention HDMI connectivity; in fact, the ViewPad 10 has an SVGA resolution video output.
What would've been preferable is a set of custom apps, like Samsung has produced for the Galaxy Tab (which has a smaller screen running at the same resolution as the ViewPad 10), or at least some minor tweaks to suit the form-factor as we saw on the Advent Vega.  Hold down the power button and there's the option to reboot; when the slate restarts, you get a DOS-style boot menu and can choose between the (default) Android OS or Windows 7 Home Premium.
As it stands, selecting Windows is tricky – there are no arrow keys, contrary to the on-screen prompts – involving pressing the home button to move down the list and then the back button to select.  ViewSonic is apparently working on a more elegant switching system, which will eventually allow you to hot-swap between the two platforms without demanding a reboot.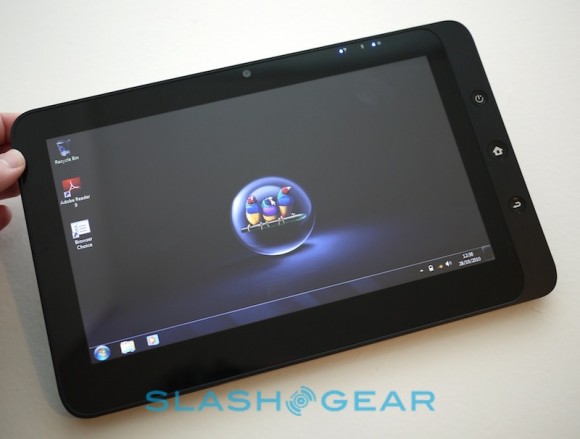 Unfortunately, as we've seen with Windows 7 on other tablets, the Microsoft OS falls short when it comes to finger-only use.  The capacitive touchscreen is responsive and the slate feels as fast as a regular netbook (the hardware inside is pretty much the same, after all), but for real work you'll want to plug in a keyboard and mouse (or use Bluetooth peripherals).  Windows 7's underrated handwriting recognition is present, though there's no stylus (nor an active digitizer) so you have to use your fingertip instead.
We can understand ViewSonic's thinking – offer Android for its finger-friendly browsing and multimedia, then Windows 7 for work tasks and running desktop apps – but neither OS seems particularly suited to the form-factor.  A more recent version of Android would go a long way to improving the experience, but while ViewSonic say they're open to that, they've no timescale for its release.  We'll have to wait until the review units drop in November to know for sure, but we're not convinced that the ViewPad 10 quite lives up to its "best of both worlds" billing.