ViewSonic ViewPad 100 dual-boot Android/Win7 slate hands-on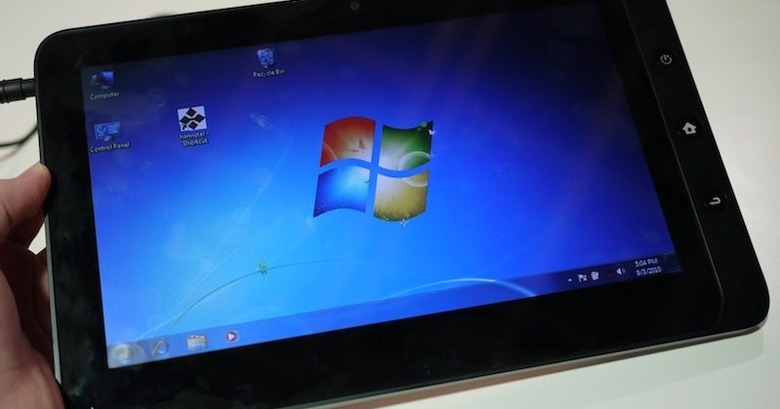 ViewSonic's second tablet is more of a work-in-progress than the ViewPad 7, with the ViewPad 100 being a 10-inch dual-booting Android/Windows 7 tablet that's still undergoing plenty of finessing. With a 1024 x 600 two-point multitouch capacitive touchscreen, Atom N455 processor and 1GB of DDR3 memory, it makes for a reasonable netbook replacement (as long as you don't mind losing the hardware keyboard) but, thanks to the presence of Android, also doubles as a quick-loading multimedia player and general entertainment slate.
Still, the current state of the prototype isn't anywhere ready for store shelves. ViewSonic has had to use Android 1.6, simply because that's the most recent version of the Google platform that's compatible with Intel Atom CPUs; the company's reps told us they do have plans to update that as soon as possible, and indeed they're also looking at Google Chrome OS as a potential alternative.
In Windows mode – running Windows 7 Home Premium – the ViewPad 100 is reasonable, though it's still obvious that Microsoft's OS still isn't ideal for touch-only devices. ViewSonic compound that by not including a stylus of any sort; while they're unfashionable right now, they're still the best way to interact with the Windows 7 TIP (Tablet Input Panel) that pops up automatically whenever you're in a text-entry box such as an address bar or form. Handwriting recognition – which in Windows 7 is actually pretty accurate – is scuppered by the difficulty of trying to write with your finger, and instead ViewSonic expect users to flip over to the onscreen keyboard.
There's WiFi but no 3G, and a 16GB SSD together with a memory card slot for adding to that. ViewSonic says the ViewPad 100 will launch in Europe in October 2010, priced at under £500 ($769).