Verizon Samsung Galaxy Note II hands-on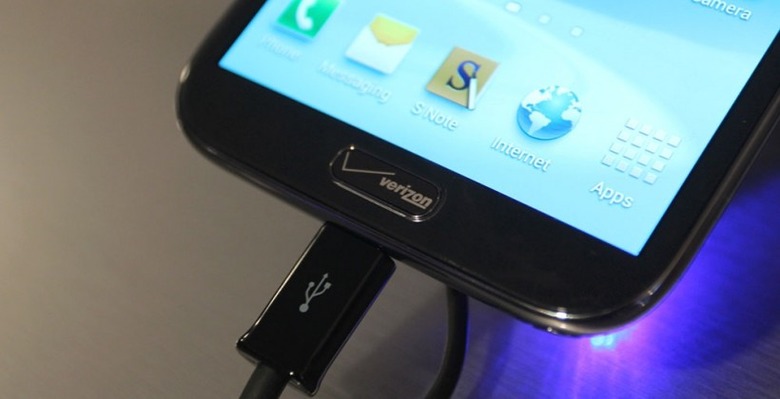 It's time for the most gigantic branding you've ever seen on a smartphone, right here live on the Galaxy Note II made by Samsung and plastered by Verizon. What will likely be one of the most sought-after models of the Galaxy Note II here is also being shown to have a Verizon logo on the front on the home button – as big as the home button – with Verizon's 4G LTE branding on the back panel as well, rather massively. We got ahold of this Verizon Galaxy Note II unit at the Samsung Galaxy Note II World Tour NYC stop this week amid many party favors indeed.
This device is essentially the same as the Samsung Galaxy Note in each other iteration its been released, both nationally and internationally, save for a few details. The apps are slightly different in their abundance – instead of the T-Mobile apps you get on the T-Mobile unit (as we've reviewed in full here), you get the Verizon collection. Not all that different from what we've seen recently on units such as the Motorola DROID RAZR, including Color installed right out of the box.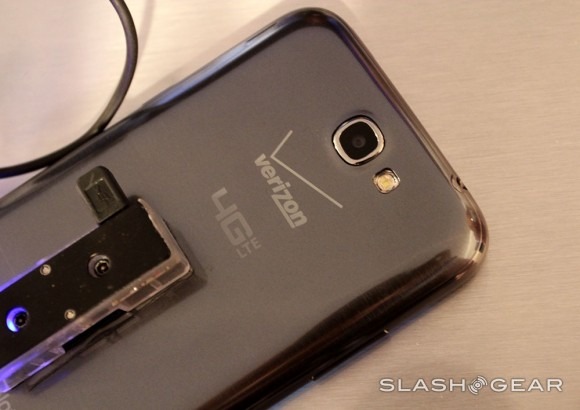 We're also minus the notification pulldown additions that T-Mobile made on their unit, and the settings menu has but one addition – a connection to your data plan from Verizon. In other words, you're getting the same device no matter which carrier you're on, save the data speed, the data cost, and the branding. Where the T-Mobile and AT&T versions of this device do not have anything but Samsung on the front, Verizon has flexed its muscle with a home key brand mark.
Have a peek at the few hands-on photos you'll need to experience the Verizon 4G LTE Galaxy Note II for yourself and keep on pressing your face to the screen until the actual unit is available in stores. We're also getting pumped up about the AT&T 4G LTE version which we'll be testing out soon as well – data speeds mostly, of course. Don't forget also to take a peek at our Galaxy Note II international review too – hot stuff!