Verizon Moto G Prepaid Launch Details Confirmed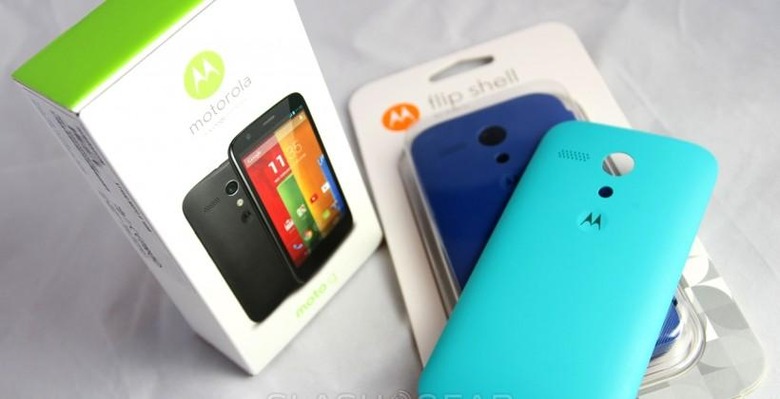 Verizon has confirmed the launch of the $99.99 prepay Moto G, putting the mid-range Android smartphone on sale come January 9th. The smartphone – which features a 4.5-inch display and 5-megapixel camera – will show up in Verizon Wireless stores "in the coming weeks" the carrier says, though SlashGear has also been told that Best Buy in-store availability of the prepaid version is expected any day now at the same price.
The plan Verizon is pushing with the Moto G is a $60-per-month package that includes unlimited talk, unlimited text, and 2GB of data. However, $10 more steps that up to 4GB of data per month.
Verizon's Moto G will ship with Android 4.3 loaded, though the carrier says that a 4.4 KitKat update is planned for the "near future." That may come as a disappointment, however, since the unlocked Moto G has already been receiving its KitKat update since mid-December.
Nonetheless, it's a compelling amount of phone for the price, especially with 50GB of Google Drive storage thrown in for two years from the point of activation. The Moto G may lack some high-end features like NFC, but the combination of solid build quality and performance was enough to impress us in our review.

There's a potential sting in the tail if you're hoping to pick up a cheap prepaid Moto G and then switch it onto your existing postpaid account, however. Verizon's terms of sale mean that the phone has to be activated on its prepaid account for at least the first six months before it can be moved over to a different account, given the carrier wants to get some return on its hefty subsidy.
If that's too big a compromise, Motorola also announced a price change for the unlocked Moto X, the Moto G's bigger brother, on New Year's Day. The handset's $399.99 holiday promotion has been made permanent for those who want to slot in their own SIM card.