Verizon LG Chocolate Touch spotted in wild: no BL40 goodness here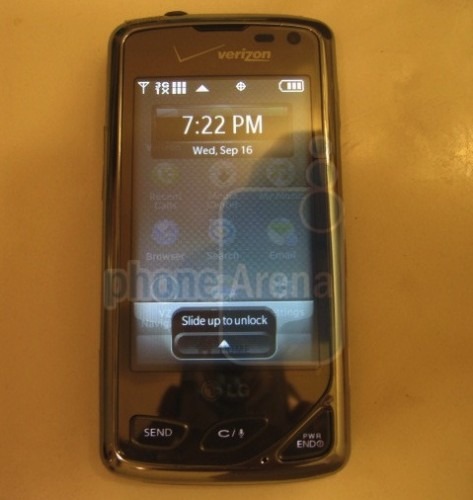 Images of Verizon's upcoming LG Chocolate Touch VX8575 have leaked, and it seems that the BL40's distinctive stylings were indeed too unusual for the CDMA carrier's tastes.  According to phoneArena, Verizon had two prototypes of their Chocolate Touch – one resembling the BL40, the other a more restrained design – and following focus groups decided to go with the somewhat mundane style you see here.
That means no vast 21:9 aspect 4.0-inch 800 x 345 "cinema-like" display, and instead buttons that look like they fell off a 90s fashion pager.  Other specs include a 3.2-megapixel camera, 3.5mm headphones jack and a WVGA TFT display, together with a full HTML browser and multitasking-capable mediaplayer.
LG have, at least, reworked their menus, and there's now a direct link to Microsoft's Bing search engine.  According to a leaked roadmap we saw back in August, the LG Chocolate Touch should hit Verizon in October.