LGBL40 Coming To Europe In September and October Everywhere Else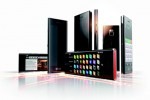 The LG BL40 has been something of a mystery, not so much in specs or even images, but more than anything else a mystery in of itself. The sheer aesthetics of the device make the average person cock their head to the side, and scratch the top of their skull in wonderment. Is that a phone? It sure is, and it just so happens to be a perfect phone for watching widescreen movies.
LG is going out on the offensive, saying that with this new Chocolate device, they are reinventing the way consumers use and view mobile phones. Specs wise, the screen itself is a 4" widescreen HD, LCD display that can effectively remove the annoying side-scrolling commonly seen on web browsers on mobile devices. The phone is running an upgraded S-Class User Interace (UI), that allows for a lot easier touch-navigation. The LG BL40 also comes with one-touch copy & paste, allowing for easy file manipulation on the device.
The phone is set to launch in September within the European area, and everywhere else in October. We're hearing rumors tht the new Chocolate phone will be arriving to Verizon, but anything could happen at this point. With the success of the previous Chocolate models, we're wondering if a redesigned aesthetic will appeal to new and old customers, or if this will be just a little too strange for the majority. Let us know what you think.
[via LG]