Verizon roadmap leak tips Sholes in October, Curve 2 in November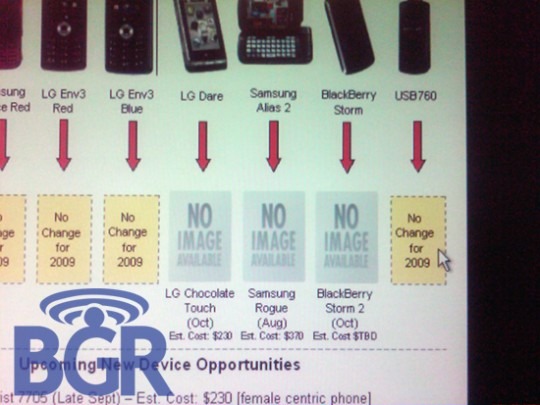 Nothing like a leaked carrier roadmap to whet the upgrade appetite, and going by the Boy Genius Reports' slice of Verizon's not-too-distant future there'll be plenty of CDMA handsets on offer to those bored with their current phone.  As well as a fair sized dollop of BlackBerry detail, there's also a splash of Android and some feature-phones to be had too.
The RIM devices include the BlackBerry Storm 2, which is tipped to land in October (though yet to be priced), as well as the BlackBerry Curve 2 in late November.  No details or images of that latter device, but it's presumed to be the Curve 8530 with CDMA and WiFi support.
Elsewhere there's the LG Chocolate Touch (no confirmation on whether this is the same device as the BL40) dropping in October for around $230, the Android-based Motorola Sholes in late October (price TBD) and the HTC Razzle/Blitz 2 at the same time.  There'll also be a "female centric" Nokia, the Twist 7705, in late September, priced at $230.