Verizon ICD Ultra LTE Tegra 2 tablet announced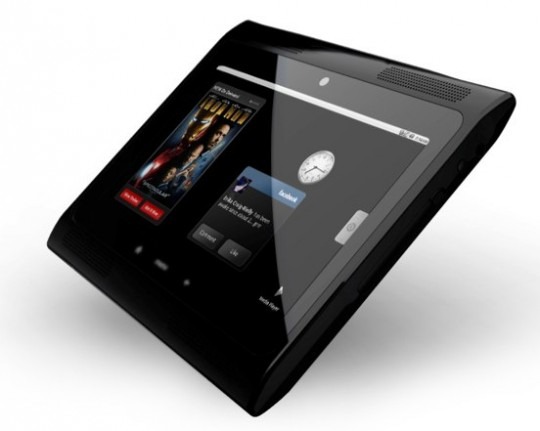 Tablet manufacturer ICD are doing an excellent job of matching their touchscreen products to carriers right now, as hot on the heels of their T-Mobile Vega partnership comes word of an LTE collaboration with Verizon.  The carrier has announced that it will be offering the ICD Ultra – a 7-inch Android slate based on NVIDIA's Tegra 2 chipset – with a Motorola 4G modem for high-speed LTE connectivity.
Of course, right now it's all just in the testing stage, since Verizon aren't beginning the full-scale rollout of their LTE network until later this year.  The carrier expects 4G to be available in 25 to 30 markets by the end of 2010.
As for the ICD Ultra itself, that's capable of 1080p HD video playback thanks to the Tegra 2 chipset and has both WiFi b/g and Bluetooth 2.1 if you wander outside of an LTE area and need to go hotspot hunting.  ICD initially reckoned you'll see 4hrs use out of a single charge; the Verizon PR only says you'll get hours of YouTube HD streaming before the battery expires.  No word on pricing, availability or anything else at present.
Press Release:
NVIDIA, Verizon Wireless Demonstrate Full HD Internet Tablet for 4G Wireless Network

New Tablet Powered by NVIDIA Tegra Puts 1080p Web Experience Just One Touch Away

LAS VEGAS, NV–(Marketwire – January 7, 2010) – 2010 INTERNATIONAL CONSUMER ELECTRONICS SHOW (South Hall 4 – Booth #35912) — NVIDIA and the Verizon Wireless LTE Innovation Center said today they are demonstrating a full 1080p HD Internet experience on touchscreen tablets.

The demonstration — on an NVIDIA Tegra-powered Ultra tablet, designed by Innovative Converged Devices (ICD) utilizing the ultra-broad bandwidth of a Motorola 4G wireless modem, operating over a pre-commercial Verizon Wireless LTE network — brings to life the vision of high-speed Internet everywhere.

The collaboration was fostered at Verizon Wireless' LTE Innovation Center, which provides an environment for diverse companies to work together in developing innovative products that leverage 4G LTE technology.

Highlights / Key Facts:

* NVIDIA® Tegra™ mobile processors enable an uncompromised full HD web experience, such as streaming YouTube HD, for hours on a single charge.

* Verizon Wireless has announced plans to build a 4G LTE network in the United States, with 25 to 30 markets rolling out in 2010. The LTE network will be able to support high-quality, high definition web experiences.

* Motorola provides the 4G wireless modem and data card to deliver visually rich HD content that consumers expect, away from home and hot-spots.

* ICD, a Seattle-based engineering and design firm, built the Ultra tablet, working in conjunction with NVIDIA, Verizon and Motorola.

Quotes:

* "We know consumers want full internet access and we are pleased to be working with NVIDIA in our LTE Innovation Center on a solution that can process full HD content with the battery life of a smartphone." Brian Higgins, Executive Director, LTE Ecosystem Development at Verizon Wireless

* "Verizon Wireless' planned LTE network will deliver what consumers demand — bandwidth for a full HD web experience. This coupled with our Tegra processor will deliver amazing streaming content, all on the go." Michael Rayfield, GM of Mobile business, NVIDIA